Trial Begins For 3 Bridgewater State Guards Accused In Patient Death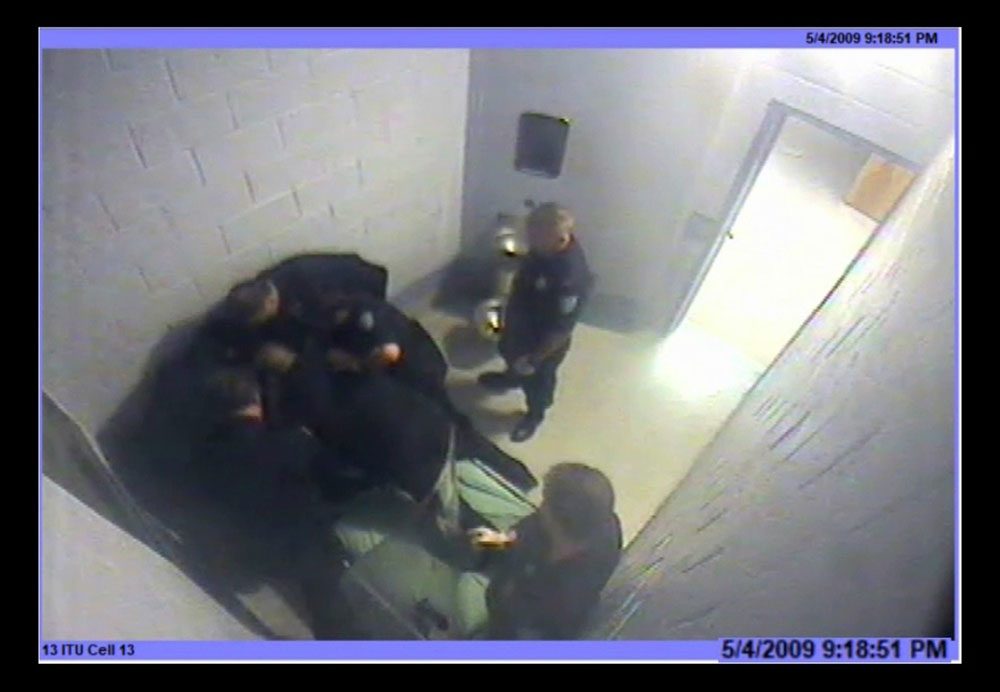 This article is more than 4 years old.
A video recording of the final moments in the life of a patient at Bridgewater State Hospital in 2009 is expected to be the crucial evidence in the involuntary manslaughter trial for three former corrections officers.
As the trial began in Plymouth Superior Court Tuesday, special prosecutor Martin Murphy outlined his case against guards Derek Howard, John Raposo and George Billadeau to Judge Jeffrey Locke.
The guards, said Murphy, violated Bridgewater State Hospital policies and acted with reckless disregard for the safety of patient Joshua Messier, when the 23-year-old man had a schizophrenic attack.
"They engaged in intentional conduct involving a high degree of likelihood that substantial harm would come to Mr. Messier, as it did," he said.
The video shows Howard and Raposo folding Messier, who was restrained by both hands and both feet, into what is described as a "clam shell" position by pushing down on his back. The prosecution says supervisor Billadeau, who watched, shares equal responsibility.
This is an excerpt of the surveillance video, with no internal edits by WBUR:
"The defendants participated in the restraint, even though the emergency had passed. The defendants participated in the restraint without any medical assessment, even though one was required," Murphy said.
Defense lawyers responded by blaming poor training and oversight at Bridgewater State Hospital. They said their clients acted in accordance with their training.
The defense dismissed the written policies cited by the prosecution by insisting that use of restraints on any patient who attacked a guard was de facto policy at the hospital.
The defense also said the trial is politically motivated, pointing to the lack of charges filed by the Plymouth District Attorney after Messier's death in 2009. The guards were only charged after then-Attorney General Martha Coakley opened a separate investigation, following a Boston Globe report on the case in 2014.
Coakley's investigation eventually led to the involuntary manslaughter charges against the three guards.
The trial was scheduled to resume with a tour Wednesday morning of the area of Bridgewater State Hospital where Messier died.
With additional reporting by WBUR's Mark Degon and David Boeri.