A Court Visit To The Cell At Bridgewater State Hospital Where A Mentally Ill Man Died
Resume
At Bridgewater State Hospital, three former corrections officers on trial for the death of a mentally ill patient they forcibly put into restraints visited the scene Wednesday, 8 1/2 years after his death.
The men and their attorneys were part of a court viewing for part of an extraordinary trial that involves a special prosecutor appointed by the attorney general years after the local district attorney decided not to bring criminal charges.
Joshua Messier was a 23-year-old man with a history of paranoid schizophrenia. He heard voices and he often acted on those voices. He often struck medical staffers and in 2005, he was sent for evaluation to Bridgewater State Hospital, which resembled a prison more than a hospital. It came with barbed wire fences and corrections officers untrained in dealing with the mentally ill — until the Messier case led to a complete overhaul.
As a couple of current security officers came and shook their hands, the three defendants — Derek Howard, John Raposo, and George Billadeau — walked across the hospital quad along with their attorneys, the judge and the special prosecutor. They headed to the intensive treatment unit and the so-called restraint room.
Their destination was cell 13. It's where corrections officers escorted, dragged and carried Messier on May 4, 2009, after he assaulted one of the officers.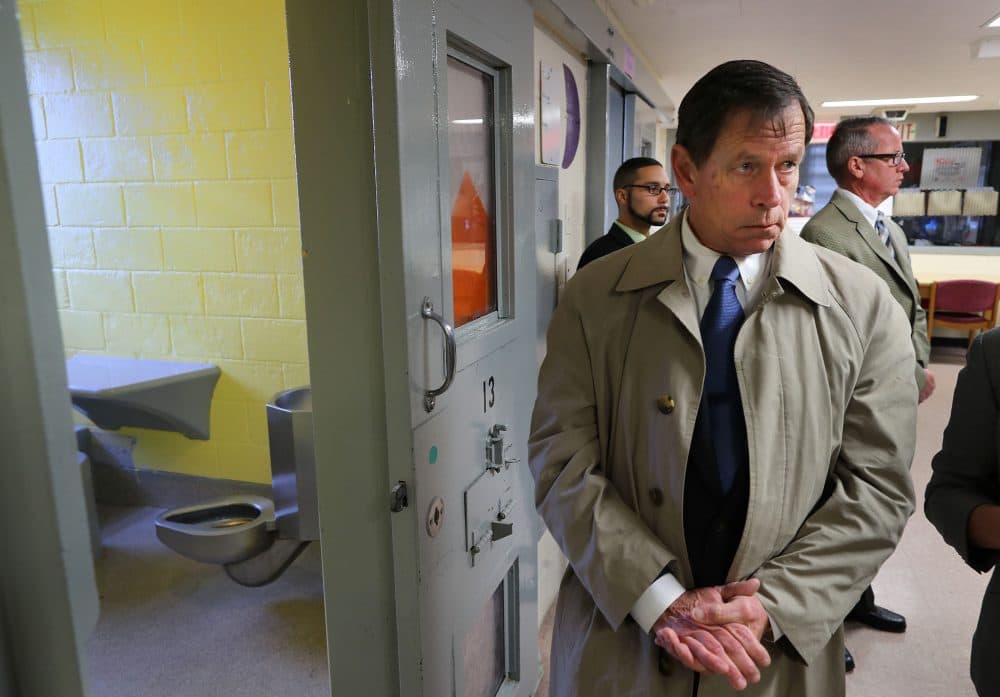 Special prosecutor Martin Murphy noted that Messier had just said goodbye to his visiting mother.
"Eighteen minutes later, he was dead, lying face up, naked, covered only by a blanket, strapped to a restraint bed by his wrists and his ankles," he said.
Though grainy and dark, the video, which you can watch below, shows seven corrections officers trying to place Messier in "a four-point restraint" tying his ankles and wrists to the bed.
This is an excerpt of a longer surveillance video, with no internal edits by WBUR:
As Messier resists, the tiny 7-by-11-foot cell comes to resemble a pileup on a fumble at the line of scrimmage. And Messier is at the bottom, says Murphy.
"He is effectively in the shape of a clamshell with his back and torso and abdomen and stomach pressed against his legs for 54 seconds," he said.
It's called "suit-casing"and the prosecutor says in the video Messier never moves again. His death is suggested by the apparent rag-doll flop of his head before medical staff's delayed response.
The men are charged with involuntary manslaughter and civil rights violations.
But their attorneys say the officers' use of force that night was reasonable. The patient assaulted a staff member, which posed an emergency. The nurse in charge signed the four-point restraint order. Messier was not compliant.
And this was "de facto policy" at Bridgewater, says attorney Edward Harrington.
"The officers were trained to do it as quickly as they can. And once you start, you don't stop," he said.
Attorney Hugh Curran, who represents defendant George Billadeau, points blame on the Department of Corrections itself.
"There was no training on four-point restraints," he said, no training on identifying mental health issues.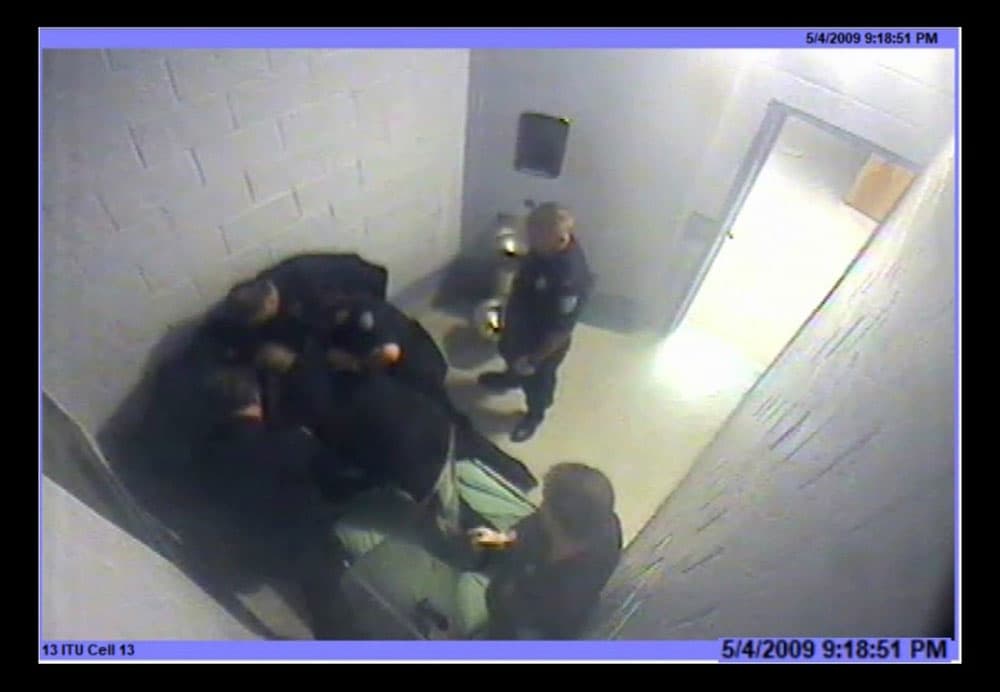 The attorneys say the defendants are being scapegoated. In 2010, Plymouth County District Attorney Timothy Cruz decided not to prosecute the men, citing insufficient evidence.
Then five years later, after The Boston Globe Spotlight uncovered the story and highlighted the medical examiner's ruling that Messier's death was a homicide, the attorney general appointed a special prosecutor.
The men were fired and indicted. Politics, charge the attorneys.
Yet there is the video that ends with a paranoid schizophrenic man leaving the hospital's intensive treatment unit as a corpse.
And the prosecutor's last opening point to the judge: Beyond his assertion that the guards violated law, policy and regulations, Murphy argues that anyone, even untrained, would have recognized the gravity of the danger in manhandling Messier the way the video appears to show they did.
Testimony is expected through Friday, including that of Messier's mother.
This segment aired on December 7, 2017.