Former State Sen. Brian Joyce Is Charged With Accepting Bribes
Former state Sen. Brian Joyce was arrested Friday morning and charged in a federal indictment for allegedly using his legislative seat for private gain.
Joyce, 55, faces more than 100 charges, including racketeering, wire fraud, extortion and money laundering, according to the 102-page indictment.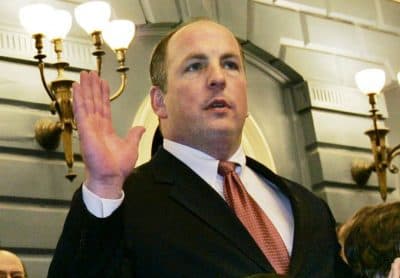 "Defendant Joyce's objective ... was to secretly profit from his position as State Senator," the indictment alleges.
Joyce pleaded not guilty Friday.
The indictment claims Joyce accepted a "stream of concealed bribes and kickbacks" in exchange for his official action on matters before the state Legislature and for exerting pressure on local officials, and that he employed "various methods of concealment, including using a shell company and other entities to launder proceeds from his bribery and kickback schemes."
The indictment details various schemes, including alleged kickbacks from an energy brokerage and alleged bribes from a coffee shop franchisee.
"We believe Mr. Joyce was greedy, plain and simple," Harold Shaw, head of the Boston FBI office, said in a news conference Friday.
Joyce's attorney, Howard Cooper, spoke to reporters, with Joyce by his side, after Joyce pleaded not guilty in Worcester court.
"You just heard ... former Sen. Joyce declare in a very loud and firm voice in court that he's innocent of all of these charges," Cooper said. "I should add that in the last few years it's been apparent across the country that the federal government has brought a number of cases against public officials which have either gone nowhere, or have been rejected by juries, or highly criticized by courts."
Joyce was taken into custody shortly before dawn Friday at his Westport home, Shaw said. He was a Milton resident when he was a senator.
The Democrat, who was first elected to his Senate seat in 1998, announced in February 2016 that he would not seek re-election. That was days after his law offices were raided by federal law enforcement.
In 2015, Joyce gave up his leadership posts in the Senate amid an ethics probe.
The arrest of a former state senator follows a tumultuous week for the State House chamber. Senate President Stan Rosenberg has taken a leave of absence from the post following allegations of sexual assault against his husband.
The acting Senate president, Harriette Chandler, said in a statement Friday that "[l]aw enforcement has done its job today. She added she's "confident that the justice system will come to a fair and just conclusion in the days to come."
The Senate's top Republican, Minority Leader Bruce Tarr, said in a statement that the indictment "details reprehensible acts of criminal behavior."
With reporting by WBUR's Fred Thys from Worcester
This article was originally published on December 08, 2017.