Judge Finds Ex-Guards Not Guilty In Joshua Messier's Death
Play
This article is more than 5 years old.
A special prosecutor's efforts to hold three ex-prison guards criminally responsible for the death of a mentally ill state hospital patient eight years ago has failed.
A Superior Court judge on Monday issued not guilty verdicts for the three former guards, Derek Howard, John Raposo and George Billadeau. They were charged with involuntary manslaughter for the death of 23-year-old Joshua Messier, who died after they forcibly restrained him.
On Day One of the trial, the prosecution had promised that the most important evidence would be a video that frame by frame would show what happened. And for the prosecution, Day One was the high point. From there, it was downhill.
Jeffrey Locke, who was judge and jury, explained his verdict.
"Retrospectively, the conduct of these three defendants left much to be desired, but does not constitute wanton and reckless conduct causing the death of Joshua Messier," Locke concluded.
This is an excerpt of a longer surveillance video, with no internal edits by WBUR:
Messier's mother had hoped that her son could find treatment for paranoid schizophrenia at the much-respected McLean Hospital. But when he struck medical workers at a hospital in central Massachusetts, they filed charges, so Messier ended up at a nightmare facility.
He was sent to the Bridgewater State Hospital to be assessed for his criminal responsibility. When he struck a correction officer, they brought him to a cell to put him into "four-point restraints" to secure his wrists and ankles to a bed.
The prosecution alleged the officers put so much pressure on Messier that his chest and stomach were squeezed against his legs, like a suitcase.
Messier's mother, Lisa Brown, was shaken by the verdict.
"I mean, I think many other things will change in the future," she said, sighing. "I just pray to God nobody else gets killed there."
The defense portrayed the three defendants as victims as well of a travesty of a hospital, a place where correction officers had no training in how to deal with the mentally ill and no training in how to put a struggling and resistant patient in four-point restraints.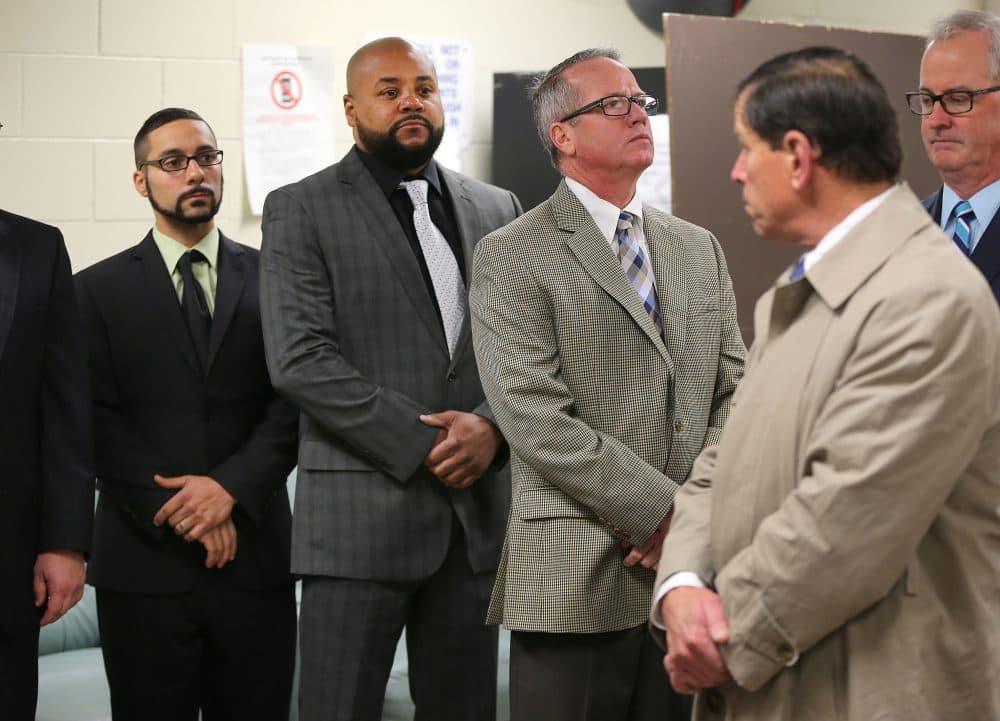 Defense attorney Hugh Curran said the defendants were "[t]hree human beings who went to work every day to work hard and do what they were trained to do. They never wavered in anything they did. This was just, as the judge said, 'a perfect storm,' and there are no winners today."
The training they got, the defense said, was from the old timers, and the real policy was "de facto policy" of the institution, which Judge Locke recognized. When the patient struck a guard, that was declared an emergency, and to protect medical staff from an emergency, the correction officers sought to restrain Messier first, before doing a medical assessment. Locke accepted this as a necessity, citing a national expert who said the guards had acted properly, though the prosecution argued it was a violation of regulations.
Said Martin Murphy, the special prosecutor: "I think that the fact that these guards were not trained as well as they should have been trained, and the fact that the Department of Corrections didn't abide by its own regulations about assessing patients before they were placed in restraint, I think that made it very difficult to try to hold any particular set of individuals, including these three, personally accountable for what happened to Josh."
The actual cause of death was not proven beyond a reasonable doubt, the judge said. The whole case was littered with reasonable doubt, says attorney Kenneth Anderson.
"In terms of the causation," Anderson said, "what these people did, what their training was, what was expected of them, what was custom and policy there, and then medically, I mean, did anything they do contribute to the death?"
As for the video, graphic and disturbing as it is to watch, Judge Locke considered it too dark and too grainy to reveal with certainty what actually happened in cell 13, as the correction officers tried to restrain Messier.
Five years after the death, the men were suspended, fired, and then indicted. Vindication may be in the eye of the beholder. To be precise, the men were found "not guilty." And that will be enough for men who have not been able to find work.
With tears in his eyes, defendant John Raposo added a touch of grace. "We're not happy about anything that happened," he said.
Messier is dead, and that tempered any celebration for being found not guilty.
Eight years after the travesty of a mentally ill man in the care and custody of a hospital that was a prison, that failed both him and the correction officers who were untrained and unprepared to deal with the mentally ill.
This article was originally published on December 12, 2017.
This segment aired on December 12, 2017.