Georgia O'Keeffe Exhibition Reveals A Fashion Icon Who Never Conformed To Anyone's Gaze
Resume
The first thing visitors encounter at the "Georgia O'Keeffe: Art, Image, Style" exhibition at the Peabody Essex Museum is one of O'Keeffe's A-line dresses with a V-neck.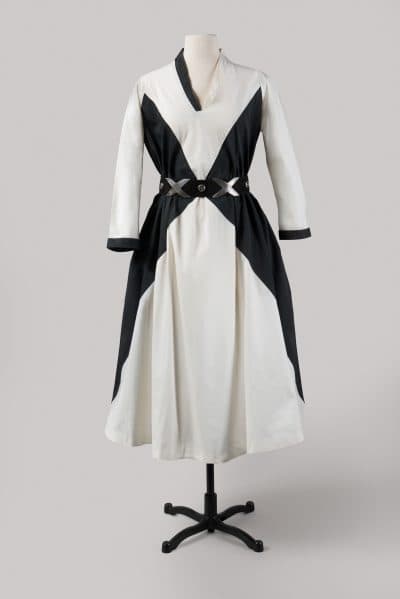 The dress is white with two plunging black triangles at each side. Next to it is an O'Keeffe painting of an abstracted corner of a rooftop: a black triangle protruding into the white building, the shape resembling the dress it hangs next to.
"What we see is what we call a unitary aesthetic — the same aesthetic that she brought to her paintings. She also brought to her own form when she self-fashioned herself," says Wanda Corn, the visiting curator who created the exhibition.
She says O'Keeffe lived out her artistic vision through her clothes and lifestyle. Her garments were often straight tunics or minimalist dresses in the color palettes of her paintings.
"Someone once said she looked like one of her own paintings — flat and nothing but shapes and abstractions," Corn says.
Often referred to as the mother of American modernism, O'Keeffe had a long and prolific career, gaining fame in the 1920s, first painting large close-ups of flowers with a restrained palette, then New York buildings and later New Mexico desert landscapes. Her work is both representational and abstract, showing nature through her distinct lens.
"One of the things that has struck me and getting to learn about this aspect of O'Keeffe's career is this blurring of boundaries between art and life," says Austen Bailly, a curator at the Peabody Essex Museum.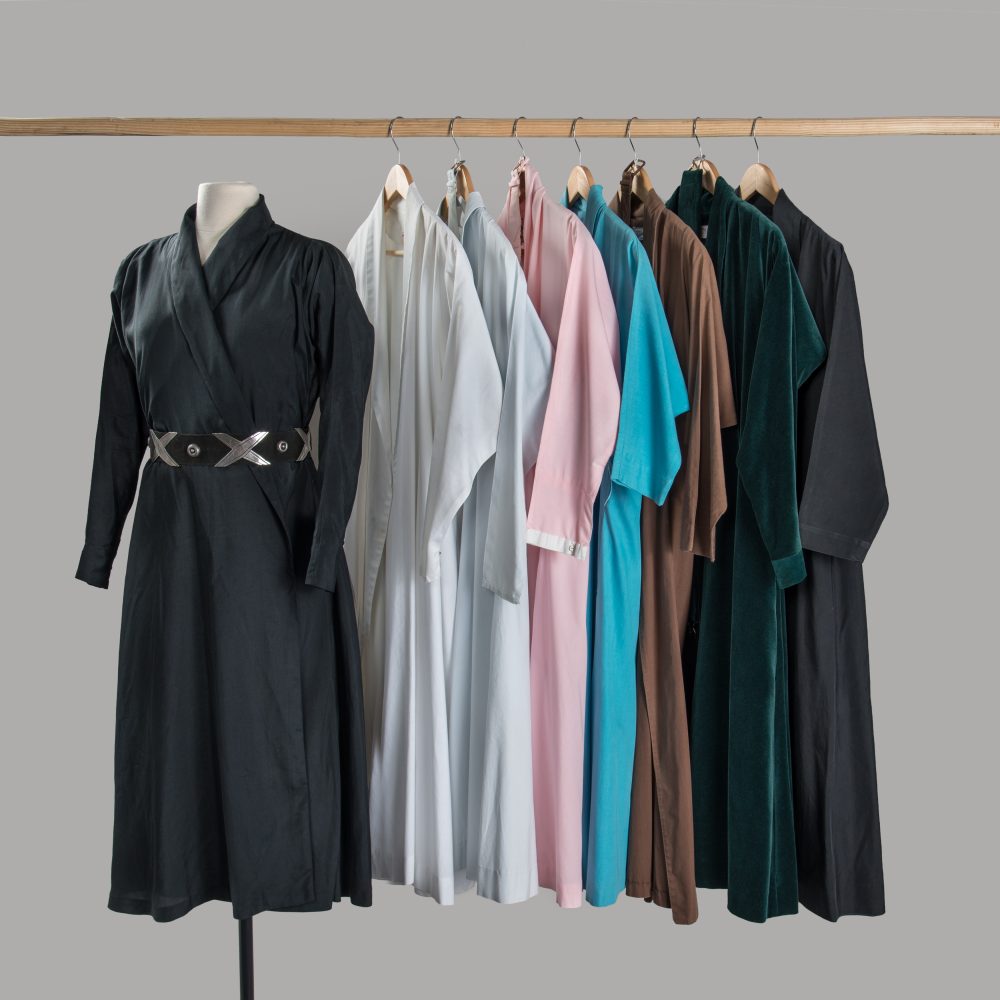 She points out that few people know that O'Keeffe was a skilled seamstress who made her own clothes early in her career, like three nude tunics in ivory silk in the exhibition. Their shape and color resemble her modernist flower paintings.
"These [flower] abstractions might actually be responding to her deep familiarity with fabrics and sewing because [you notice] some of the rounded soft forms, the way that fabric moves in space or a crease or a pin tuck, and you start to see and imagine, maybe she was thinking about some of these relationships," Bailly says.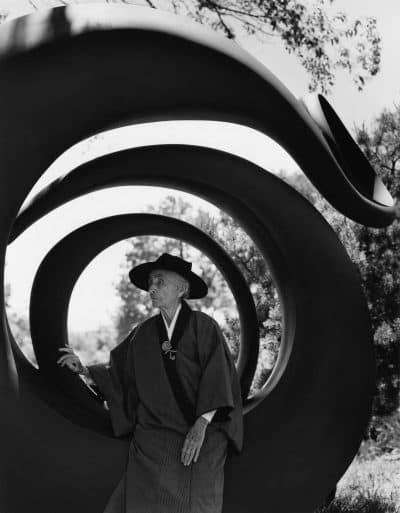 The exhibit also conveys how O'Keeffe styled herself on her own terms, never conforming to anyone else's gaze. Her look was often androgynous: She'd wear men's suits, not a drop of cosmetics, her hair severely pulled back. She rejected the Victorian fashion of corsets, rouged cheeks and elaborate hair styles she grew up with. In the '30s, she was called mannish, but by the late '60s, her style was celebrated — integral to her mythical persona. Corn's research shows O'Keeffe was the most photographed artist of the 20th century.
The exhibit ends with a gallery wall of dozens of black and white photographs of O'Keeffe. In most, she's looking into the distance, as if the photographer is privy to an intimate moment. "People began to see her as saint-like or nun-like or Buddha-like in the quiet relaxation of her body ... taking a pose that shows her as a kind of reflective, maybe even poetic spirit."
The exhibit shows the spirit of a woman who took ownership over her own image — and her own art.
---
"Georgia O'Keeffe: Art, Image, Style" is on display at the Peabody Essex Museum in Salem from Dec. 16 to April 1, 2018.
This segment aired on December 15, 2017.