Portraits At The MFA Question What Family Looks Like
Play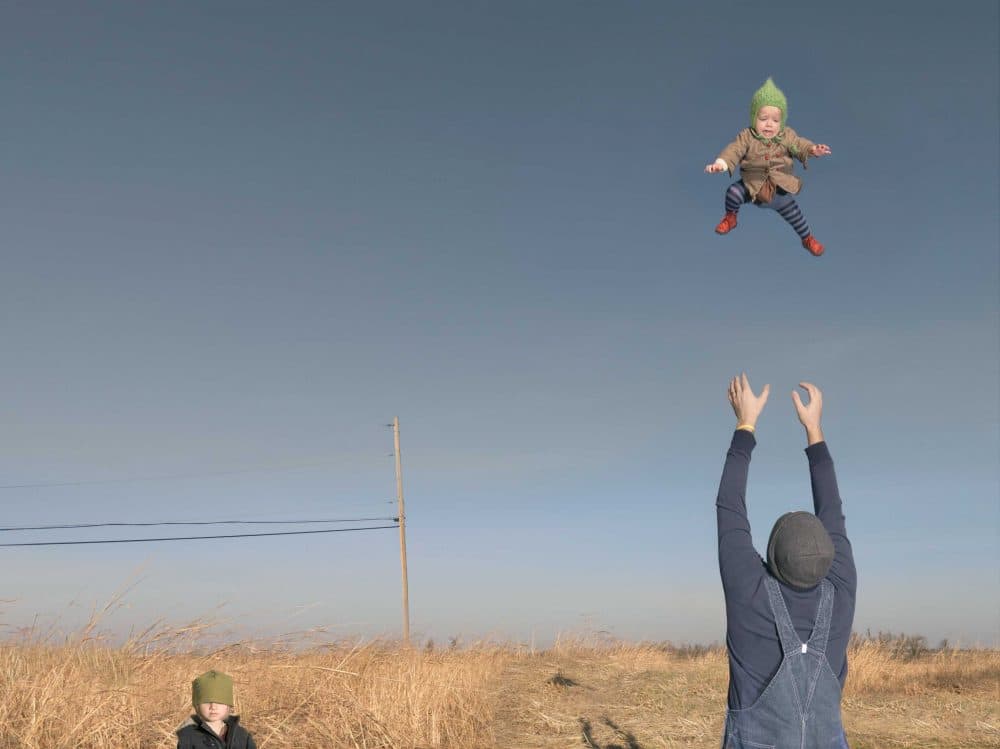 This article is more than 4 years old.
It's that time of the year when holiday cards with pictures of smiling, posing, frolicking families make their way to our mailboxes.
Now an exhibition at Boston's Museum of Fine Arts, aptly titled "(un)expected families," is exploring how photographers have chosen to represent loved ones — and the concept of family through an alternative lens.
The exhibition's gallery feels very domestic. Groups of photos hang on the walls — different sizes, colors, formats and frames — like you'd see in a living room or hallway.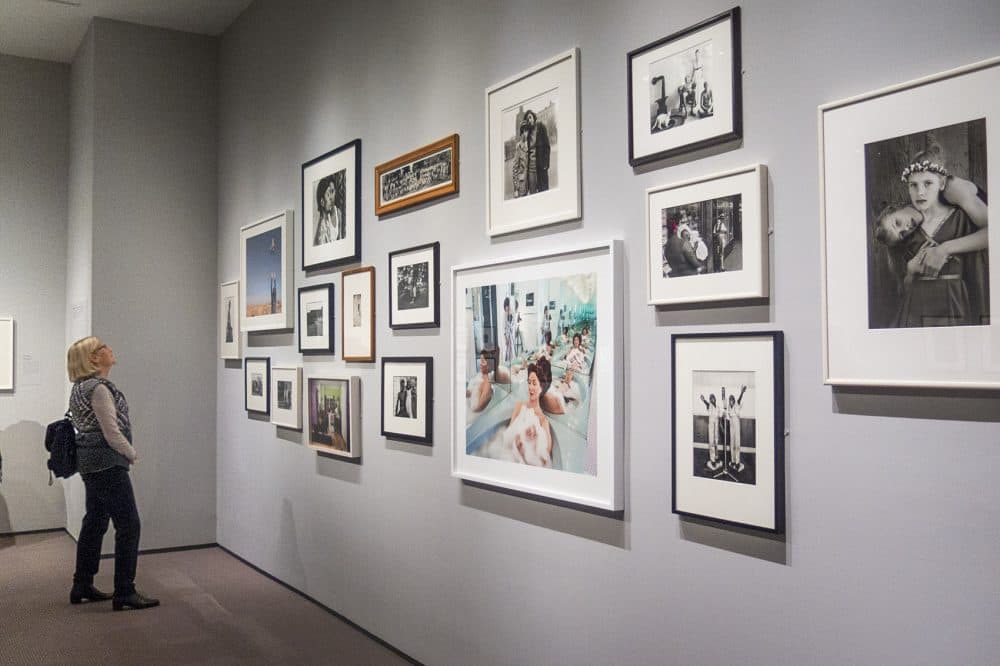 MFA curator Karen Haas confirms that evocation is absolutely intentional.
"Photographers from the very beginning have been fascinated by the way that the camera could capture images of loved ones, freeze them in time," she says. "They form sort of reliquaries of memory, and these sorts of relationships to the objects — that idea of the photograph as a talisman-like object I think has been somewhat forgotten in our contemporary world."
Haas walks over to the oldest of the more than 80 works in the exhibition: a sepia-toned daguerreotype of triplets from the 1850s Boston photography duo Southworth & Hawes. It's displayed in a glass case next to Polaroids Andy Warhol took of the Kennedy family on vacation.
A few paces away Haas points out a kind of counter image to that idealized First Family. It's by artist Nan Goldin, who attended what is now called the School of the Museum of Fine Arts in the 1970s.
The curator calls Goldin a "Boston master" and says the artist's upbringing was troubled. So she found herself a surrogate family.
"In this case, two of her drag queen friends in New York City," Haas explains, "who are members of that group that she felt, and really thought of, as neither male nor female but of a sort of third gender. She was fascinated, drawn to them. They to her. And she photographed them in an incredibly loving and beautiful way."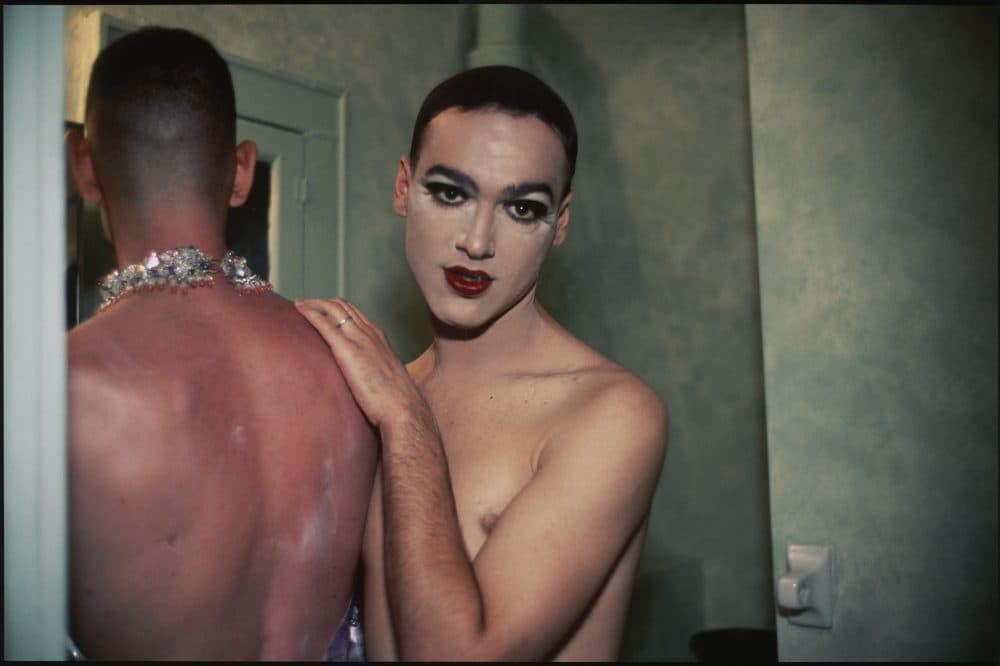 One half of the couple looks directly at the photographer's lens. Trust beams through mascara-coated eyes.
There's a quote from the artist on the gallery label to the right of the photograph that Haas says is particularly beautiful and poignant when you consider that much of Goldin's community was ravaged by the AIDS epidemic:
I used to think that I could never lose anyone if I photographed them enough. But in fact my pictures show me just how much I've lost.

While Goldin found family in outsider culture, other photographers in the exhibition explore what it's like to be an outsider in your own family. Maynard-based artist Caleb Cole probes the concept in his photo series titled "Odd One Out."
"How do you know when you fit somewhere or when you feel like you belong?" he asks during a phone conversation about his work. "What does belonging mean? Do you ever arrive at belonging, or is belonging something you are like constantly struggling to maintain?"
For an image hanging in the MFA show, Cole manipulated an abandoned photograph he found in a thrift store. There's a mom in bed, dad by her side and they're handing a newborn baby to a dour-looking sibling. But Cole edited everyone out except for the new big sister — leaving her surrounded by white, cut-out human forms.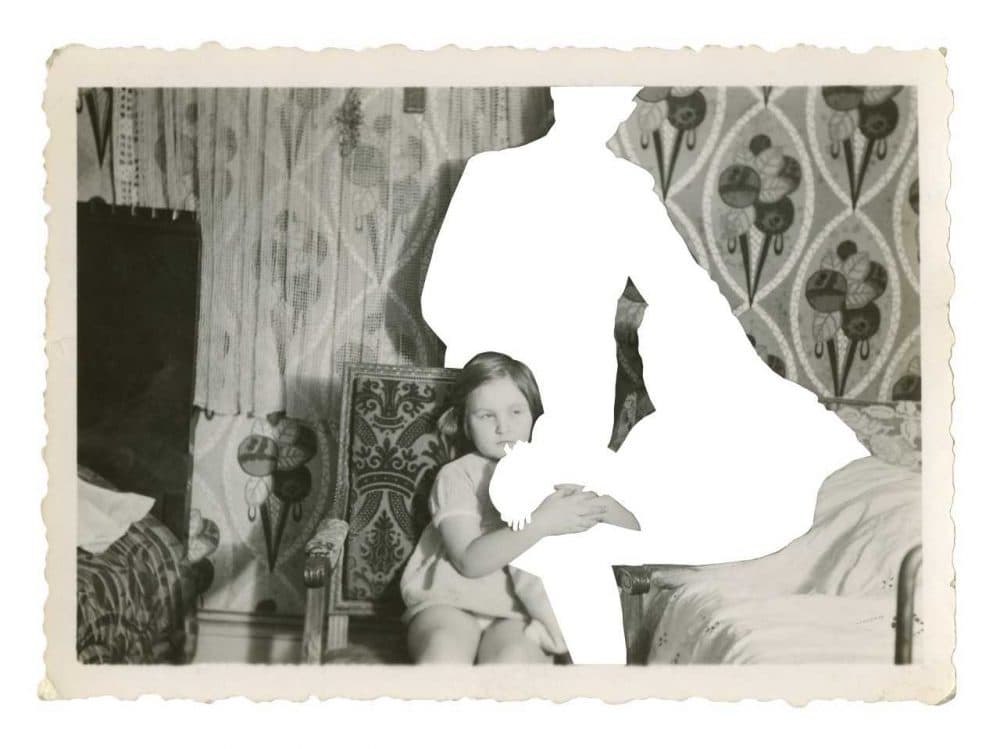 "The look on her face to me very much said, 'I thought I understood my place, I thought I understood my role, I thought I understood where I fit and that I was the only child,' " Cole says of the young girl in his piece. "Now I have to renegotiate my role and how I fit. I don't know how I feel about that."
Cole, who's 36 now, says he can relate to that existential confusion.
"I was the older sibling and have a younger brother," he mused, "so that probably happened to me too."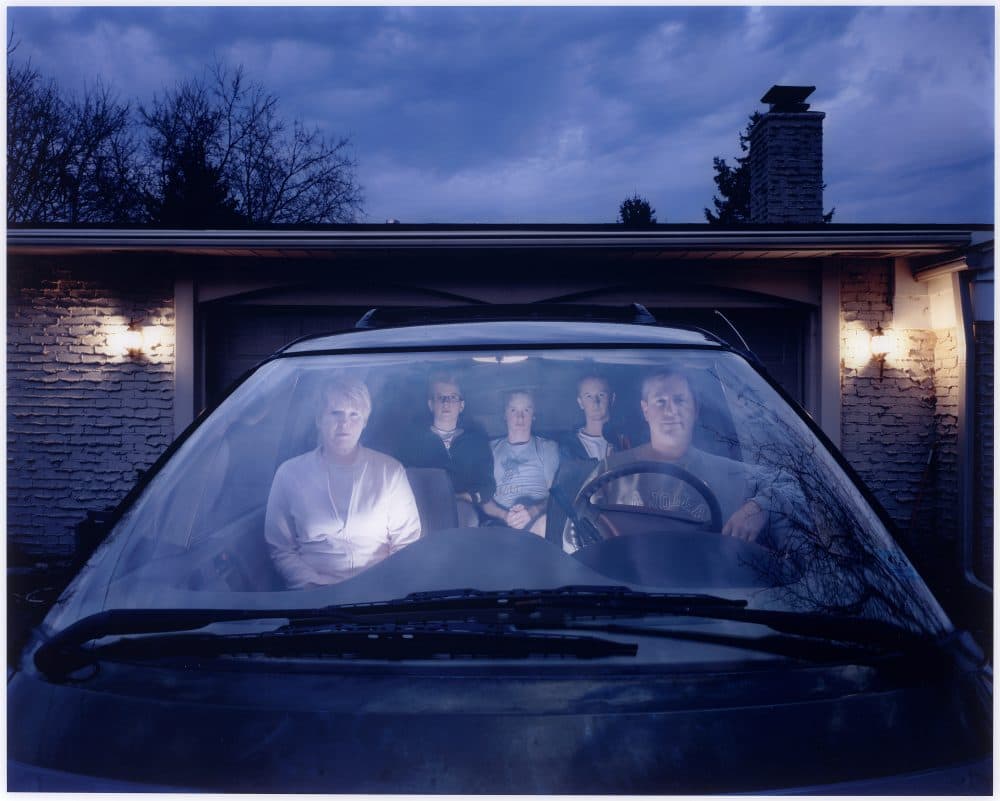 For the exhibition Haas assembled an array of images from the MFA's trove of photographs, from outside collectors and by shepherding 21 new acquisitions (eight from New England artists).
There are large-scale pictures of families around the kitchen table and in the family car -- arenas ripe for coming together, for connecting and, of course, for inevitable family drama.
Virtual families are plumbed, too, in Maine-based artist Tanja Hollander's photographs. She spent five years tracking down hundreds of Facebook friends so she could meet them and take their pictures. (Her project is currently on display at MASS MoCA in North Adams.)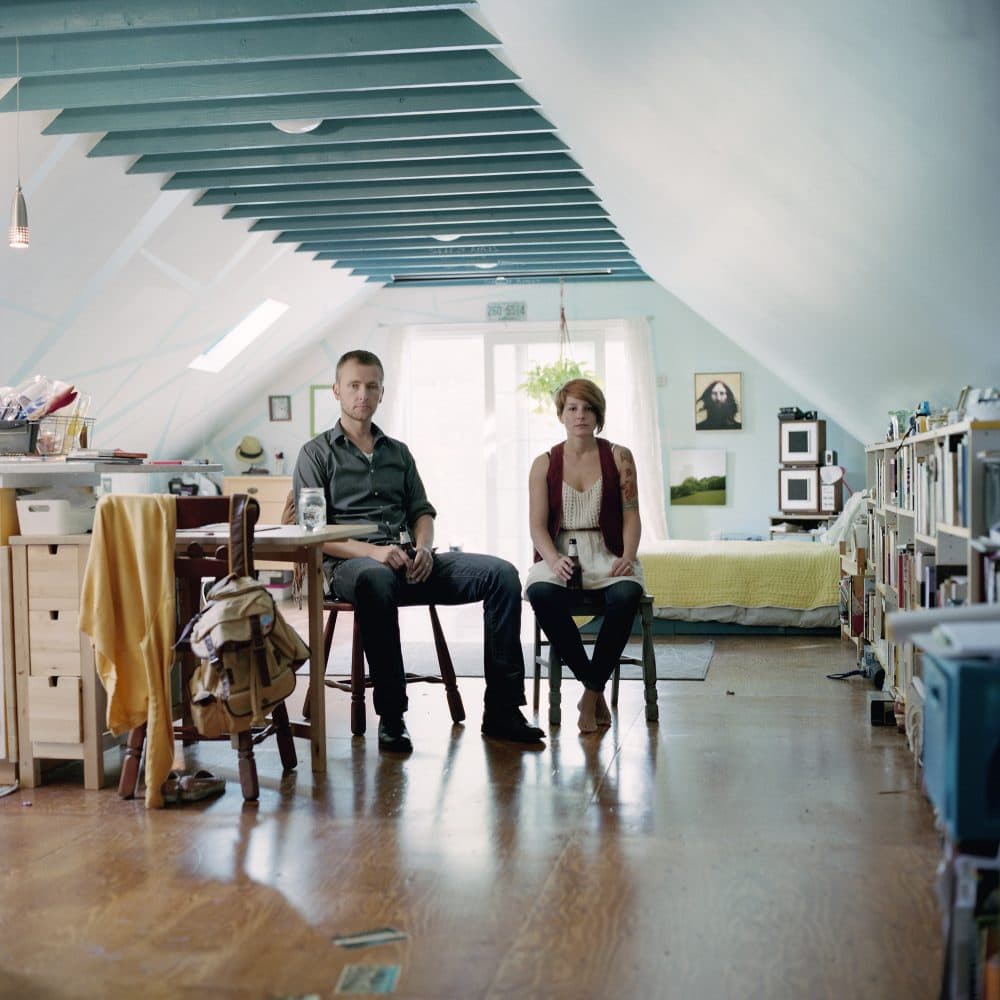 Haas' goal in creating this show is to illustrate how broad and diverse family configurations can be — without defining them.
"The families that we're born into, generational families," she describes, "but also romantic unions, couples and chosen families — families we have chosen for ourselves."
And that includes the military and the church, Haas says.
"I think the family is such a basic social construct — so basic to so many of our lives — that I hope that these kinds of images will really resonate with people."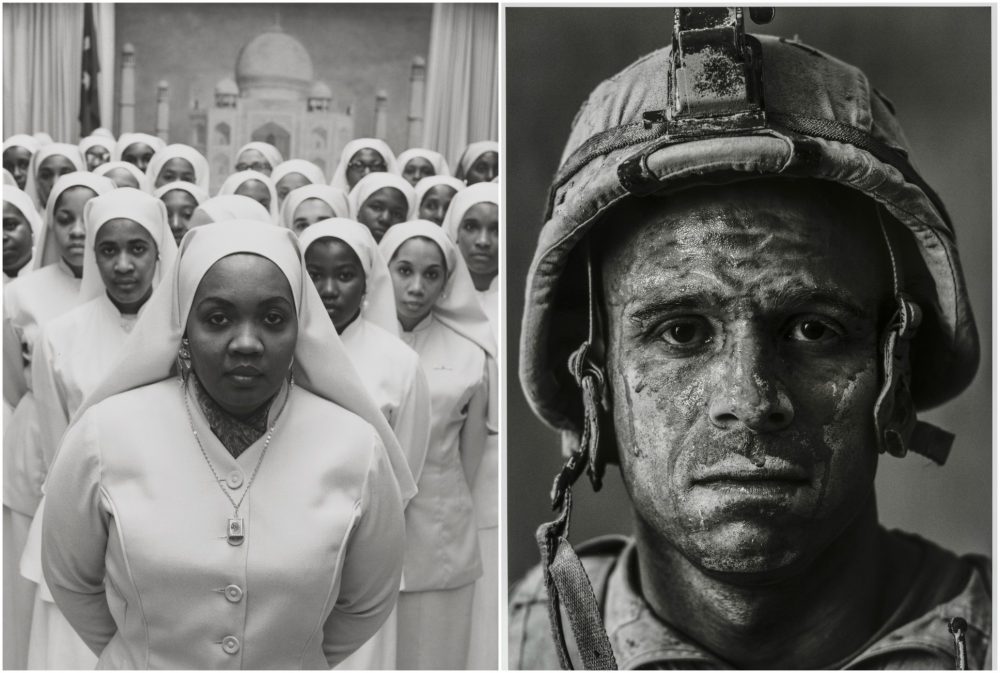 Visitor Sharon Gordetsky thinks these photographs will speak to the people while emphasizing the importance of looking closely at images of family.
"Pictures that can be seen — and can be studied — rather than just on a computer or just on a cell phone," she emphasizes.
Gordetsky is a family psychologist and former president of the Massachusetts Psychological Society. As she tours the show she says it has the potential to spark valuable conversations — especially during the holidays — which can be rough on families that aren't "traditional" or picture-perfect.
"It's so wonderful — for kids and everyone — to come and say you're a family even if you're not genetically related, biologically related. You are a family," she says.
Curator Karen Haas invites visitors to write about their own "(un)expected families" on response cards in the gallery that will be archived at the museum.
And she adds they can and should include any family member — then she shows me one of her personal favorite photos. In it, there's a mother, a father ... and a dog.
---
"(un)expected families" is at the Museum of Fine Arts through June 17, 2018.