The Future Of Construction: Putting Innovative Ideas To Work At Autodesk's Workshop
Resume
At a unique industrial workshop in Boston's Seaport, teams of researchers are creating the future.
They're experimenting with new construction technologies and design techniques that promise to transform the way things are made. Projects include autonomous robotic arms that one day could build shelters on the moon, Mars and beyond, and robo-furniture that can convert rooms to fit your needs — on command.
Two years ago, California-based design-software company Autodesk set up shop in Boston's so-called Innovation District with some innovative ideas of its own.
"What we're doing here is to look beyond the incremental — over the horizon where we can't see yet," said Rick Rundell, senior director at the BUILD (Building, Innovation, Learning, and Design) Space industrial workshop.
Stefanie Pender is the shop supervisor at the BUILD Space. "I can't think of a material that it won't go through," Pender said as she started up a high-power waterjet. "I think it will cut anything."
The waterjet shoots out a stream of ground-up garnet and water at 87,000 pounds per square inch — enough power to slice through glass, steel, even titanium.
The waterjet is just one of the dozens of state-of-the-art machine tools in the 34,000-square-foot BUILD Space. It's a place where — for a few months — competitively selected tech teams get unlimited access to specialized software, expensive equipment, expertise and workspace at no cost.
Here, startups are free to explore the limits of their industrial design imaginations.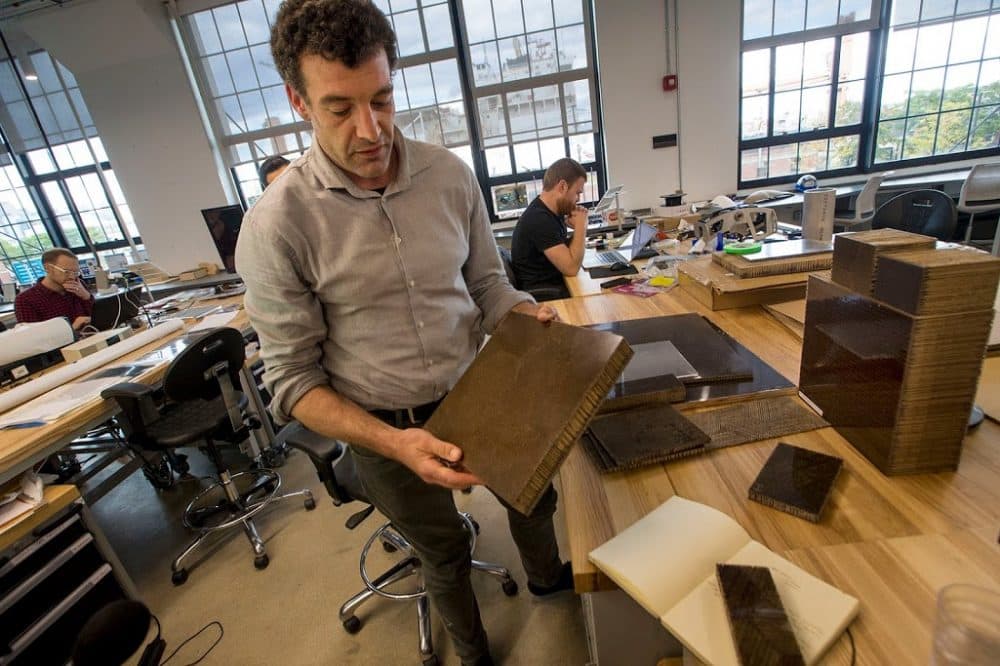 Rebuilding Cardboard Stronger — And More Sustainable
"What we're doing here is continuing work that originally started in my Cambridge garage," said Seva Tsodokov, founder of MetaComb Inc. "We're humbly trying to resolve world problems."
MetaComb is trying to automate the process to turn corrugated cardboard tossed into the trash into a super strong, sustainable building material.
"What you're looking at here," Tsodokov said, "is a high performance, relatively inexpensive panel that is sourced and manufactured locally, to be consumed locally."
The prefab wall panels could cut costs and the pollution from transporting materials to work sites.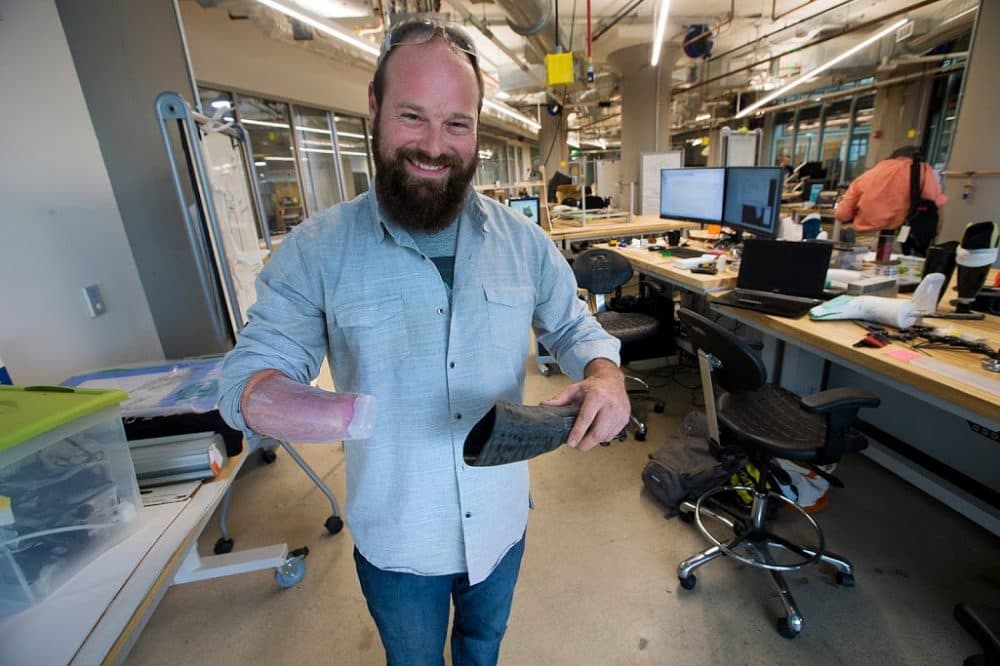 Rethinking Prosthetic Attachments
At a workspace next to MetaComb is a BUILDer resident who turned personal necessity into the mother of a new invention.
Meeting Braden Leonard, the founder of Hand Made Prosthetics, was a little awkward. I had to shake his left hand.
"What happened to your arm?" I asked.
"I got into an accident," Leonard said. "I got a flesh-eating bacterial infection and I ended up going into a coma and they had to amputate in order for me to survive. So yeah, I woke up with a surprise."
Leonard was a firefighter from Rhode Island turned inventor when he learned the hard way that fitting artificial arms and attaching them to the body with a socket has changed little in decades.
Leonard is designing a process to update the prosthetic arm attachment system.
"We're trying to take a different approach and trying to capture some more of the anatomical movement that you naturally have that sometimes gets lost when you wear a socket," Leonard said.
Leonard's goal is to go from a scanned image of an amputee's arm to computerized custom design, to finished 3D printed product — using a plant-based plastic.
Flexing A Huge, 3D-Printing Robotic Arm
Nearby, at another BUILD workspace, an electronic whistling sound is produced by a different kind of arm at work.
"The technical term for this would be a serial link micro-macro manipulator arm," Julian Bell explained. "We call it a construction robot."
Bell puts the huge digital construction platform through its paces. Bell is with MIT's Media Lab, where the giant 33-foot-long autonomous arm mounted on a maneuverable platform was created. It's twice the size and costs a lot less than its nearest competitor.
Actually, it's two arms: a large powerful pneumatic bicep, and a smaller, more agile electric forearm — designed to build big things.
"With this project, we're really looking at going to a much larger scale," Bell said. "We're looking at taking these tools and techniques that we've developed in our labs and machine shops and scaling them up to architectural scales."
This new class of architectural robot — powered by solar — can drive autonomously to a work site, clear the area, and construct a building faster, better, cheaper using a 3D printing process.
Recently this robo-builder made a 50-foot diameter, 12-foot-high domed structure in 14 hours — all by itself. The building could be used to store road salt, or as an emergency shelter, or a home away from home... on Mars.
"NASA is sponsoring a program right now to look into that," Bell said.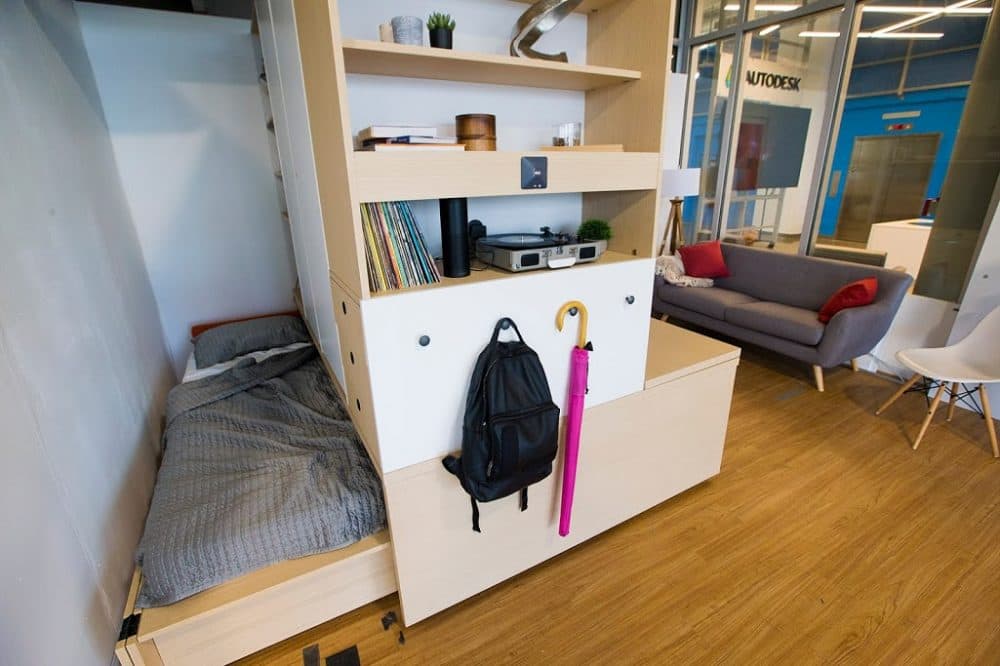 Transforming A Living Space With Tiny Robots
Closer to home, the company Ori Systems is using robotics to bring the price of rental space down to earth.
At the BUILD lab, Ori CEO Hasier Larrea shows off a small furnished room. He said in the Seaport District, a tiny place like this might go for $3,000 a month.
"What we do is basically say, look, people want to have a queen size bed, people want to have a walk-in closet, people want to have an office," Larrea said. "But if you only have 2, 3, 400 square feet, you just cannot have all of that."
But with Ori System's smart, movable furniture, you can have it all. On command, tiny robots transform the space into different functions.
Alexa, I want to go to bed.
"What you can do is give someone a bedroom when they need it, give them a walk-in closet when they need it, or open up a living room when they need it. So think of programmable spaces."
Think dorm rooms, or hotels and offices. That's what the BUILD Space in Boston's Innovation District is all about: creating a crystal ball community of inventors, working with limits, and going beyond.
Correction: Stefanie Pender's name was misspelled in the first publication of this article, and we incorrectly stated that the Media Lab's autonomous arm cost more than its nearest competitor. We regret the errors.
This article was originally published on January 02, 2018.
This segment aired on January 2, 2018.