Cold Spell And Coming Snowstorm Testing MBTA 3 Years After Brutal Winter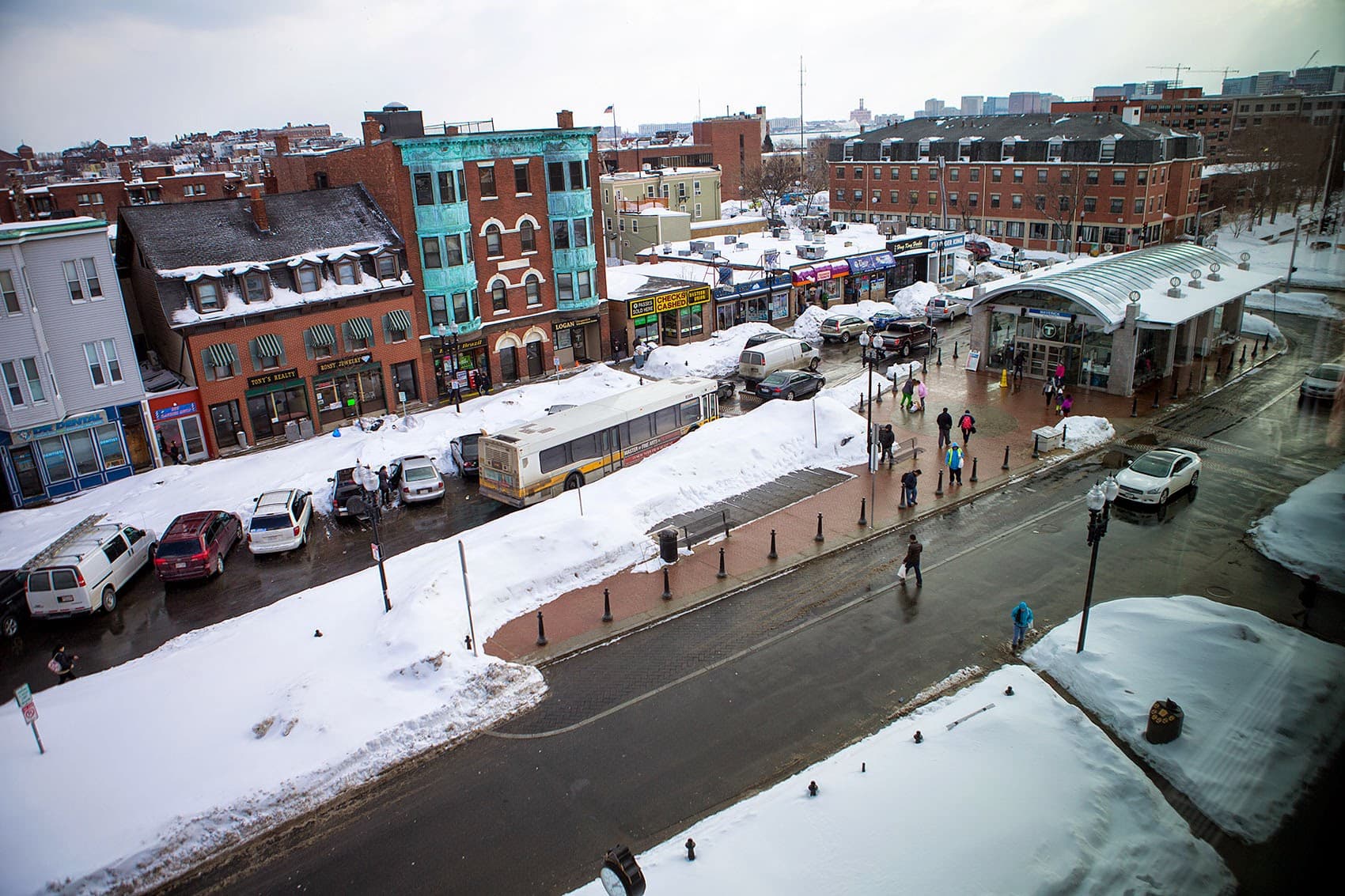 This article is more than 3 years old.
Three years after MBTA service problems were exposed by the harsh winter of 2015, the transit authority's systems are being put to the test again with another week of frigid temperatures and heavy snowfall in the forecast.
Transit officials are advising riders to prepare for potential delays this week as the cold snap continues. In recent days, MBTA users have faced a blend of satisfactory service combined with sometimes lengthy delays and cancellations as the area copes with a string of below-freezing days and riders deal with late arrivals and missed appointments.
A "huge amount of work" is going into attempts to minimize disruptions for passengers, Transportation Secretary Stephanie Pollack said Tuesday.
"If we're running five or ten minutes late, that's way better than 2015, when service was shut down for days and even weeks at a time," Pollack said on WBUR's Radio Boston. "But because of the cold weather, we just want to make sure our customers plan for that kind of eventuality, because there's just a big difference, given this temperature, between standing and waiting for your train for five minutes and standing and waiting for your train for 20 minutes."
Gov. Charlie Baker said extreme cold can be "almost more dangerous and difficult than snow" in some respects.
"Rails break, and when rails break, that creates all kinds of issues for riders," Baker said Tuesday, according to a WHDH broadcast.
There have been eight broken rails on exterior portions of T lines during the recent cold spell, Pollack said, and seven were repaired without service disruptions. On Friday, Orange Line passengers north of Boston were rerouted onto shuttle buses after a piece of rail broke on a bridge near Wellington Station in Medford, causing delays.
One major aspect of service south of Boston was knocked offline completely Monday night when the T announced that its ferry from Hingham to Boston would be suspended until further notice after "extreme tides and ice buildup" damaged a dock.
The damage was severe enough to constitute a safety hazard for passengers, according to the T, which advised ferry customers to instead board the Greenbush commuter rail line.
Some rail, subway and bus passengers were greeted Tuesday morning with delays attributed to mechanical issues, signal problems, track conditions and disabled trains or buses. Morning train cancellations were reported on the Fitchburg and Newburyport/Rockport commuter rail lines.
Overall, approximately 84 percent of the morning's roughly 200 commuter trains were on-time Tuesday, a spokesman for commuter rail operator Keolis told the News Service. Justin Thompson, Keolis' public relations manager, said the rail company expected to run a "normal level of service" Tuesday evening and that officials are "taking precautions to help ensure this evening's commute is smooth and comfortable for our passengers."
Story continues below
Current conditions in Boston
Over the past seven days — not including Tuesday — buses were running at an average 75 percent reliability, commuter rail at 88 percent, and the subway 85 percent, according to MBTA data.
Keolis is encouraging passengers to dress warmly and check schedules before traveling. Additional crews will be on hand to clear snow from platforms, apply sand and salt and inspect tracks and signals ahead of and during Thursday's anticipated storm, according to a press release.
Temperatures at 4 a.m. Tuesday ranged from a high of 15 degrees in Nantucket to a low of 13 below zero in Chicopee, according to the National Weather Service in Boston, which recorded a wind chill of -7 degrees at Logan Airport and -19 degrees at Worcester Municipal Airport.
With eight to 12 inches of snow anticipated Thursday in eastern Massachusetts, state emergency management officials are warning of the potential for slowed commutes and dangerous travel conditions, along with strong wind gusts and coastal flooding.
"Bitterly dangerously cold weather follows Friday into Saturday with the potential for wind chill values dropping to between 15 and 35 below zero," the Massachusetts Emergency Management Agency wrote in a situational awareness statement.
Chris Dempsey, the director of the coalition Transportation for Massachusetts, said riders and advocates will be paying "close attention to the T" as the winter continues.
"We know that there's a strong team at the MBTA that is committed to making the T run better in the winter, and yet we've still seen a system that isn't performing up to everyone's standards in this cold snap," he said. "It's discouraging for people that ride the T every day that have, frankly, really bad memories from the winter of 2015 and don't want to see the system collapse again. I don't think anyone is predicting that the system is going to collapse the way it did in 2015, but at the same time I and others are discouraged that we have seen the impact from the cold weather just in the past week."
A series of storms during the winter of 2015 battered the MBTA, forcing shutdowns of transit service and in many cases leaving riders unable to reach their destinations.
The T said it has since spent more than $101 million on winter preparedness upgrades, including track and signal infrastructure, replacement parts for vehicles, and snow equipment.
Last winter, Boston was hit with 42 inches of snow, according to the MBTA, which activated its "Storm Desk" seven times and its emergency operations center five times but did not shut down service at all.
Dempsey said the T was focused on "short-term" fixes like moving trains into the tunnels overnight to keep them warm and buying more snow-clearing equipment. "I think we also need to be having a conversation about broader investment in the MBTA that just increases the reliability without having to resort to small tactics, because we've made more substantial investments."
Among the key improvements made since 2015, Pollack pointed to new third rail heaters, and a "great stockpile of replacement motors." The MBTA has new fleets on order for the red and orange lines, she said.
"We are investing," Pollack said. "The T for the first time has a fleet plan and the money to buy it, but you can't buy new vehicles overnight. We're still running the exact same red and orange line trains we had to run in the winter of 2015, and they're three years older. But the new ones are on the way. There's nothing we can do to spend more that will change when those new trains arrive over the next five years."
State House News Service's Michael P. Norton contributed reporting