What MFA's Siqueiros Painting Tells Us About A Movement That Fought Fascism And Democratized Art
Play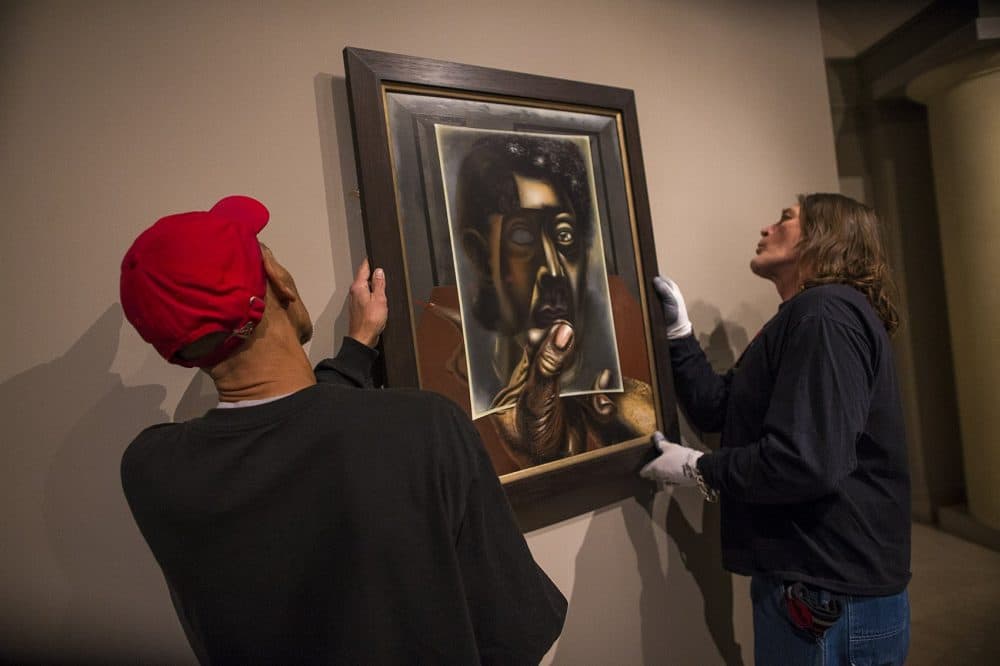 This article is more than 5 years old.
On a recent afternoon, curators at Boston's Museum of Fine Arts nervously watch as their colleagues meticulously measure and hang a large self-portrait by David Alfaro Siqueiros.
"I very much think of him as one of the great voices of of modern art," says Layla Bermeo, a curator at the MFA. Her eyes light up when she looks at the painting, which hasn't been on view since Siqueiros gave it to his friend, famous composer George Gershwin, in 1937.
The story goes that Gershwin and Siqueiros were fascinated with each other's art. Gershwin said he could hear sounds from the colors in Siqueiros' paintings, and Siqueiros could see colors in a Gershwin melody. The painting remained in Gershwin's estate until the MFA bought it for its permanent collection.
"After 80 years of being out of sight, but known, it'll be here in the public's view," says Elliot Bostwick Davis, the chair of the MFA's Art of the Americas Department.
The painting, titled "Autorretrato con espejo," is an amalgamation of styles. It shows Siqueiros' hand, painted in a classical realist way, holding what appears to be a mirror with his reflection. His face features geometric shapes and strains of cubism. The background is hard to make out, in dialogue with surrealism.
"It's purposely not made with oil on canvas because he was trying very much to reject what he saw as the tools of the aristocracy -- materials and methods that had all of the trappings of keeping art away from the public, keeping it within only specific audiences," says Bermeo.
Siqueiros painted the self-portrait in 1937 while living in New York City and experimenting with non-traditional materials like automobile paint. A committed Marxist, Siqueiros, like Diego Rivera and other Mexican muralists of the time, tried to democratize art, to rid it of its bourgeois status. His political beliefs are inseparable from both his aesthetic and his methodologies in making art. One of the earliest critics of Hitler, Siqueiros believed better access to the arts was a powerful antidote to fascism.
When Siqueiros painted the self-portrait, he was teaching a months-long artist workshop in New York he called "a true revolutionary art program." There, he mentored emerging artists, like Jackson Pollock -- who later redefined what fine art could be -- to break away from traditional styles.
"He is experimenting with spilling, with dripping, with pouring. He's encouraging people like Jackson Pollock, who are working with him, to be more experimental," says Bostwick Davis of that time.
Siqueiros was not only experimental, but also subversive. He encouraged American painters to depict the power and corruption of Wall Street he perceived and to spark social reform.
"He is really almost evangelizing on what artists can do in the service of social change," says Bermeo. "He's really seen as someone who is leading an international artistic movement of modernity."
Siqueiros sparked a movement that arguably changed the course of modern art and that the MFA can now better highlight.
This segment aired on January 10, 2018.