Watch: Olympian Aly Raisman Excoriates Abuser, USA Gymnastics And USOC In Nassar Trial
04:58
Play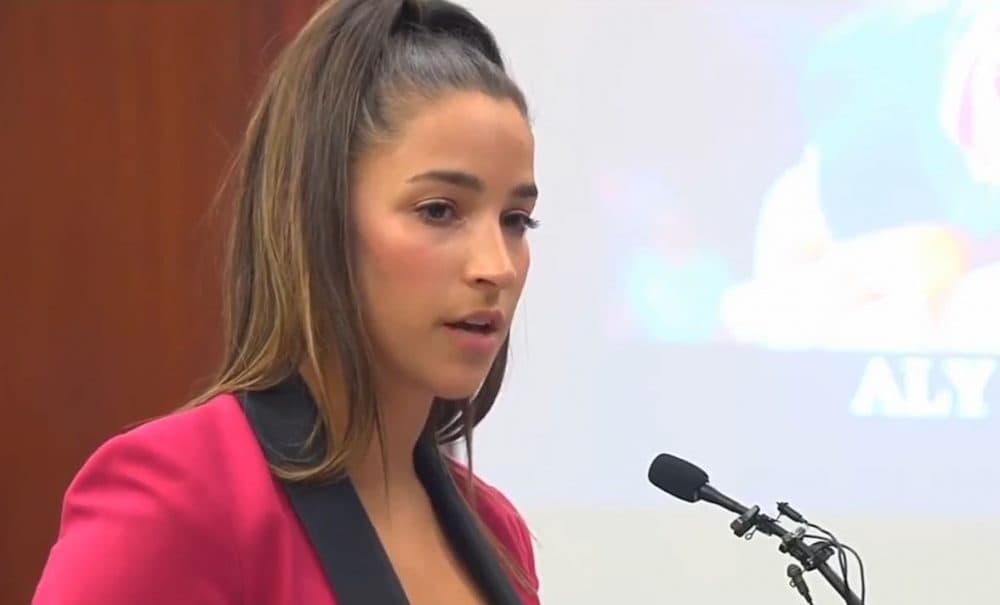 This article is more than 3 years old.
Aly Raisman, a two-time gymnastics Olympian, is among the young women delivering victim statements in the trial of Larry Nassar, the Michigan doctor who pleaded guilty to molesting 10 girls under the age of 16.
Nassar, 54, entered the guilty pleas to first-degree criminal sexual conduct in November. He has been accused of sexually abusing more than 100 girls and women, and now faces a minimum sentence of 25 years and a maximum sentence of life. Nassar is already serving a 60-year sentence for child pornography.
Speaking in a clear and firm voice, Raisman read her victim impact statement before the court on Friday morning, castigating Nassar and calling him a "monster." The 23-year-old Massachusetts native asked Judge Rosemarie Aquilina to give Nassar the maximum sentence.
"I am here to face you, Larry, so you can see that I've regained my strength, that I am no longer a victim — I am a survivor. I am no longer that little girl you met in Australia where you first began grooming and manipulating," Raisman said in her statement.
"As for your letter yesterday, you are pathetic to think that anyone would have any sympathy for you," she added, referencing a letter Nassar sent to the court saying he felt he could not cope with hearing a week of testimonies from his accusers. "You think this is hard for you? Imagine how all of us feel."
Raisman also took aim at USA Gymnastics and United State Olympic Committee officials, saying the organizations failed to respond sooner to gymnasts' accusations against Nassar.
"Your abuse started 30 years ago, but that's just the first reported incident we know of. If over these many years just one adult listened and had the courage and character to act, this tragedy could have been avoided," Raisman said. "I and so many others would have never, ever met you. Larry, you should have been locked up a long, long time ago. Fact is, we have no idea how many people have been victimized or what was done or not done that allowed you to get away with it."
Raisman also said the organizations failed to reach out to victims to offer support.
"It's easy to put out statements talking about how athlete care is the highest priority," she said. "But they've been saying that for years and all the while, this nightmare was happening. False assurances from organizations are dangerous, especially when people want so badly to believe them. They make it easier to look away from the problem."
She said she was glad to hear that USA Gymnastics would be terminating its lease at the Ranch, a national training site. But she said athletes were still training at the site on the day the organization released the statement ending its lease.
"I have represented the United States of America in two Olympics and have done so successfully," she said. "And both the USA Gymnastics and the United States Olympic Committee have been very quick to capitalize and celebrate my success. But did they reach out when I came forward? No. So at this point, talk is worthless to me."
A spokesman for the USOC issued a statement Friday in response to Raisman's comments:
We were first made aware of the possibility that a USA Gymnastics physician had sexually abused USA Gymnastics athletes in the summer of 2015 when we were informed by USA Gymnastics. At that time USA Gymnastics indicated that they were in the process of contacting the appropriate law enforcement agencies. We are heartbroken that this abuse occurred, proud of the brave victims that have come forward and grateful that our criminal justice system has ensured that Nassar will never be able to harm another young woman. We are hopeful that with the U.S. Center for SafeSport's continued education and prevention efforts, as well as their investigative and adjudicative authority, we will help ensure that tragedies like this will never happen again.
USA Gymnastics did not respond to WBUR's request for comment.
When Raisman finished speaking, members of the courtroom broke out in applause.
"You were never the problem, but you are so much the solution," Judge Aquilina said. "You are unstoppable. You are part of an unstoppable growing force, an unstoppable, strong, loud voice. The effects of your voice are far-reaching. It's not just in this courtroom, but worldwide."
"You're one of the strongest survivors," Aquilina added.
Watch Raisman's full testimony below:
Editor's Note: WBUR's All Things Considered aired an excerpt of Raisman's remarks. You can listen at the top of this post.
This segment aired on January 19, 2018.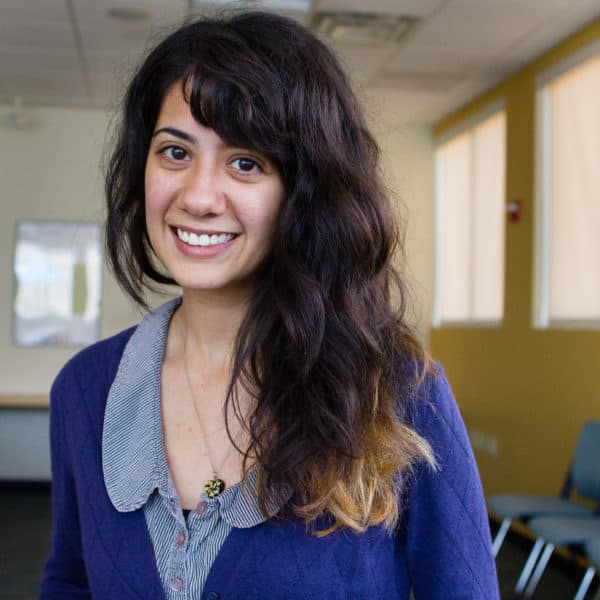 Lisa Creamer Managing Editor, Digital
Lisa Creamer is WBUR's digital managing editor.