Boston Playwright Melinda Lopez Finds Compassion For Herself After Her Mother's Death
Resume
Boston playwright Melinda Lopez still feels scared before going on stage to relive the last months of her mother's life for her one-woman play "Mala." But after performing the play for two runs in different theaters, Lopez is able to tap into the pain onstage and leave it there.
"I wrote the play about two years ago. I wrote it in the middle of a lot of chaos and that's where the play is set. It needs to live there. But I don't live there anymore," Lopez said in a recent interview.
She is performing the play for a third run, this time hosted by the Huntington Theatre Company at the Calderwood Pavilion. Set in Boston's 2015 record-setting winter, "Mala" chronicles the decline of Lopez's mother's health and the journey of a daughter navigating the confusion, anger, tenderness and love in the last chapter of life with her mother. "Mala" explores her struggle to meet this chapter with grace -- sometimes falling short.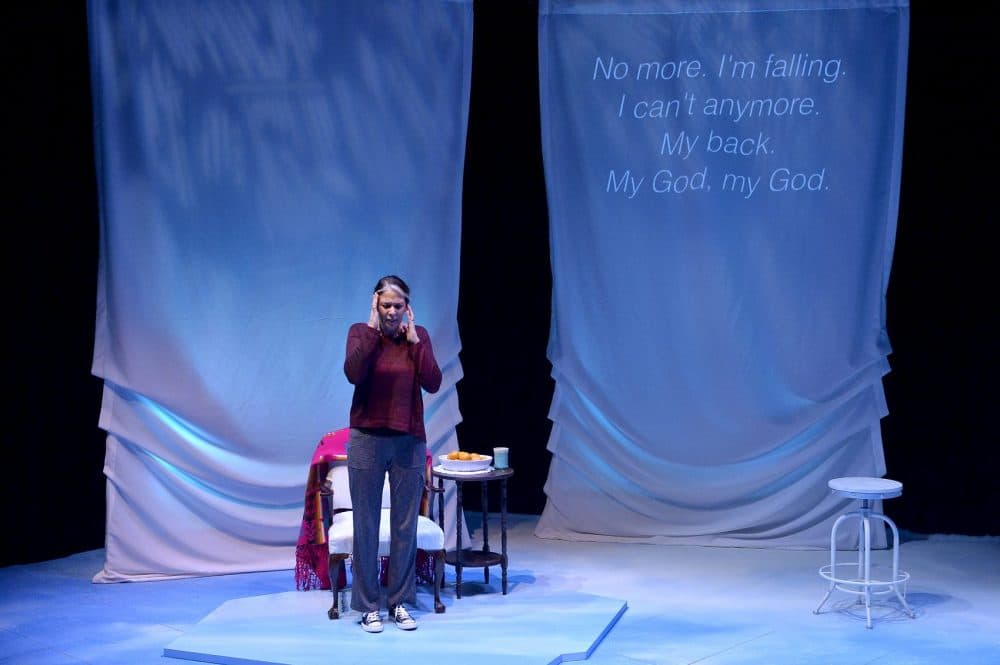 "There's a distance where I can look back and I can say I remember exactly what it felt like ... but I also know when I walk off stage I'm not that person that I was two years ago. I have so much compassion for her now."
Lopez said she found that compassion for herself through meditation and accepting that it's OK to be an imperfect child to one's parents.
"It's a hard job to care for your parents. No one teaches you how to do it," she said. "You love them, you're frustrated, you don't know what's right. And so I can see mistakes I made, or when I was short tempered and I know I was doing my best. You have to forgive yourself. You have to love the imperfect person that you were. I mean that's how we grow, that's how we learn."
Originally produced by ArtsEmerson, "Mala" played in Boston in 2016 and then at the Guthrie Theater in Minneapolis, giving Lopez ample time to settle into the role and master its emotional and humorous pace. "Mala's" comedic tone allows it to unpack complex and painful themes about what it means to be a daughter and a mother with unflinching honesty.
"Talking about these big issues feels scary. But it isn't scary. You're in the theater with a guide who's been there and who has a really particular kind of sense of humor about it and the show is — it's the opposite of sentimental," said Lopez.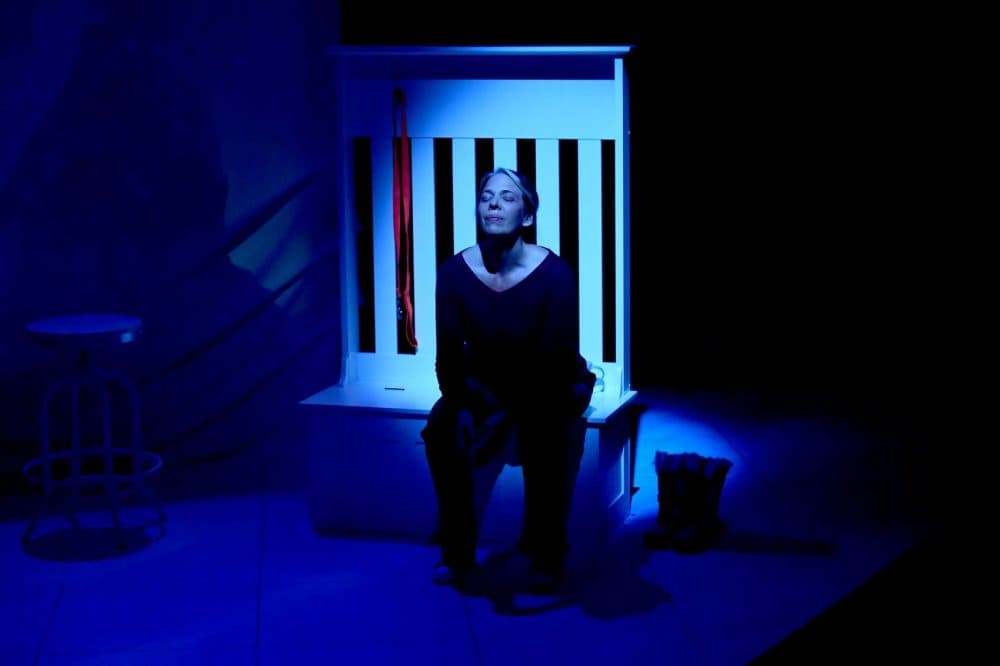 "Mala" is a meditation on the complexity of what one takes from and gives to parents: both love and unsettled trauma. Lopez recounts tender memories of her mother, like her sacrifices as a cafeteria clerk so she could buy Lopez fashionable clothes. With the same honesty, Lopez tells the painful memories. In one scene, Lopez reveals her mother used to hit her as a child — an action Lopez found herself reflexively mimicking one day when her daughter was a small child.
Since writing "Mala," Lopez said she explored the legacy of her mother in herself.
"I actually can't think of anything more wonderful than taking after my mother, in all the ways that she was magnificent and I so honor her and love her for her strength and the things she accomplished," she said. "You know, what she sacrificed for me. And she was also a deeply flawed human being -- a product of her culture and her time. And so I want to be just like my mother and I want to be nothing like my mother. Both of those things are true."
---
"Mala" is playing at the Calderwood Pavilion through Feb. 4.
This segment aired on January 23, 2018.