From Omitting #MeToo To Missing A Vision: Democratic Challengers Criticize Baker's State Of The State
Play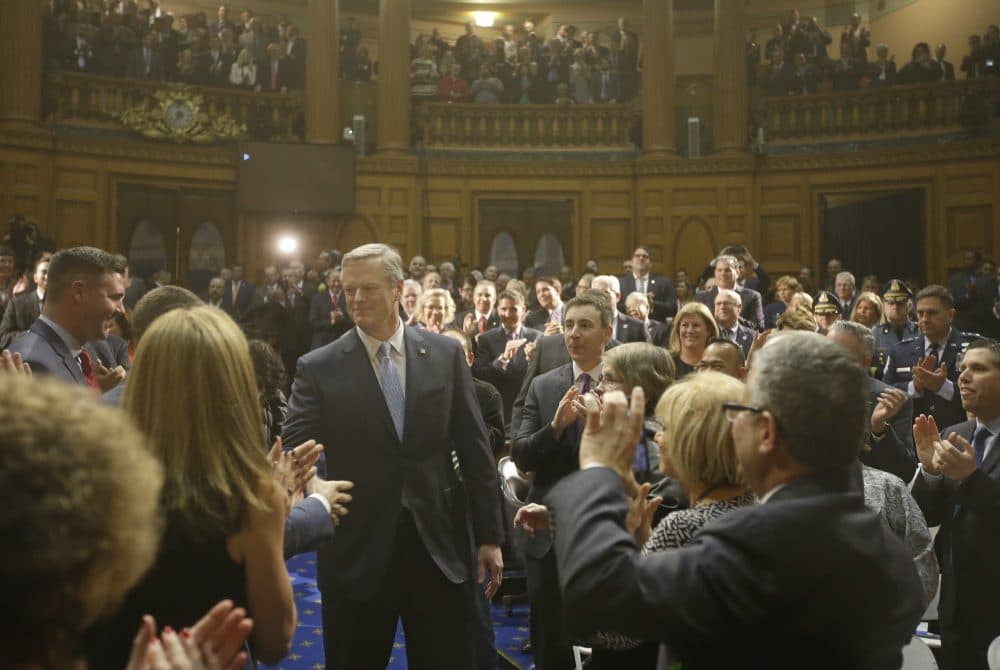 This article is more than 5 years old.
Republican Gov. Charlie Baker's State of the Commonwealth address Tuesday came as the governor is just 10 months away from seeking a second term in office. Throughout his speech, the governor cited a number of legislative actions and initiatives his administration sees as successes over the past three years. (You can read and watch Baker's speech, here.)
Following his speech, WBUR invited his three Democratic challengers to weigh in on the governor's remarks.
Below, you can hear the candidates' conversations with WBUR's Anthony Brooks about Baker's address. We spoke with Baker's challengers in alphabetical order by surname, as they appear here in interview highlights, edited:
Jay Gonzalez, former secretary of administration and finance under former Gov. Deval Patrick
On The Vision Baker Laid Out
"If Governor Baker were the CEO of a company, he would be fired. It's easy to be popular when you don't do anything, and you never take a stand, and your whole approach to the job is being cautious instead of courageous. And we're three years into his term, and he's got no record of any meaningful accomplishment on any issue that makes a difference to people on a day-to-day basis — and no agenda for doing so."
On The Department Of Children And Families, And The Budget
"More kids are dying under the care and custody of DCF under Charlie Baker than under Deval Patrick. The budget, that's the last thing he should be taking credit for. You may remember that when I was in charge of the state budget for Governor Patrick during much tougher times, we managed successfully and got the highest bond ratings in state history. Governor Baker has presided over a period of economic growth."
On Baker Not Mentioning The #MeToo Movement
"One other thing that really surprised me about his speech was the absence of any mention at all of the 'Me Too' Movement. ... This is a huge cultural issue, and it is a problem that we need to be talking about. And we've got a governor who's in a leadership position, totally silent on this issue."
Bob Massie, environmental activist and author
On Wealth And Workers' Issues
"The state that I've seen [is one] where people are really struggling with the most fundamental building blocks of life, liberty, and the pursuit of happiness. ... The jobs that we've seen — it's true we have low unemployment, but we have low unemployment with a lot of terrible jobs where people find themselves being put into independent contractor status. This governor didn't say anything about the $15 minimum wage which we desperately need — nothing about paid family and medical leave. He didn't say anything about the 'fair share' amendment, which is just a very fundamental adjustment to our system where we would ask people making their second million dollars to contribute to education, transportation."
On Baker's Responses To President Trump
"We have a president attacking our fundamental structures of democracy, and Charlie Baker — if you look at his record — has coddled him or refused to stand up to him. He didn't go to either women's march. He didn't go out to the airport. He didn't go to the science march. He didn't go to the climate march. He doesn't speak up."
Setti Warren, former mayor of Newton
On The Budget And Education Issues
"While some people in communities are still falling behind, Massachusetts is on a roll, we have been for a while. Still during those good times, our budget is a mess, and we're having trouble paying for things that our citizens need. I think we need to ask why that is true. When we look at what was presented this evening, Governor Baker continues to say: 'no new revenue.' And here we have the critical issue of education — a Chapter 70 formula that is under-funding education for our state, not providing the resources needed to ensure every single child is educated in our state. It's broken. It needs additional resources. We have students taking on huge student debt at the state and community college system. We need additional resources."
On The MBTA's Struggles
"Massachusetts has the worst commuter rail system in the country. Federal government just came out with the data. Charlie Baker continues to say no new revenue and privatization. Commuter rail is privatized already. We haven't made investments in our infrastructure — it's clear. I've called for additional revenue, and I've asked for the fair share tax be passed — millionaire's tax — so we can reinvest that in transportation and education. Governor Baker is against that. Governor Baker has said it's gonna take him 20 years to fix transportation in the state. If that's the way he's approaching it, he should get out of the way and let me get in there."
On The Opioid Addiction Crisis
"Governor Patrick declared a state of emergency in 2014. Six-thousand people have died since that declaration — over five people a day are dying a day of opioid addiction. We have 250,000 people in our state living with opioid addiction. That number is growing at a cost to the Commonwealth of $10 billion. We cannot afford not to deal with this: increase spending on this issue. I'm hearing there are not enough beds, Anthony. I'm hearing that we have long waits to get into beds. People who need treatment once they get out of detox, there's nothing there. ... We have to be honest about raising revenue and making the investment."
This segment aired on January 24, 2018.