Baker Touts Bipartisanship, Goals For Future In State Of The Commonwealth Address
03:47
Play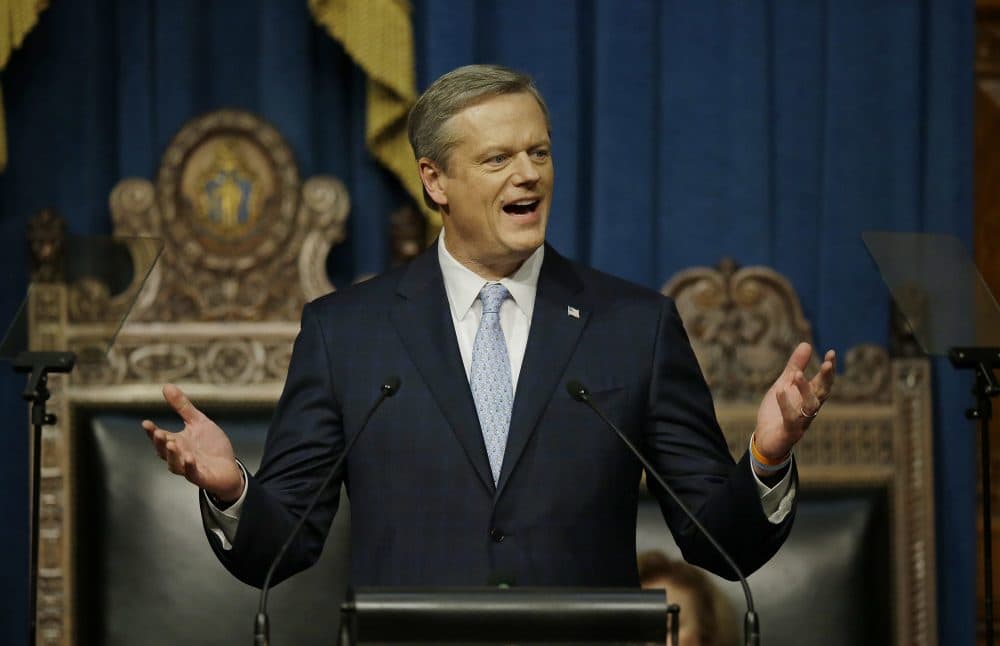 This article is more than 3 years old.
Gov. Charlie Baker said Massachusetts is economically "hitting on all cylinders" at his annual State of the Commonwealth address Tuesday night, to a receptive crowd at the State House.
Baker said he set out three years ago to create a state government that worked well for the people who needed it most. He ticked off a list of accomplishments, many punctuated with standing ovations: a $1 billion structural budget deficit, now less than $100 million, without raising taxes. A 95 percent reduction in homeless families stuck in hotels and motels. And a Health Connector now providing 240,000 families with affordable health care coverage.
"In 2017, we had more people working than at any time in state history. Our economy has added 180,000 new jobs since we took office. And best of all, the number of people looking for work has dropped in every county over the past three years, in most cases by more than 35 percent," Baker said to applause.
Still, Baker called on the Legislature to act on proposals he has filed in the past year. His housing bill calls for the creation of 135,000 new units by 2025. He wants to double the Earned Income Tax Credit to help increase the take-home pay for more than 400,000 working families. And he's calling for increased investment in education.
"We're funding K-12 education at the highest level in history, more than $4.7 billion," he said. "Tomorrow's budget submission will boost that number by more than $100 million, representing an increase of nearly half a billion dollars since we took office."
He also pledged a long-awaited commuter rail line between Boston and the South Coast is on track to becoming a reality, as are continued improvements at the MBTA.
Baker, a Republican who gets along well with the overwhelmingly Democratic Legislature, made it a point to give lawmakers credit for the state's successes. And while not specifically calling out the rancor that plays out daily in Washington, he said people want to believe in their government.
"Some of us will agree with each other most of the time. Some will agree some of the time. And some will never agree at all. That's OK. That's called 'democracy' and more often than not, it works," he said.
The governor's address was well received by key legislative Democrats. House Ways and Means Chairman Jeff Sanchez said the governor's speech was both inspirational and aspirational.
"Frankly, a number of the things that he mentioned, they are successes that we've had. When I first came into office a number of years ago, the T was overburdened by its debt, there wasn't much going towards the capital infrastructure, and now a lot of that has changed with all the work that we've all done together," said Sanchez.
Baker is hopeful his next big speech before the Legislature will be his second inaugural address. The State of the Commonwealth speech in an election year like this is often seen as the opening salvo in the campaign.
With few bold initiatives unveiled, it seems the man dubbed Governor Fix-it plans to keep on fixing things.
This segment aired on January 24, 2018.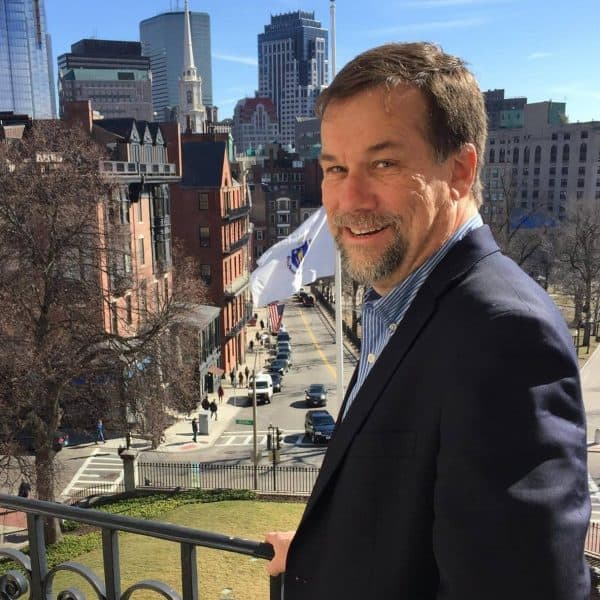 Steve Brown Senior Reporter/Anchor
Steve Brown is a veteran broadcast journalist who serves as WBUR's senior State House reporter.