Female Strength Takes Center Stage With Global Productions
This winter, members of two theatrical productions will cross the Atlantic to share stories of their home — one team from Nigeria, and one from the Middle East. Despite differing points of origin, structure and content, "HEAR WORD! Naija Woman Talk True" and "In The Eruptive Mode" both trumpet female power and strength, and do so at a time of particular resonance for Boston and our country.
"In The Eruptive Mode," presented in Boston by ArtsEmerson, is set in the aftermath of upheaval. A set of six monologues (three in English, three in Arabic) portray women caught in the chaos of the Arab Spring in 2011. Though the characters are fictional, they draw from tangible situations, and some are based on biographical sources of both Arab and non-Arab women.
"The piece is called 'In the Eruptive Mode,' and that's an important distinction," says Kuwait-born writer and director Sulayman Al Bassam. "The monologues are moments of great consternation and change."
In contrast, "HEAR WORD!," brought to the area by the American Repertory Theater, stands on the edge of change yet to come, and calls for its arrival.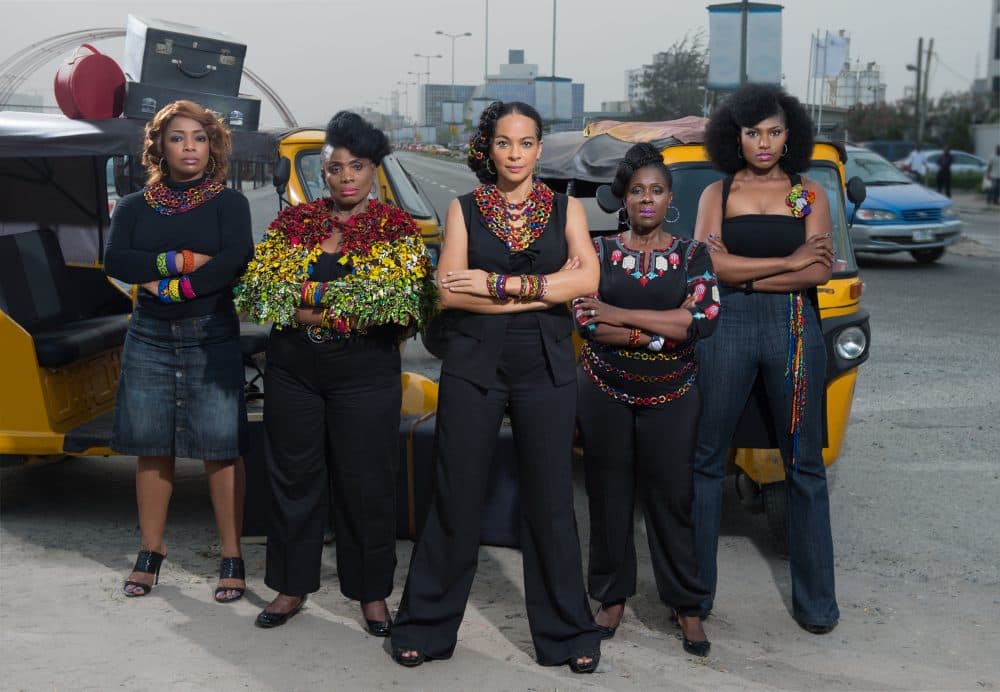 "The idea was to encourage women to be the drivers for change, for equality, rather than wait for institutions or men or government," says Ifeoma Fafunwa, the show's writer and director. "For women to ask themselves where are they responsible for inequality, and where are they able to empower, to be powerful."
One presentation of that drive is Taiwo Ajai-Lycett's monologue. She is portraying an older woman — Ajai-Lycett is 77 herself — pushing back against the idea that older women should be quietly "going to church," and loudly proclaims her right to a sex life.
"There is nothing wrong with living until you die!" she says, laughing after a recent rehearsal at the Oberon in Cambridge. Like the rest of the cast, she is bundled in layers of sweaters and scarves to bear the Boston cold.
The two shows are as distinct as their multicultural foundations. Yet both put forth the same idea as their central thesis: women are strong, and that strength is to be celebrated. And, though both shows were written before 2018, that message is particularly resonant as the productions come to Boston.
"We've done it in America before, we've done it in Amsterdam," says Omonor, who plays a Nigerian mother-in-law, a battered wife and a woman proclaiming her feminist manifesto in "HEAR WORD!" "Everybody pretty much says the same thing: 'Yes, you're doing it, and you're doing it as Nigerian women, but we know this story.' "
Catherine Gowl, the American actress performing "In The Eruptive Mode's" English monologues, notes that in her production, strength is palpable, though intentionally not explosive, to convey the inherent uncertainty.
"I don't think all the women in Sulayman's piece start from a position of strength, but they have the courage to speak, or the privilege to speak," she says. "They don't necessarily know the ground they stand on, or what will happen to them after -- I get to watch what it is to embrace the strength of speaking even if not doing so from [an initial] position of strength."
"I think that resonates incredibly with the #MeToo movement," Gowl adds. "This idea of using communication as a means of gaining power … of going from nameless to someone who has the audacity to define who they are."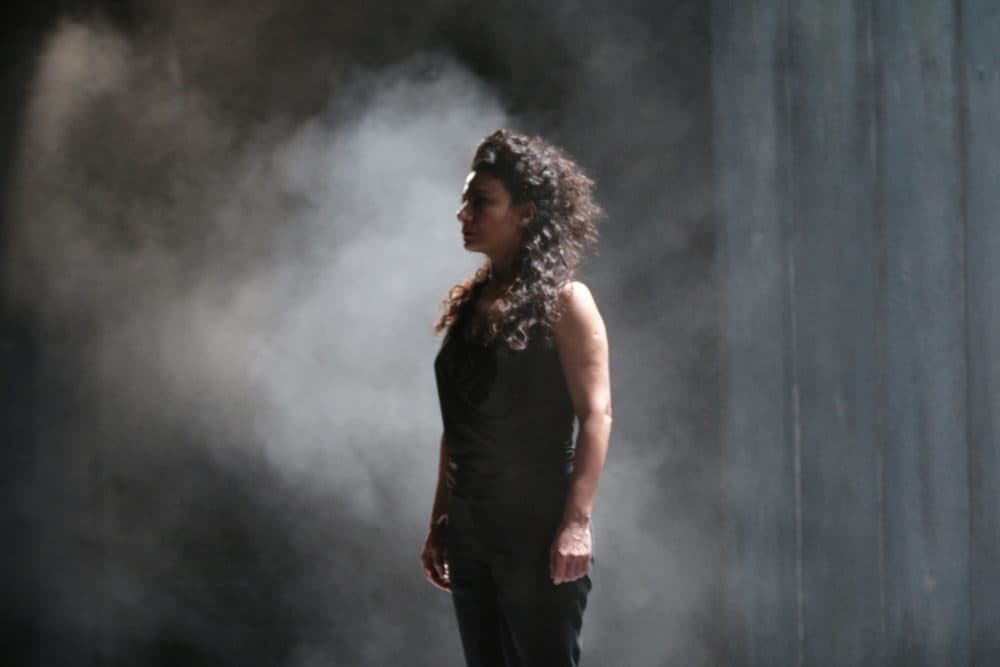 Gowl, appearing onstage alongside Syrian actress Hala Omran, thinks Boston's performance will be more powerful because of something that was not in the original production: She'll be about seven months pregnant.
"On the most basic level, this is something that happens to women," she says, "but it is rare to see a woman who is pregnant embrace -- or be allowed to embrace -- being pregnant onstage."
Despite those elements, not everything translates to -- in this case — a Western audience. With "In The Eruptive Mode," the particular perspectives and experiences the women bring to the story are not universal.
"I find it important these strong, autonomous female voices come out of a place as nominally maligned as the contemporary Middle East," says Al Bassam. Though, he acknowledges there's understandable room for criticism regarding a man helming a show intended to elevate women's voices.
Scenic and lighting designer Eric Soyer is also male, while composer/musician Brittany Anjou and performers Gowl and Omran are female.
Fafunwa also addresses acute cultural differences between "HEAR WORD!'s" setting and a Boston audience, particularly describing three fundamental characteristics of Nigerian society the production hinges on: how crucially important it is to be married with children, the lack of law and order, and how "shockingly entitled" men in Nigeria are raised to be.
"I was afraid the American response might be to distance yourself," she says about the first time the show traveled to the U.S.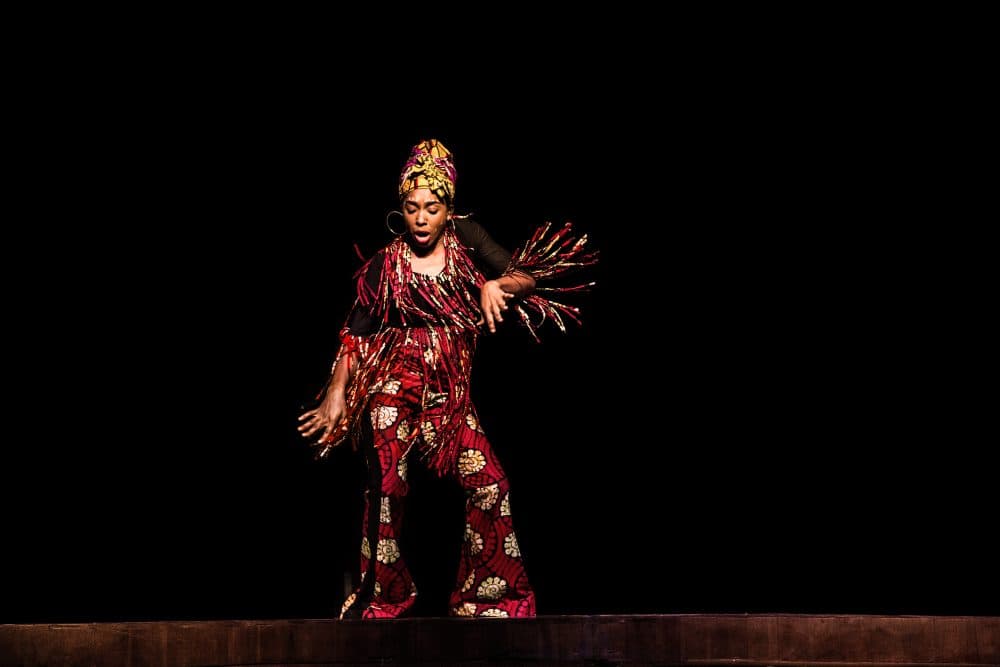 However Fafunwa says American audiences have been enthusiastic — in fact this is the second time "HEAR WORD!" has come to Boston. She also sees a change in the attitudes of her show's Nigerian audiences, its cast members and their spouses. She is eager to continue her work empowering women, particularly in Nigeria, and believes arguments for this will only grow.
"The entire world is rumbling right now," she says.
---
"In The Eruptive Mode" runs Wednesday, Jan. 24 to Sunday, Jan. 28 at Emerson's Paramount Center. "HEAR WORD! Naija Woman Talk True" runs Friday, Jan. 26 to Sunday, Feb. 11 at the Loeb Drama Center. (Both productions are recommended for mature audiences.)