To Be 'Truly Reflective Of Where We Live,' Theater Group Desperately Sought Cambodian Playwright
06:29
Play
This article is more than 4 years old.
Lowell has the second-largest Cambodian population in the U.S. But the city's biggest theater company hasn't staged a play by a Cambodian author in more than a decade.
And for the leaders at Merrimack Repertory Theatre, changing that has been harder than expected.
When Sean Daniels started his job at the MRT two and a half years ago, he set what seemed like a realistic priority: As the new artistic director he wanted to stage work by a Cambodian playwright.
According to 2010 census data, more than 12 percent of Lowell's population is Cambodian, although a lot of people estimate it's more like 25 percent due to under-reporting. Either way, Daniels said all theater should mirror its community.
"And just to be honest, for the last 15 to 18 years, we have not done that, we have not been truly reflective of where we live," he said. "And so, my first step is to be able to really say, like, anybody can come in to be a part of it, and anybody can see themselves on stage."
The director embarked on a quest to find just the right playwright. But Daniels pretty quickly ran into a problem.
"There are plays about Cambodia, but not written by actual Cambodians," he explained, "and I think for this community, a level of authenticity is actually really important."
Eventually, Daniels traveled to New York for a reading of a play in progress. It was a work by Vichet Chum, a young Cambodian-American writer and actor who studied playwriting at Brown University and the Trinity Repertory Theatre in Providence.

As it turns out, Chum had been eyeing Lowell, too.
"This theater specifically," Chum explained, sitting on a crushed velvet bench the MRT's lobby. "Because I knew that it had such a large population of Cambodians, and I wanted to engage with this community in some way."
So the writer and the theater joined forces to develop Chum's one-person play over the course of a year. Now, "Knyum" is having its world premiere run in Lowell.
'The Great Cambodian-American Opus'
For the first time, the recorded message that greets the audience before each show is bilingual -- in English first, then Khmer.
The Cambodian language plays a big role in Chum's autobiographical work. There's a compelling scene where the title of his play — "Knyum," which means 'I' — is belabored over.
His parents — who Chum portrays — are main characters, too. The writer/actor's Ma and Ba (mother and father in Khmer) survived the Khmer Rouge genocide in the 1970s, escaped as refugees and ultimately settled in the U.S.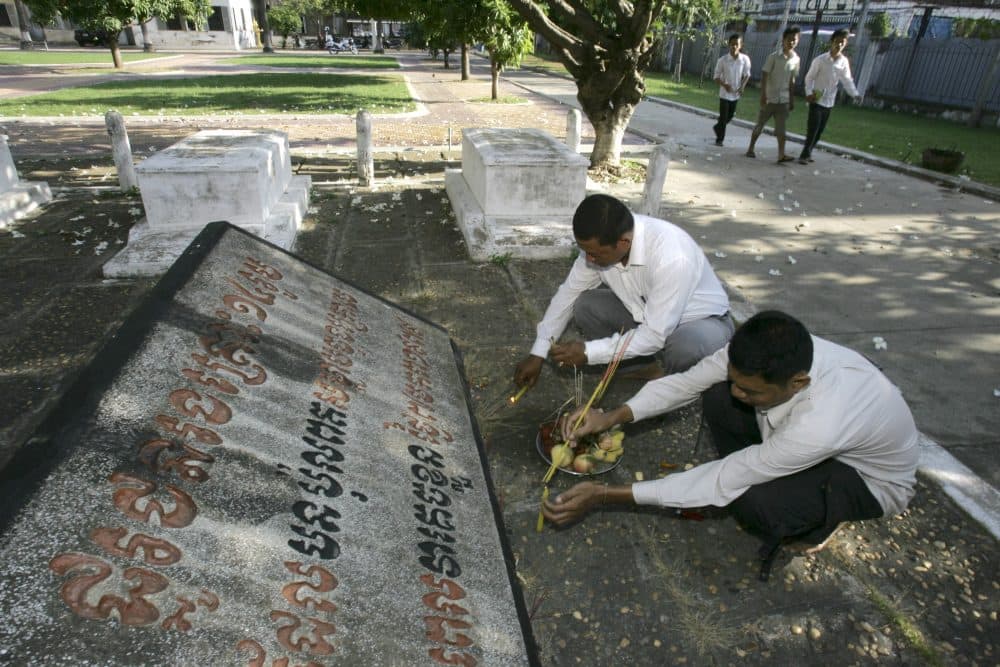 Chum said stories like theirs from that violent chapter of history are little known in America — sometimes even to their own children.
"I grew up in Dallas, Texas," Chum recalled, with a laugh, "so I was like, 'Well there's no one who looks like me, so I'm just going to be an American!' "
More seriously, Chum added, "I think that it took me some years of growing up to sort of reflect on what my parents have been through, and what they sacrificed for me, to really engage with that history."
Chum wanted to honor his parents, their triumphs and the struggles they've faced by making their lives permanent in print, while at the same time exploring his own origin and conflicting identity as a Cambodian-American.
"... it took me some years of growing up to sort of reflect on what my parents have been through, and what they sacrificed for me, to really engage with that history."

Vichet Chum, playwright and actor
He does that through his stage persona, a character with the decidedly nondescript name Guy.
Guy works the front desk nightshift at a boutique hotel in New York. He wears a tidy, button-up vest with a name tag and drinks cup after cup of coffee. Like Chum, Guy is a writer, and whenever the coast is clear, Guy shares his existential meanderings with the audience.
"You have to write 'The Great Cambodian-American Opus' in order to capture the entire and total and absolute experience of the Cambodian people," Guy tells us early in the play. "And it will be the Cambodian people's 'Grapes of Wrath,' and canonized as recommended reading for adults and children of the like. And then, people will finally be able to locate Cambodia on the map!"
Chum elaborated on where Guy is coming from.
"He's read the John Steinbecks and the J.D. Salingers, and all those great American novels, and I think he's trying to write his own version of that — but for the Cambodian people."
Millions of Cambodians were murdered by Pol Pot's Khmer Rouge between 1975 and 1979. Chum's protagonist interrogates the role American politics and the Vietnam War played in the rise of that brutal regime in Cambodia.
"And [Guy] knowing that those things are so intertwined — and knowing that the reason why he is here in the first place is because of a genocide — I think he is trying to find a way to say, 'But what is my experience in America? And is my experience as American as the next person's?' " Chum said.
Sounds like serious subject matter. And, of course, it is. Racism, cultural obliteration, integration and alienation are big concerns Chum's play addresses. But he also manages to lace his play with humor and lush, poetic reveries.
At one point his character dreams of traveling to his parents' homeland. As Guy describes his fantastical journey, colorful images of Cambodia are projected on a wall. Sound effects accompany his words as he says, "It's like I'm Cambodia ... and I'm like, 'Whaaaaaat??' " The audience laughs. He repeats the question, and then Guy describes a torrent of bubbling Coca-Cola that comes gushing out of his mouth.
Following the show, Chum confesses that now that the play he's worked on for years is finally on stage in Lowell, his biggest hope is that it will resonate with the Cambodian community.
"I hope it reflects their experiences as being immigrants and refugees in this country."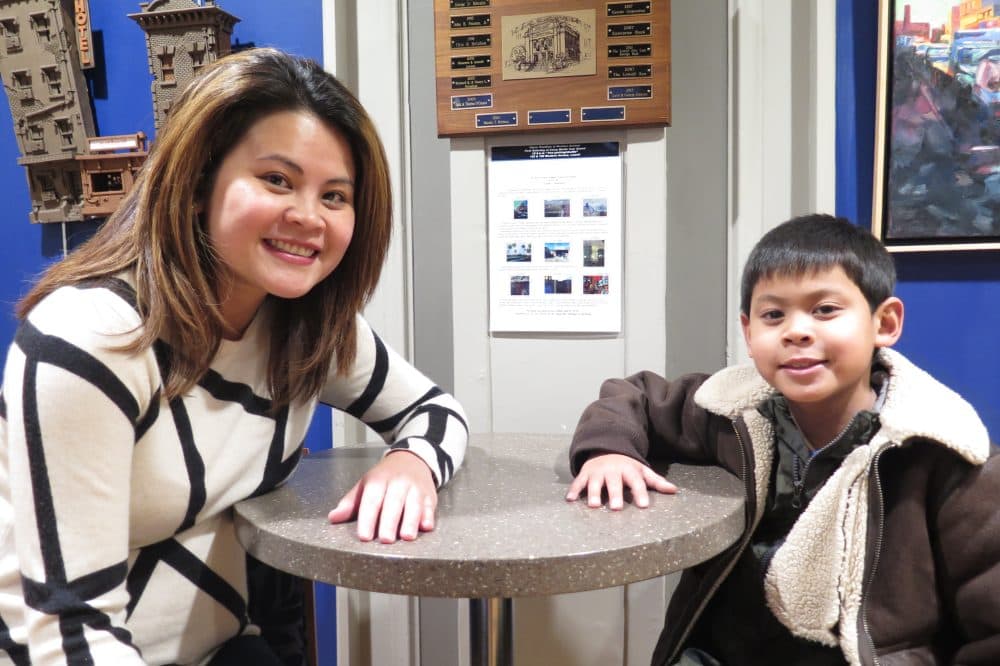 After the performance, Soben Pin was clearly moved. "I'm speechless," she said, laughing.
Pin co-founded and runs the Khmer Post USA, a bi-weekly Cambodian newspaper in Lowell.
"This is life. Life itself," she mused. "What people [have] gone through for generations, and this is just really heart-touching."
Pin's father brought her to the U.S. in 2000 when she was 14 years old. She's a young mother now, and said Chum channels the experiences and challenges of Cambodian refugee families like hers.
"You know, watching him and what he's gone through just makes me think how my son will feel about who he is — he's the first one born in the U.S.," Pin said. "So it's really a homecoming."
Pin said when she moved to Lowell she was disappointed by the lack of arts and entertainment for her community. Now, she's grateful to see the Merrimack Repertory Theatre shift gears.
"I'm just really thrilled that they made this huge change," she told me. "And I think to have the first Cambodian playwright from New York to come here is really mind-blowing."
Pin hopes Chum returns to Lowell after his debut here wraps up on Feb. 4. Chum's wish is that if "Knyum" has a life after Lowell the actors who play his character Guy be of Cambodian descent. That is, as he wryly says in his script, if they can find them.
This segment aired on January 29, 2018.