When It Comes To The Super Bowl, All Bets Are On
This article is more than 5 years old.
Super Bowl bets — or, ahem, "friendly wagers" — between the rival cities have become as common as Patriots Super Bowl wins.
Here's a running list of all the individuals and entities — from religious organizations to lawmakers — taking part in bets with their counterparts this year, and what's at stake: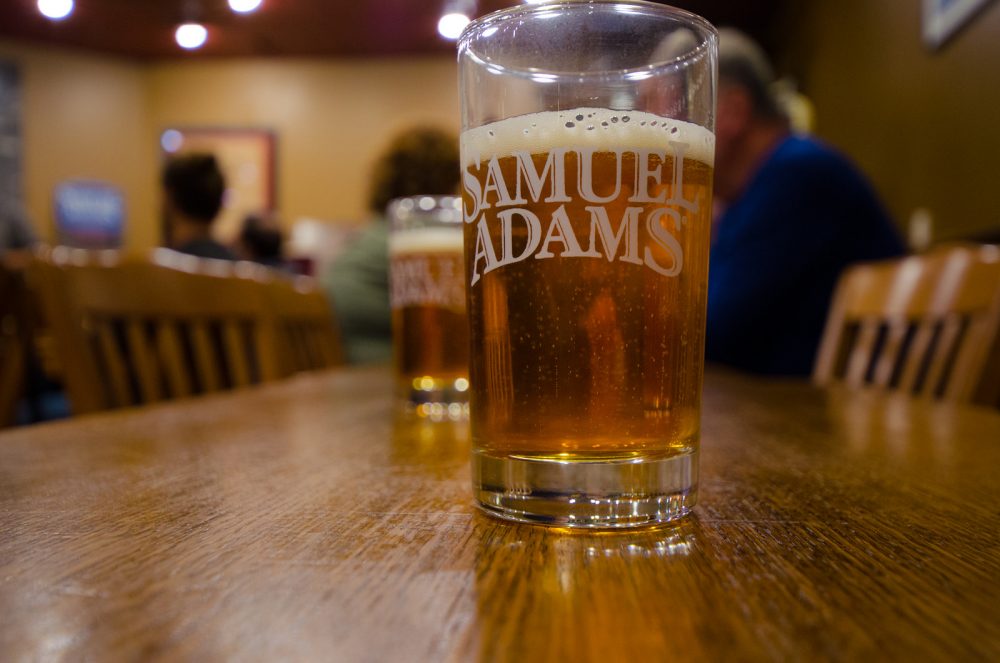 Craft Beer
Sam Adams and Jack's Abby brewers are challenging Pennsylvania's Victory Brewing and Yuengling. The losing brewery will have to wear the opposing team's jersey or colors, plus the team's "signature mask." (That's a GOAT mask for the Patriots, and dog mask for the Eagles.)
There's also a charity component. All week, the four breweries are taking donations for the opposite city's cause — Jack's Abby and Sam Adams toward preserving the bald eagle, and Victory and Yuengling for the Freedom Trail.
Biotech
It just so happens that the International BIO Convention is being held in Boston this summer, giving Pennsylvania and Massachusetts' respective life sciences organizations the perfect venue to execute their wager.
The head of Life Sciences Pennsylvania challenged MassBio's president to a food, beer and jersey swap. The loser will have to wear the opposing team's jersey at the upcoming conference — and hand over beer (Harpoon or Yards Brewing, which have their own competition going) and food, to be eaten in the state's respective pavilion at the conference (a cheesesteak or clam chowder).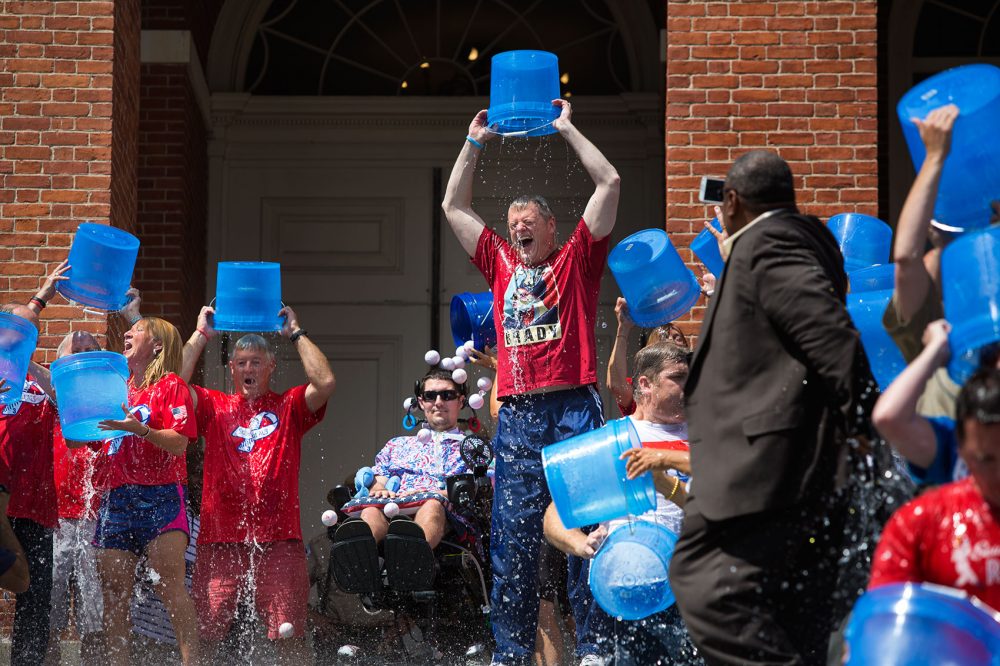 The Governors
The annual Super Bowl bet is a chance for elected officials to show off the wares from their state.
If the Patriots lose, Gov. Charlie Baker will send Gov. Tom Wolf clam chowder from Legal Sea Foods; Craisins from Ocean Spray; apple cider donuts from North Andover's Smolak Farms; Grillo's Pickles from Needham; Boston Creme pie cupcakes and lemon bars from Koffee Kup Bakery in Springfield; and apple pie, chicken pot pie and maple syrup from Hollis Hills Farms in Fitchburg.
If the Eagles lose, Governor Wolf will send a smorgasbord of Philly treats:
Soup from Rooster Soup Co., a luncheonette that gives 100% of its profits to support vulnerable Philadelphians through Broad Street Ministry's Hospitality Collaborative;

Scrapple from the Reading Terminal Market, Philadelphia's iconic breakfast offering from its legendary food marketplace, which celebrates its 125th anniversary in 2018;

Coffee from La Colombe, one of the world's premier coffee roasters and boutique cafes based in Philadelphia;

Donuts from Federal Donuts, a destination for donuts and fried chicken, which this week unveiled an Eagles-themed donut benefiting the Philadelphia schools.

Donated pizza slices at Rosa's Fresh Pizza, a pay-it-forward pizzeria that provides hundreds of meals per week to homeless Philadelphians.
Both sides will donate the winnings to a local food pantry.
The Attorneys General
Pennsylvania Attorney General Josh Shapiro challenged Massachusetts Attorney General Maura Healey to a press conference attire bet — if the Patriots win, Shapiro will wear a Tom Brady jersey at his next public event. If the Eagles win, Healey will "don the midnight green" at her next press conference.
Historical Sites
The Old North Church and Betsy Ross House have already been going back and forth on Twitter over their historically significant bet.
Museums
It's an art swap at stake for the Museum of Fine Arts in Boston and the Philadelphia Museum of Art.
The two museums are promising a #MuseumBowl Friday at 3 p.m., when both cultural institutions have a Twitter trash talk duel scheduled.
Zoos
No, there won't be any animals on the Acela. But it could still get a little messy. If the Eagles win, directors from a coalition of New England zoos — including the Franklin Park Zoo and Roger Williams Park Zoo in Providence -- will have to clean out an animal exhibit while wearing an Eagles jersey (vice versa for the directors of three Philadelphia area zoos).
The losing zoo will also donate $1,000 to the program of the winner's choice.
And then there's the baby GOAT:
Gay Men's Choruses
If the Patriots beat the Eagles, the Philadelphia Gay Men's Chorus has to sing Dave Loggins' composition "Please Come to Boston" and post the video on the Boston Gay Men's Chorus YouTube page. If Philly wins, the Boston singers will be recording "Philadelphia Freedom."
The Catholic Archdioceses
Yes, even men of the collar care about the Super Bowl.
If the Eagles win, Boston's Cardinal Sean O'Malley will donate $100 to a program run by the Philadelphia Archdiocese that helps the homeless — along with lobsters.
Philadelphia's Archbishop Charles Chaput will donate to Catholic Charities of Boston and send Philly cheesesteaks.
Turns out, O'Malley and Chaput are friends and were classmates in the seminary.
Synagogues
Not to be left out, two synagogues in Boston and Philadelphia are betting on the game.
Temple Israel of Boston will donate to a youth organization in Philly if the Patriots win, while Philadelphia's Congregation Rodeph Shalom will donate to the BU CTE Center if the Eagles are champions.
The amount of money at stake? The score differential, multiplied by 18, a spiritual number in Judaism.
Mayors
Nope. After a string of losses — most recently the 2014 AFC title game against Denver — Mayor Marty Walsh stopped wagering with fellow mayors.
When the Patriots faced off against the Seattle Seahawks in the Super Bowl in 2015, there was no mayoral bet — and New England won. Walsh took it as a sign that his wagers were jinxing his beloved Patriots. (Walsh is a Patriots season ticket holder.)
Walsh told WBZ recently, "My betting days are over."
Public Radio Stations
Yes, WBUR has been engaging in some trash talk with Philadelphia member station WHYY over Twitter. Stakes of the bet haven't been determined ("local goodies" is all we're saying so far) but everyone wins when two local public radio titans have some spirited back and forth, right?