As History Loomed Over The Halftime Show, Timberlake Played It Safe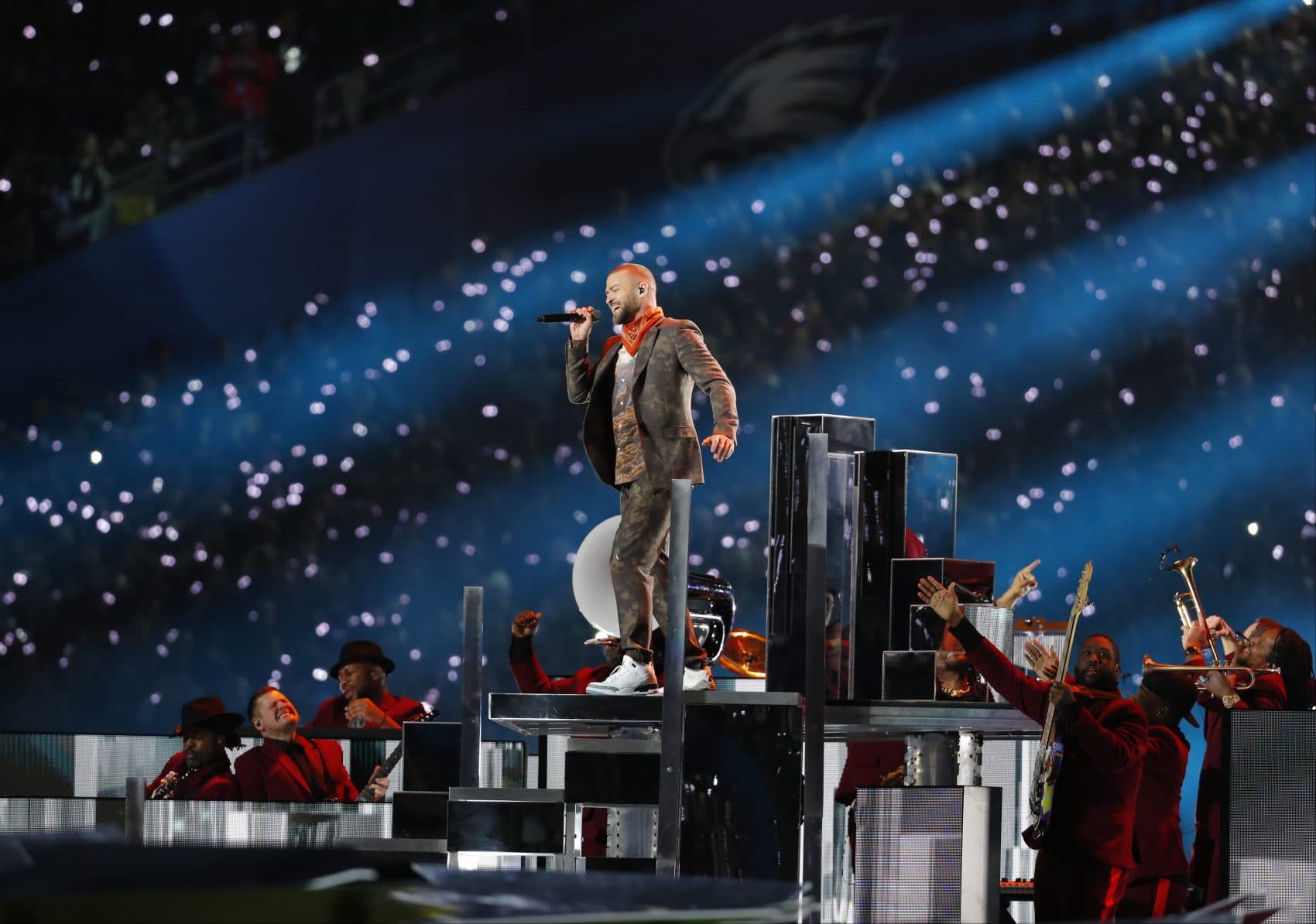 This article is more than 4 years old.
Since the minute it was announced he would headline the Super Bowl halftime show, Justin Timberlake had to contend with history.
Fourteen years after the fact, it's still impossible to decouple the pop star from his last Super Bowl appearance, when his fate was sealed as the agent of Janet Jackson's infamous "wardrobe malfunction." The pair delivered the final performance on a jam-packed bill with a flirtatious rendition of Timberlake's "Rock Your Body." At the critical moment, our leading man reached for his partner's top and ripped off more than (allegedly) intended, revealing, ever so briefly, her nearly naked breast.
A public outcry ensued. The reckoning for Jackson was unforgiving, and in the aftermath, her career foundered while that of her comrade-in-accidental-crime soared. More recent appraisals have been less generous of Timberlake, who is viewed as the beneficiary of a system that punishes women for society's prudishness and rarely holds white men accountable for their actions.
Then, less than a week before the big day, TMZ reported that a hologram of Prince would make a cameo at the game, which was to be held in his home city of Minneapolis. This time, a Twitter outcry ensued.
To some, the stunt seemed a grotesque augmentation of Timberlake's already-questionable shtick of performing blackness in his act — now he was (supposedly) prepared to appropriate the image of an iconic African-American performer in order to prop up his own performance for a largely white audience.
More to the point, it would seem that the late musician had explicitly asked that he not be resurrected in hologram form, at least according to his longtime collaborator Sheila E., who on Saturday tweeted her dismay at the news.
Just eight hours later, she announced that she had spoken to Timberlake and assured her followers that "there is no hologram." (Potential) crisis averted.
Throughout all this, the NFL's own troubles churned. The league has yet to recover from the events of 2016, when the quarterback Colin Kaepernick took a knee during the national anthem before a game to protest racial injustice in America, launching a movement that rippled across the NFL. The silent gesture sparked cheers from supporters and prompted an outcry from some fans, who claimed such displays had no place in sports.
Meanwhile, revelations that the NFL repeatedly turned a blind eye toward acts of domestic abuse by its players have prompted criticism of the league. And Super Bowl LII arrives amid the rising drumbeat of scientific evidence showing that repeated hits to the head — concussive or not — lead to the degenerative brain disease known as CTE. Those gladiator helmets, designed to protect players' vulnerable skulls and brains, may, in fact, do just the opposite by fostering a false sense of invincibility.
And yet, even against the backdrop of such turmoil, it seems likely Timberlake was viewed as a relatively safe choice for the halftime gig — though hardly the most relevant one. A consummate performer who still carries the sheen of artistic credibility despite having made his most impactful work more than a decade ago, he was unlikely to attempt any grand political statements in the vein of Beyoncé or Lady Gaga, two recent Super Bowl predecessors.
Just two days before Super Bowl Sunday, Timberlake dropped his first album in five years. Titled "Man of the Woods," it was teased as a return to the musician's roots. To some, it represented a cynical reclamation of whiteness — signaled by flannel shirts and pastoral backdrops — and a further denial of the legacy of black music to which the singer owed his falsetto-flecked R&B. But the album itself showed Timberlake pretty much doing what he always had, with the same collaborators, and with far less derring-do than in the past. The expectation that he might reveal a more authentic self, delve into his inner existence or explore the intimacies of family life went largely unfulfilled. Timberlake, it would appear, was playing it safe, too.
And so the moment arrived. A beaming Jimmy Fallon, perched atop a neon Pepsi-Cola sign that dangled above the field, introduced the man of the hour, and the cameras zoomed backstage. Timberlake, sporting a leather jacket with fringe and a red bandana around his neck, strutted across a small stage to the futuristic funk of his newest single, "Filthy." Then he bounded up to the field, and the next several minutes were a blur as the singer blasted through a medley of his greatest hits, including the still-funky "Rock Your Body," the sizzling "SexyBack" and the venomous "Cry Me A River." The songs proved durable, as did Timberlake, who shimmied with liquid confidence through a profusion of set changes and deft mic-handling tricks. At some point, his jacket dropped away to reveal a button-down shirt splashed with the image of a stag — a nod, presumably, to the musician's newly acquired woodsiness.
The tribute to Prince came in the form of a sensitive rendition of the late singer's "I Would Die 4 U." Timberlake, perched at a gleaming white grand piano, briefly ceded ground to an enormous video of Prince projected against what looked like a large bed sheet hoisted above the field. It was, all in all, fairly tasteful, though unlikely to appease the skeptics.
Perhaps the best description of the show would be "eager to please." As the spectacle chugged toward its conclusion, Timberlake jogged up into the stands to the earnest strains of 2016's "Can't Stop the Feeling," his most cookie-cutter hit to date, and leaned in for a selfie with a starstruck preteen, whose eyes grew round with disbelief.
As the singer stood, panting, gaze trained on the multitude of cellphones aimed at his face, it seemed that his promise had been fulfilled. The show was visually spectacular, relatively inoffensive and, apart from some issues with the vocal mix, executed without a hitch. But such polished perfection fades quickly. It lacks the heart-stopping drama of a wardrobe blunder or the sense of destiny that accompanies something truly iconic — backup dancers dressed as Black Panthers, "Purple Rain" performed in a downpour. This was no Super Bowl performance for the history books. In music, as in football, safety is an illusion.