Thousands Of Puerto Ricans Coming To New England May Have Trouble Finding Housing
04:22
Play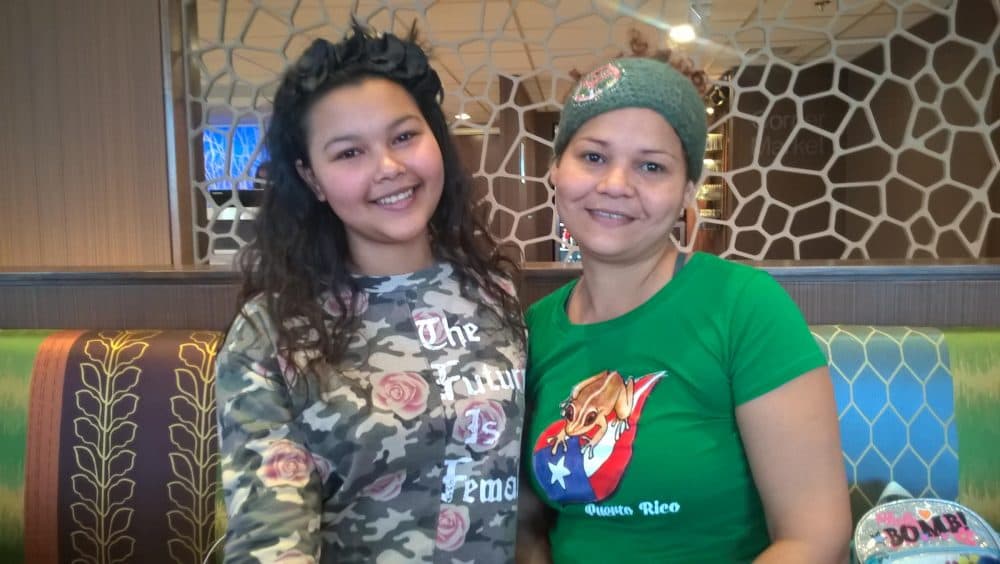 This article is more than 4 years old.
Thousands of people have resettled in Massachusetts from hurricane-ravaged Puerto Rico.
Many of them have stayed in temporary housing provided by the federal government, but temporary housing is about to run out. Many still want to stay but are finding it difficult to locate permanent housing.
Holyoke is one desirable location to live. It's a city densely populated with Puerto Ricans who left the island decades ago, and many of them say — cold weather aside — it feels like home.
Amarilys De Leon, her two daughters and her mother arrived in Holyoke from Puerto Rico in November. At first, they stayed with family, but since just before Christmas, they've been living in a hotel, like hundreds of evacuees along the Interstate 91 corridor.
De Leon's oldest daughter is a senior at Holyoke High School. Sitting in the hotel lobby, she said they've already gone to the nearby mall, and put a prom dress on layaway.
"[I'm] gonna do something to the dress different from how it is," De Leon said.
De Leon was studying fashion design before Hurricane Maria hit the island. She brought her sewing machine with her to Holyoke.
De Leon does not want to return to Puerto Rico. She and her mother, Mayra Soto, were waiting in the hotel lobby for a ride. Someone was going to take them to see an apartment they heard about in nearby Springfield.
Deadline Fast Approaching
The Federal Emergency Management Agency pays for hotel lodging through its Transitional Shelter Assistance program.
For evacuees from Puerto Rico, the program ends Feb. 14.
For some families whose homes in Puerto Rico may still be under repair, or who qualify for health reasons, the deadline could be extended to mid-March.
With this in mind, for the past few weeks, De Leon has been looking for an apartment and a job at the same time.
"I have an application to Stop & Shop and Family Dollar," De Leon said. In Puerto Rico, De Leon was a bartender, a cook and also worked at Walmart.
"She needs work [to] pay the rent," her mother said.
And likely for a landlord to even consider them as tenants.
"Families want to find an apartment, [they] want to find work. They need to find work before they're able to get a landlord to seriously look at their application," said Betty Medina Lichtenstein, the executive director of Enlace de Familias in Holyoke, a community resource center that became one of 22 designated "welcome centers" in Massachusetts since Hurricane Maria.
More than 1,800 people have come through Enclace's doors since the hurricane, Lichtenstein estimated.
They're looking for information on everything from transferring their Social Security benefits to finding a home they can afford, which for years has been a challenge for many in the region.
"We have in the state of Massachusetts thousands of individuals that are looking for housing that is almost nonexistent," Lichtenstein said. "So right now, we have what I call a crisis."
Thousands More Puerto Ricans Will Leave The Island
From noon to 2 p.m. every weekday at Enlace de Familias, newly arrived Puerto Ricans can attend an orientation. It's usually Lichtenstein who stands in front of a group and gives an overview of how FEMA funding works, and how to manage life while you're living in Holyoke.
Around the room are tables, covered with fliers and staffed by people from job centers, community colleges, the public schools, health care centers and housing agencies.
According to FEMA, as of Jan. 31 more than 1,300 applications from families wanting to stay permanently in Massachusetts have come in. That's about 3,000 people.
For years, a bad economy has caused Puerto Ricans to leave the island. In the decade before the hurricane, 10 percent of the population left, according to the Center for Puerto Rican Studies at Hunter College.
After the hurricane, the center issued a report that said up to 200,000 Puerto Ricans could move to the mainland U.S. in the next couple of years. Massachusetts could see as many as 14,000 of them, and Connecticut would not be far behind.
Everyone will need a place to live, and many will be starting over again, looking for housing in a tight market, said Lauren Voyer with Way Finders, an affordable housing agency.
"We've seen rents going up over time since the economy has begun to improve, and the ability for families to afford the two-bedroom apartments really requires about $50,000 in annual pay," Voyer said.
The cost of living in New England is higher than other parts of the country, like Florida, where many Puerto Ricans also went after the hurricane.
In Springfield, Voyer said, a few hundred affordable housing units were wiped off the market in 2011 after a tornado hit the area. And since MGM started building a resort casino, the rents are going up.
Determined To Find A Home
Some Puerto Ricans who left the island are staying with friends and family for as long as they can.
But for De Leon, that's not possible. Her family could qualify for emergency shelter, but what they really want is a place to call their own.
De Leon and her mother were on the street near the apartment they saw in Springfield. They were not going to take it, they said, and it wasn't exactly clear what happened, or if the landlord was even willing to rent to them.
The cost?
"$1,100," Soto said — and first and last month required upfront.
FEMA and state agencies could help subsidize the rent, once families find a place to live, but not until they secure a home.
The man who brought De Leon and Soto to see the apartment said he couldn't bring them back to the hotel. So I offered them a lift. On the way back to Holyoke, the two women pointed out several apartments they'd already looked at.
"Do you want to see the studio?" Soto asked, pointing out a building on our left.
"I want to live here," said De Leon.
At this point, even with so much uncertainty, they are determined to stay.
This segment aired on February 5, 2018.