Report: Uber And Lyft Are Adding To Boston-Area Traffic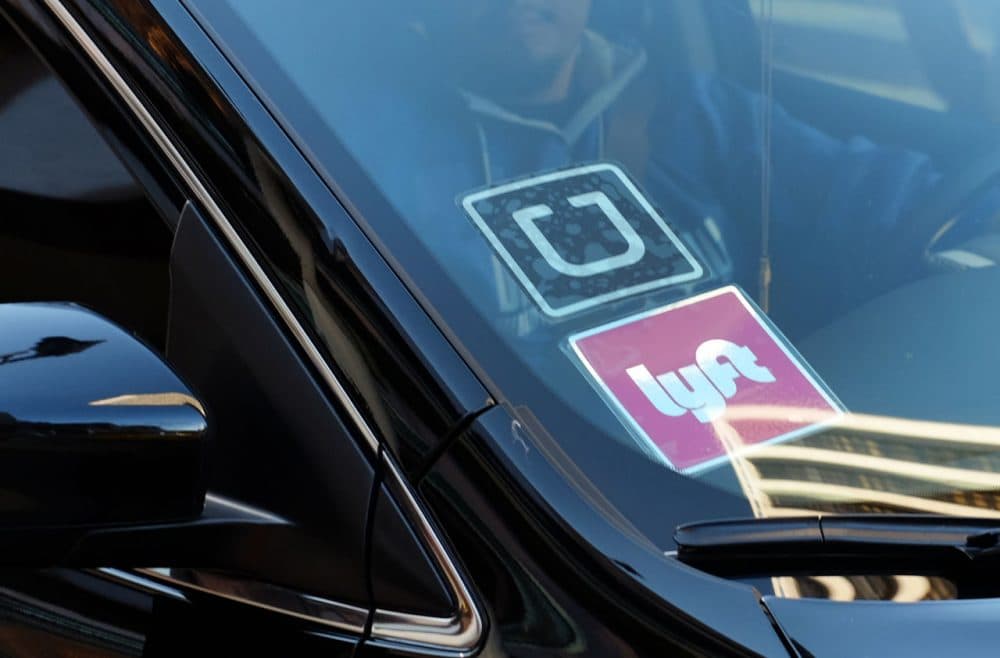 This article is more than 5 years old.
Ride-hailing services like Uber and Lyft are contributing to traffic congestion in the Boston area as many young commuters opt out of taking public transit, a new report finds.
The report, issued by the Metropolitan Area Planning Council (MAPC), is based on a survey of nearly 1,000 ride-hailing passengers, and was conducted in fall 2017. MAPC equipped 10 drivers with tablets pre-loaded with surveys that passengers could opt to fill out during trips. Most of the drivers drove for Uber and/or Lyft, though some also drove for Fasten and Safr.
The survey found 42 percent of passengers said they would have used public transit for their trip if ride-hailing services weren't available. Another 12 percent would have walked or biked, and 5 percent wouldn't have made the trip at all, the survey found. That means about 59 percent of all ride-hailing trips are putting more cars on the road, the report concludes. (The remaining 41 percent of respondents said they would have taken trips in their own car or in a taxi, the survey found.)


Though ride-hailing is "justifiably popular" — and people are willing to pay for it — these findings could spell trouble for the area's roadways and public transit system, the report notes.
"We simply don't have the roadway capacity to support unchecked growth in ride-hailing services," MAPC data services director and report co-author Tim Reardon said in an interview.
A number of those surveyed had MBTA passes but were still opting on occasion not to use public transit. About 35 percent of overall respondents had a weekly or monthly transit pass, and 51 percent of those who said they chose ride-hailing over public transit had a T pass, according to the survey.
The biggest share of ride-hailing trips took place between 7 p.m. and midnight, according to the survey. And 40 percent of weekday ride-hailing trips were made during the peak traffic of morning and evening commutes, the report also found.
The most common reason survey respondents gave for choosing ride-hailing was that it's quicker than public transit. Other reasons included not having a car and believing parking would be difficult or expensive at their destination.
Most ride-hailing passengers also preferred to travel by themselves: Only one-fifth of those surveyed used shared ride options such as uberPOOL or Lyft Line.
Perhaps not surprising, the survey respondents skewed young. Of those surveyed, 83 percent were under age 35, while less than 1 percent were 65 and over.
The MAPC's Reardon said the survey shows the need to invest more in the MBTA to make it more competitive with ride-hailing.
"We need to refocus on creating a transit system that's really reliable, convenient and affordable so that folks can get around the inner core without having to rely on a ride-hailing system, even though that may be useful for some trips," Reardon said.
The survey found that the largest share of ride-hailing trips — 43 percent — costs $10 to $20. That's far more than the cost of public transit. About 36 percent of ride-hailing trips cost less than $10, while 21 percent cost more then $20, according to the survey. The report says this "lost revenue" exceeds the mandated 20-cent per ride fee, some of which goes to the state's transportation fund and some of which goes to cities and towns for their transportation needs. The report claims the state loses, on average, 35 cents in revenue on each ride-hailing trip.
These findings suggest the 20-cent fee may be inadequate to address the impacts of ride-hailing. The report from MAPC, which advocates for increased transit investment, says adjustments should be made to the fee structure that promote shared rides and take into account congestion, time of day and length of trip.
In a 2016 WBUR poll, most Boston-area residents said traffic has gotten worse and improving the MBTA could make things better.