Boston's Cultural Institutions Explore How Technology Has Impacted Art
Resume
Boston has been the hub of technological innovation for years. The first email was sent here, Facebook was founded here, and it's known as the Silicon Valley of the East Coast.
Now some area art museums are looking into the impact 21st-century innovation is having on artists, and how audiences see their work.
The goal of the project called "Art + Tech" is to look at the fundamental changes of our relationship to art through the internet.
"When I say the internet, I really mean internet culture," said Institute of Contemporary Art chief curator Eva Respini, who has asked more than a dozen cultural institutions to explore this dynamic of our ties with art and life online.
"Yes, this is a show that has a lot of technology in it," explained Respini, "but it's not a show of technology; it's a show about technology and how technology has fundamentally changed our culture."
One institution that already has two Art + Tech exhibitions up is the deCordova Museum in Lincoln.
"Through the internet we're always searching for answers," explained curator Sarah Montross. "We're searching for communication ... those are like universal human feelings, or you know, impulses."
Specifically, the deCordova is focusing on the communication revolution that came before the internet: television.
Its exhibits show early color television from the '60s during the same period that recreational drug use was becoming a part of the national conversation.
"What we're interested in, too, is how television and psychedelia both create hypnotic, kind of mind-altering experiences. And TV in these years too was quite an experimental place to play," Montross said.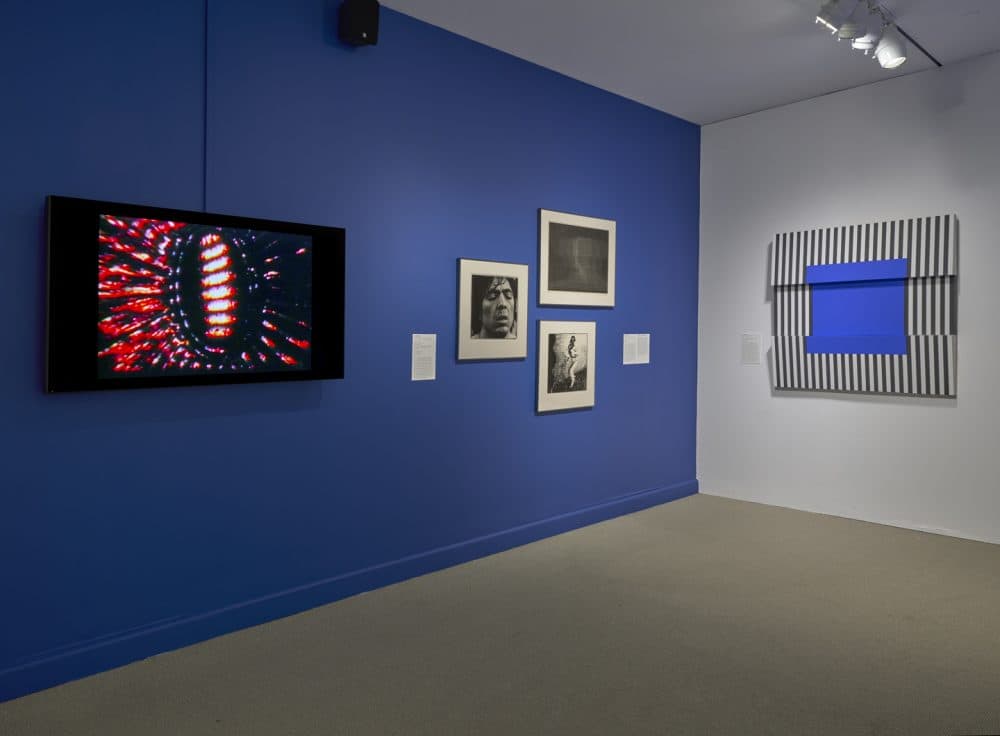 Today, we take advantage of the availability of screens, compared to an earlier era when those screens were much more of a novelty.
While the deCordova focuses on an evolution in video art, the MIT List Gallery in Cambridge focuses on the early stages of internet art with the use of bulky monitors and projection devices.
"Artists are using different types of technology pretty much like any other material," said Henriette Huldisch, curator of the exhibit. "And artists have practically always adopted technology as soon as it was available."
The sound of disjointed audio at the List is accompanied by images of colorful shapes, running water and the face of a German newscaster shown over and over on a series of monitors.
The effect is disorienting and the vibrant but artificial electronic colors show how much information was really missing from VHS tapes.
The bottom-line question for all the "Art + Tech" exhibits — said Respini, is this: Is the internet a curse or a benefit? How have our views on personal and public changed with technology?
"Some of these ideas that are explored in the exhibition, for example, the idea of 'threat to privacy' [is] something that we're talking a lot about these days, you know, surveillance through digital media," Respini explained. "This is not a new topic. Artists have been thinking about it for quite some time."
Viewers can take a look both in-person and through a website dedicated to the collaboration created by the ICA that will supplement the overall experience.
There will be no answers in this series of exhibits. Instead, viewers are asked to enjoy, question and wonder about the very real benefits and repercussions of living in a technology-based society.
---
The series of "Art + Tech" exhibitions in Boston area institutions continue through July. Check out a full list here. 
This segment aired on February 13, 2018.