On The First School Day After A Double Tragedy, Needham High Copes
Play
This article is more than 5 years old.
As Needham High reopened on Monday, the community looked for a way forward after a two-car collision on Saturday claimed the lives of Talia Newfield, 16, and Adrienne Garrido, 17 — both juniors at the school.
Needham superintendent Daniel Gutekanst asked for privacy Monday morning as Needham High worked through a devastating first day back: "It is not a normal school day. But we are seeking to provide as much routine, structure and support as we can — as students and staff cope with this tragedy," he said.
The school made counselors available starting on Sunday. And throughout the school day Monday, students and staff drifted out to see a growing memorial to the two girls on Webster Street.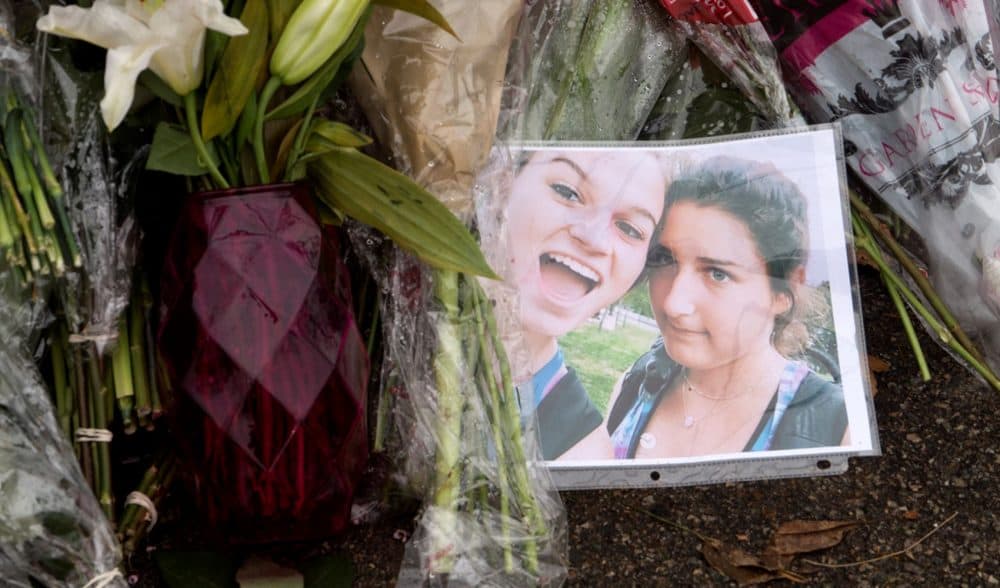 As traffic raced by, students wept, embraced and left flowers before heading back into class.
That's about as productive and healing a response as could be expected to such a tragic accident, said psychologist Larry Berkowitz. He's the director of the Riverside Trauma Center who has worked with Needham High School in the past and was there offering support Monday.
The work for teachers and staff, he said, is to "stabilize the environment, to help promote healthy grieving, and to move towards getting back to the business in the school of learning, and providing the structure that the students need."
Berkowitz admits it's a delicate balancing act, one that won't always be perfect.
Meanwhile, town officials had their own path forward to consider. They're in the midst of implementing safer routes to school throughout Needham.
But Rich Merson, director of Needham's Department of Public Works, says the town will now approach these issues — and the crossing on Webster Road, which has seen dozens of accidents in recent years — with a new sense of urgency.
"It's a townwide situation," Merson said. "But the spotlight is clearly on the high school location at this time."
Needham police say they're still investigating the collision.
This article was originally published on February 12, 2018.
This segment aired on February 13, 2018.