WBUR Poll: Boston-Area Residents Support Amazon HQ2, But Worry About Housing And Traffic 
Resume
A new WBUR poll shows strong support for bringing Amazon to the Boston area, but residents are skeptical about giving the tech giant tax incentives and worry about its potential impact on housing and traffic.
In the poll (topline results, crosstabs), 71 percent said they approve of the idea of bringing Amazon's second headquarters to the area. Just 18 percent said they disapprove.
The poll surveyed 402 likely voters in the 2018 Democratic primary election in Massachusetts' 7th Congressional District (which includes Boston and Somerville).
Last month, both cities made Amazon's not-so-short list of 20 finalists (out of 238 proposals) for the company's second headquarters.
Many residents said Amazon would be good for the local economy. The company has said it expects to invest $5 billion in building its second headquarters and eventually bring up to 50,000 "high-paying" jobs.
Poll respondent Byron Garcia, a 43-year-old IT manager who lives in Roslindale, said these investments would be a plus for the area's high-tech sector.
"Amazon has proven itself to sort of be an employer of choice in the industry and it would be a good magnet for jobs in the area," Garcia said in a phone interview.
Garcia is enthusiastic about the Amazon bid, but he does worry the company would put more pressure on an already tight tech job market.
"On the employer side it would be really difficult to get people to come work for you when they could be working for Amazon," Garcia said. "That would put pressures on the labor market from a hiring perspective. If you're the job seeker, certainly that would be a bonus."
While residents broadly like the idea of Amazon coming to town, they don't think the company should get tax incentives. The poll found 52 percent disapprove of Boston, Somerville and the state offering Amazon tax incentives, while 37 percent approve.
"I think organizations like Amazon are big enough and have enough resources that if they want to be in a place that they think they should be, they don't need tax incentives," said 45-year-old Boston resident Caroline Toth.
Other poll respondents have been put off by tax incentives offered to other companies in the area, as well as incentives already being offered to Amazon by other cities and states. Some bidders have offered Amazon billions in tax incentives. Boston and Somerville's bids didn't detail any dollar amount for incentives.
Francis Miranda, a 56-year-old Charlestown resident, called tax incentives for Amazon "ridiculous" and "budget busters." Miranda, who runs a production company, said money for incentives would be better spent on improving housing and transportation for people in the area — two major concerns for residents.
"Those are things that are becoming very serious problems and have been very serious problems in the Boston area," said Steve Koczela, president of MassINC Polling Group, which conducted the poll. "And how they're addressed and how city and state leaders say they'll be addressed as we're potentially bringing 50,000 new workers to the area, I think is something that voters will be keeping a close eye on."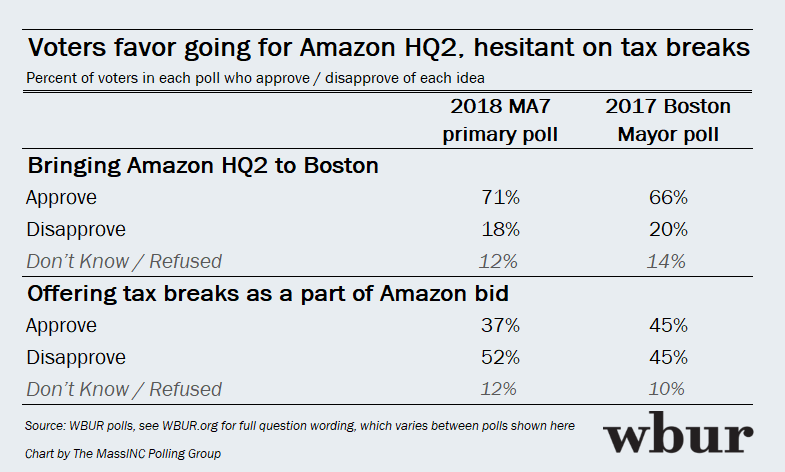 The poll asked people how Amazon might affect various aspects of life in the Boston area. While many believe Amazon would be good for jobs, a strong majority said Amazon would have a negative effect on traffic and housing costs. In the poll, 62 percent said Amazon would be "bad" for housing affordability.
Meredith Porter, a 66-year-old software engineer who lives in Somerville, said if Amazon came to the area, the influx of people would squeeze an already-tight housing market.
"Everything is so built up already and there aren't any controls on housing prices. It's all free market, so there's nowhere to go but up," Porter said.
The sentiment echoes a WBUR poll conducted last fall, which found housing costs to be the top issue for Boston voters. Amazon's hunt for a second headquarters has raised concerns about housing costs, gentrification and displacement, especially in East Boston -- the main site location in Boston's bid. And the concerns about housing aren't unfounded. Rents and housing prices have skyrocketed in Seattle, where Amazon is headquartered.
Boston Mayor Marty Walsh previously said he believes the city's housing plan is "in pace" with Amazon's headquarters. The city's chief of economic development John Barros reiterated this point to WBUR previously saying he believes Amazon would grow at a pace that "wouldn't be disruptive" to the city.
Residents also worry that an influx of Amazon workers would make traffic congestion — already considered a headache by most -- even worse. In the poll, 76 percent said Amazon would be "bad" for traffic in the Boston area.
On the other hand, most people — 57 percent — felt Amazon would be "good" for the MBTA. Many hope the company would spur more improvements to the transit system.
"Oh yeah, we'll finally get the damn Green Line extension," said Marcia Palmater, a 79-year-old Somerville resident. "I feel like that they would finally stop fooling around and give us the Green Line extension through Somerville and into Medford, which has been stalled. But with Amazon they wouldn't have any more excuse not to do it."
The Green Line extension has been long-delayed and is slated to open in 2021. Somerville's bid for Amazon references the Green Line extension and outlines sites along the route. And as past polling has found, many residents believe more investments in the T would help ease traffic congestion.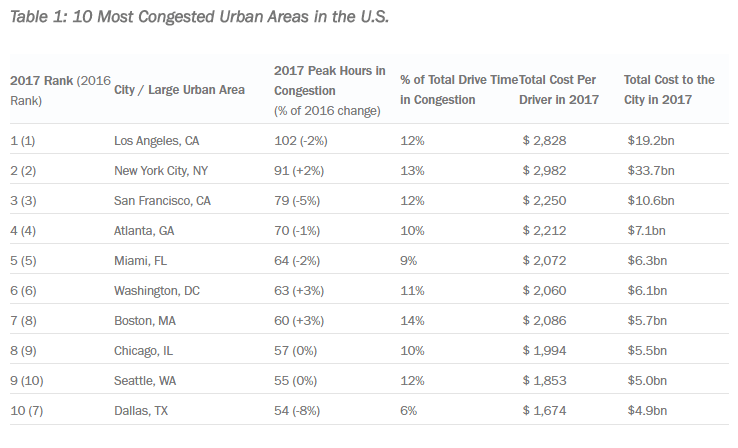 The new poll also asked residents how they thought Amazon would affect the wealthy, the middle class and the poor. The majority of residents said Amazon would be "good" for all of these groups. However, sentiments about Amazon's impact on the poor were narrower than for other groups — 54 percent said Amazon would be "good" for the poor while 31 percent said it would be "bad."
"You're talking about the possibility of considerable gentrification if you're adding in such a high number of workers who can afford to buy into the Boston area," Koczela said.
Some residents also wonder what else Amazon would do for the community besides bring more jobs. Lissette Castillo, 35, of Cambridge, said she'd like to see Amazon offer training opportunities for young people if they come to the area, but isn't optimistic they'll do much for "everyday" people.
"Before cities take a bid in trying to attract big companies like that, they have also a responsibility to truly inform the community of the impact that it's going to have, but also demand these companies come in and bring something to the community. Not just their ability to make profit," Castillo said.
Boston is considered a favorite to land Amazon's second headquarters. Last month, Mayor Marty Walsh said he felt the company was "pretty serious" about the city. When contacted Thursday for comment about the poll, Walsh's office referred WBUR to previous statements the mayor has made about Amazon.
Amazon plans to select its second headquarters later this year.
Methodology: The WBUR poll surveyed 402 likely voters in the 2018 primary election in Massachusetts' 7th Congressional District. Interviews were conducted Feb. 9-11. The poll has a margin of error of 4.9 percentage points.