'We Can Feel Like We're Part Of It': 1,500 Boston Youths To See 'Black Panther' For Free
Play
This article is more than 5 years old.
Outside of the AMC South Bay Center movie theater in Dorchester, dozens of students from TechBoston Academy chanted excitedly: "And I will succeed! And I will succeed! 'Black Panther'! 'Black Panther!' "
The students were part of a group of 1,500 young people who will be going to the movies for free over the next week to see "Black Panther," thanks to a campaign that raised more than $30,000.
Liz Miranda, the executive director of the Hawthorne Youth and Community Center in Roxbury, raised $30,910 on the crowdfunding website GoFundMe, to pay for 1,500 young people and 100 elders to see "Black Panther" over school vacation.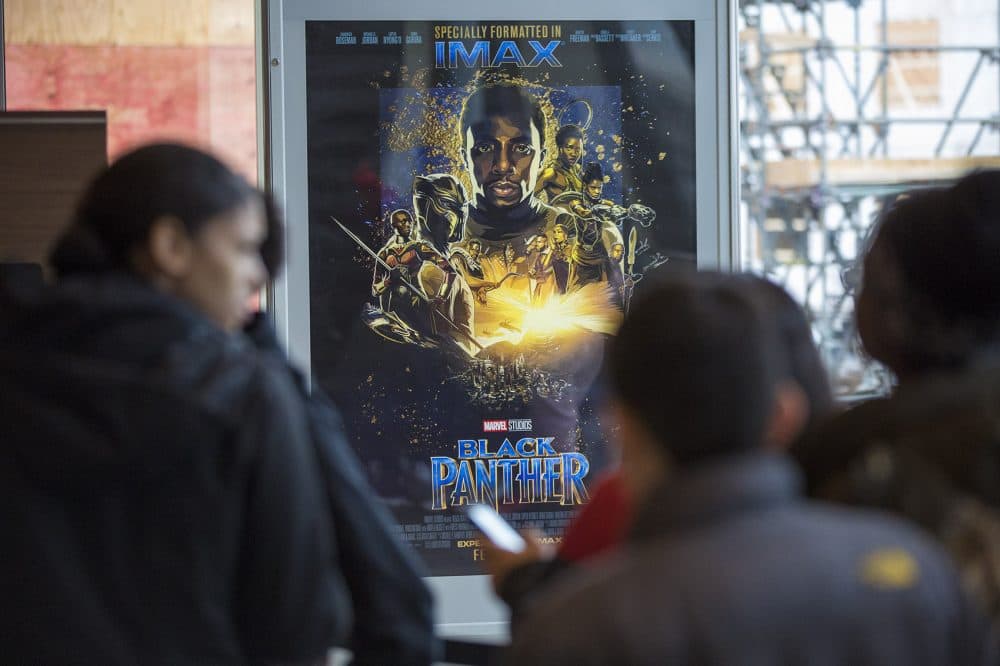 "We can feel like we're part of it. It's just truly amazing," said sophomore Kimberley Vasquez. The "it" she's referred to is the collective furor over "Black Panther," the first superhero blockbuster that centers fully on a black cast. But it's also about the palpable and very visual shift in the zeitgeist that the movie embodies, one where the stories of people of color take a leading role in pop culture, not a tokenized sidenote.
"Mass media is also a big way to spread the word of saying, 'Now [it's about] us,' " she said.
Pop culture representation may seem trivial to some people because they've always had it, said Courtney Leonard, a substitute teacher chaperoning the students. "You know there's been pushback from people saying, 'Oh, it's just a superhero movie, it's not real, like it's not real people, it's not like real life,' but there's something to be said about people being able to see themselves on screen."
At the movie theater, hundreds of students not only got a free ticket, but free snacks and drinks. The snacks were super important to Miranda, who said Boston youth deserved to fully experience the movie in theaters. "[If not] they would sit in a movie for two hours and be hungry."
The donations came mostly from people giving $20 to $25.
"That so many people across the country donated has really restored my faith in humanity," Miranda said.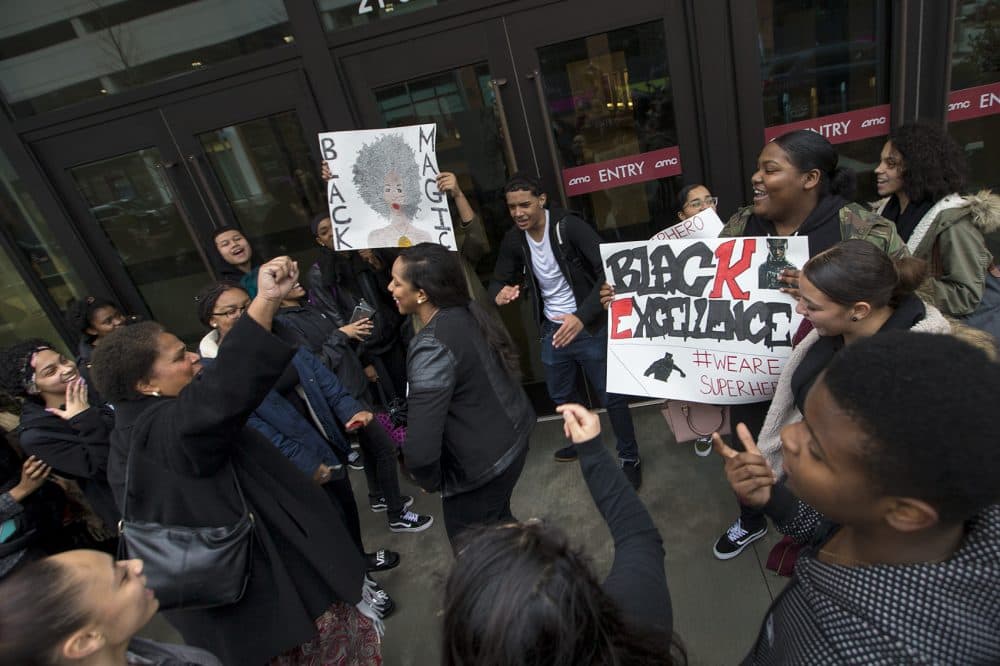 Leading up to the "Black Panther" showing, student Ovani Wiggins said his class studied the systemic and racist ways blacks have been portrayed in American media: "Like the savage, the Sambo, the coon."
Student Saeina Charles said studying that evolution only confirmed something she already knew: that to live in a black body like hers is to be othered and under attack.
"Black Panther," she believes, shifts that narrative in one of the most profound ways she's experienced. "We are also like gaining self esteem because now like our race is portrayed as something good and we can be like, 'Oh I can be a superhero or I can be a doctor, I can be a lawyer, I can provide for my community.' "
This segment aired on February 16, 2018.