'Makes The Heart Swell': 'Black Panther' Finally Elevates Black Superheroes
Play
This article is more than 5 years old.
A superhero movie from Marvel Studios is not typically the focus of a lot of prominent critical and social analysis — but "Black Panther" is not typical.
The film follows a warrior-turned-king of the fictional African country Wakanda. It's the most technologically advanced society on earth, untouched by white colonial rule. The movie's director, Ryan Coogler, is black; black actors dominate the movie's star-studded cast.
Before "Black Panther" was finished, writer and Cognoscenti contributor John Vercher wrote "More Than Sidekicks: Finding Comic Book Superheroes Who Look Like Me." The essay examined race, comics and parenting. Now that "Black Panther" is out in theaters, Vercher spoke with WBUR's Weekend Edition Sunday about his reaction to the film.
Interview Highlights
On what made "Black Panther" stand out
"What made me sort of over-the-moon happy was to see that they had built this world of different genres. I mean, this movie gave you a spy thriller. It gave you fantasy, science fiction. And they did it in a way that was, one, not only seamless but, two, in a way that young black children — both boys and girls — could see themselves reflected in all of those different genres. It's that chance to see themselves reflected in the ways that they never, almost never, get the opportunity to do so."
On original, black comic book characters receiving mainstream attention
"To see a character who is fully formed, who is not assuming the mantle of a previous white character ... lacking any type of stereotype, it kind of makes the heart swell to watch that being portrayed on screen — and done so well with the actors so invested in it. It was kind of breathtaking."
On "Black Panther" depicting fatherhood, social issues
"Not only do they hit at fatherhood and flawed fathers, but black fatherhood. And what it is like for children who have to deal with the effects of violence in their neighborhoods, and how that plays out not just at home but even on a national stage, an international — a global stage. And that was handled so delicately and so well not only by the director and by the writers but also the actors in a way that was very powerful."
How Vercher and his son have different experiences with superheros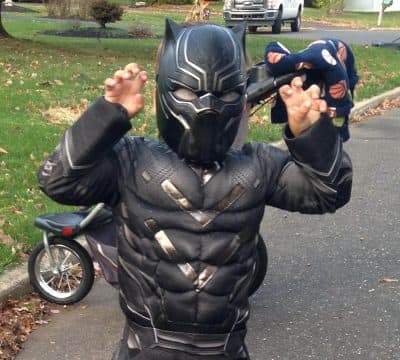 "We were watching the '[Captain America:] Civil War' movie where Black Panther made his debut; he wanted to know who are my favorite superheroes of all. And, without even thinking, I ran down the list: the Wolverines, the Iron Mans, the Captain Americas. And when I turned it to him and I said, 'Well who's your favorite?' and without hesitation he said Black Panther. And I was taken aback — not because I wasn't happy — but because it made me step back and re-evaluate. Well, why wasn't that my answer? And it made me really reflect on what it's been like growing up a comic book fan, a child of a biracial marriage and realizing that some of the access that I thought I had to some of these things wasn't there."
On what it would have meant if Vercher could have seen "Black Panther" on screen during his own childhood
"I would imagine it might have had quite an impact on me. I think it could have even been identity-shaping as I grew up — having a hero that was black and not a sidekick."
This segment aired on February 18, 2018.