'Brutal To The Eyes, Horrible To The Ears': The National Anthem, As Played By A Steamroller Music Box
Play
This article is more than 5 years old.
We don't need to tell you we're living in politically charged times. Patriotism, immigration, industry, infrastructure, labor and gender issues fuel daily headlines and national debate.
Now five contemporary New England artists are using whimsical but pointed works to encourage visitors at the Fitchburg Art Museum to raise and ponder their own political questions.
I visited as the biggest, heaviest, loudest piece in the new show "Fantastical, Political" was being constructed. The museum's second-floor exhibition space looked and sounded more like a mechanic's garage than a gallery.
Curator Lisa Crossman surveyed clusters of chunky steamroller parts -- 37 in all — in various stages of dismemberment that arrived in a 26-foot truck.
"It was very entertaining yesterday to see some of these pieces coming up in the elevator," she said, smiling. "I was like, 'Wow, this is a really different process than how we normally handle art.' "
This massive sculpture weighs between 5,000 and 7,000 pounds. Crossman consulted with a structural engineer to ensure the building would safely support its heft.
Three assistants pulled chains attached to a gantry to lift heavy sections of steamroller onto its hulking frame. Two jumbo tires were already secured. The whole thing looked cartoonish and out of place.
This was not lost on Curtis Aric. "Um, Tim Burton called, he wants his Tonka Truck back," he joked.
A self-described "blacksmith, farm-boy engineer," Aric works closely with the sculptor Dave Cole, who dreamed up this piece, simply titled "The Music Box."
Aric said he follows two rules when collaborating with Cole: "Rule number one: Do what Dave tells you. Rule number two: Don't listen to Dave."
As if on cue, Cole appeared with a tray of coffees for his crew. They still had a lot of work ahead of them: It takes about two days to put "The Music Box" together.
"Wait til you hear it run," Aric warned. "It's about as subtle as a chain saw — brutal to the eyes and horrible to the ears."
When fully assembled, Cole's giant steamroller (also known as a roller compactor) belts out the United States national anthem — arranged for steamroller.
"It plays it in this discordant, kids banging on trash cans kind of way," Cole explained. "It's slightly slow, slightly off-key. And all of that's totally intentional."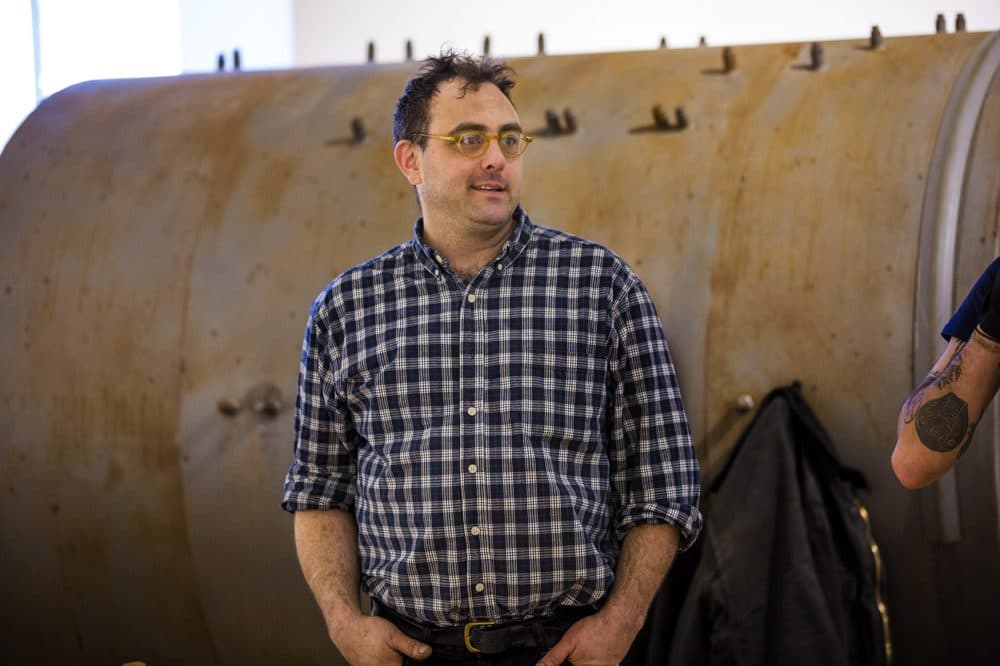 The 42-year-old artist is no stranger to eye-popping spectacle, big machines and probing political commentary. In 2005 he used two John Deere excavators to knit a mammoth, 20-foot-wide American flag at the Massachusetts Museum of Contemporary Art.
Transforming a real-life steamroller supplied by an Ohio Caterpillar dealer into a super-sized sound machine was no small task, either. The artist and his posse re-fabricated 95 percent of the truck using lighter sheet metal, which helped the 22,000-pound beast shed well more than half its weight.
They painted and antiqued the replica to attain authentic perfection. The converted steamroller was so convincing that it fooled the Caterpillar rep.
To make "The Music Box," Cole also studied the history of music boxes and the mechanisms inside the traditionally tiny Victorian pocket amusements. He even consulted with a music box expert in Maine.
Cole's team scaled-up the traditional design, affixing beefy pegs to the roller compactor's cylindrical drum. They built wooden resonator boxes with a row of thick, metal prongs attached to the front. When that roller rotates, its pokey parts strike the tines, and you've got sound.
But it took some trial and error for Cole to tune the steamroller so it would jive with his vision.
"When we finished making 'The Music Box,' all the notes were crisp and it was perfectly on key and there wasn't any buzzing," Cole said. "It sounded wrong. So I put a bunch of garbage inside the drum and I loosened a bunch of bolts — and then it sounded right. Because it needed to sound like it was a steamroller playing the national anthem."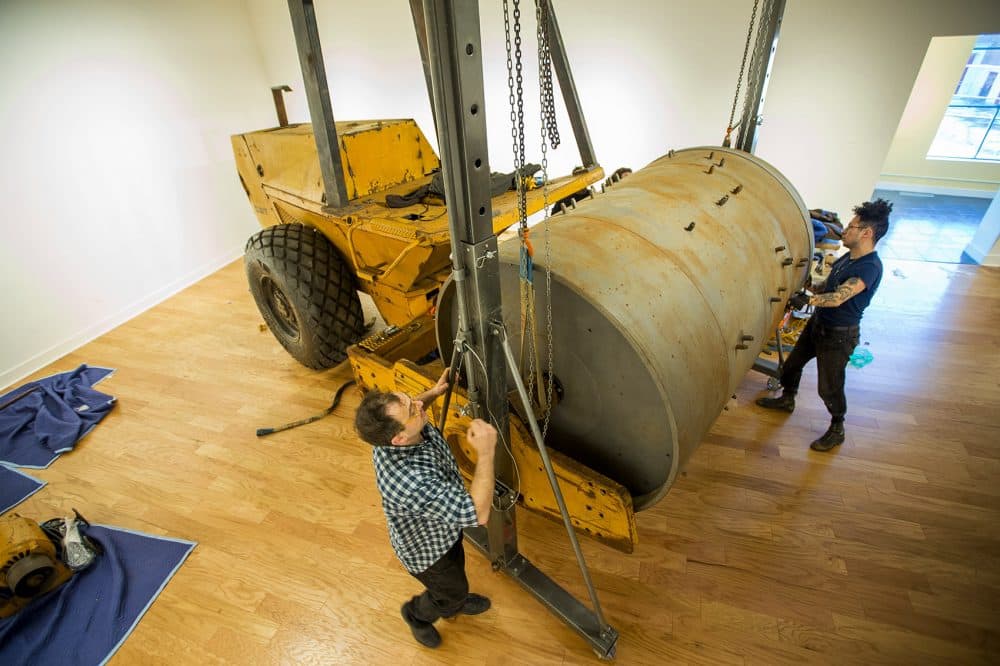 Cole is one of five New England artists who have work in "Fantastical, Political." Fitchburg Art Museum director Nick Capasso first worked with Cole in 2003.
At the time, Capasso was curator at Lincoln's deCordova Sculpture Park and Museum, where he included Cole in an exhibition.
"He somehow talked me into letting him build a 14-foot-tall teddy bear he knitted together from pink fiberglass house insulation," Capasso recalled, laughing.
As a curator, Capasso was fascinated by Cole's ability to knit with unexpected and even dangerous materials to explore issues including war, military history, technology, domesticity, institutionalized violence and masculinity. He said Cole's "Music Box" is "beautifully ambiguous."
"You have these three elements: steamroller, music box, national anthem," Capasso said. "And when you put those together, they could mean a wide variety of things on the political spectrum."
Cole said he hopes his piece engages audiences on multiple levels.
"On one hand, it is this solid piece of Manifest Destiny, road-building, Caterpillar, steel, American iron, rolling proudly forward into the future playing the national anthem, right?" he said. "It's also something that's designed to crush things."
In Cole's piece, Capasso said he detects "urges to dominate the environment, pave everything over, masculinity in general?"
"It's also completely out of context," Cole added. "Totally absurd, totally grotesque, totally pointless to have this road building machine doing this other thing that it doesn't do particularly well."
In the gallery, a timer sets "The Music Box off" every half-hour. On the exhibition's opening day, visitors converged around it, smartphone cameras at the ready, waiting for the big moment.
The tune -- if one can call it that — plays for about one minute. When the steamroller hit its final notes, the crowd applauded. Then 10-year-old Fitchburg resident Jamison McLinden told me that it kind of freaked him out.
"It was just super loud, and I was like ... uh ... when it was playing," he told me. "And I didn't know it was playing the national anthem because it was slower, and it kind of scared me. But I think it looks really cool."
Many visitors I spoke with agreed with the "cool" assessment, including Watertown artist Mike Mandel. But Mandel dug a little deeper, saying the sculpture makes him think about Fitchburg's manufacturing history, and the abandoned building across the street from the museum.
"Completely in ruins, part of the American Dream that went bad and about industrialization that just wasn't able to continue," Mandel said. "If it could've played the national anthem a little more meaningfully — that I could recognize it — I think it would've been a stronger piece. But I like the idea."
These are the kinds of responses Capasso is hoping for.
"The museum is not in the business of telling or asking people how to think about any of these things," he said of "The Music Box" and the other pieces in the new show. "The whole point of all this artwork is to raise questions, not to provide answers."
He added, "Artists are part of the ongoing and necessary political dialogue in our country, and political messages can be delivered just as eloquently with images and objects as with words."
Cole concurred. "I'm not trying to tell anybody what to think or feel about anything," he said. "Best I'm trying to do is create an object that expresses something that I see."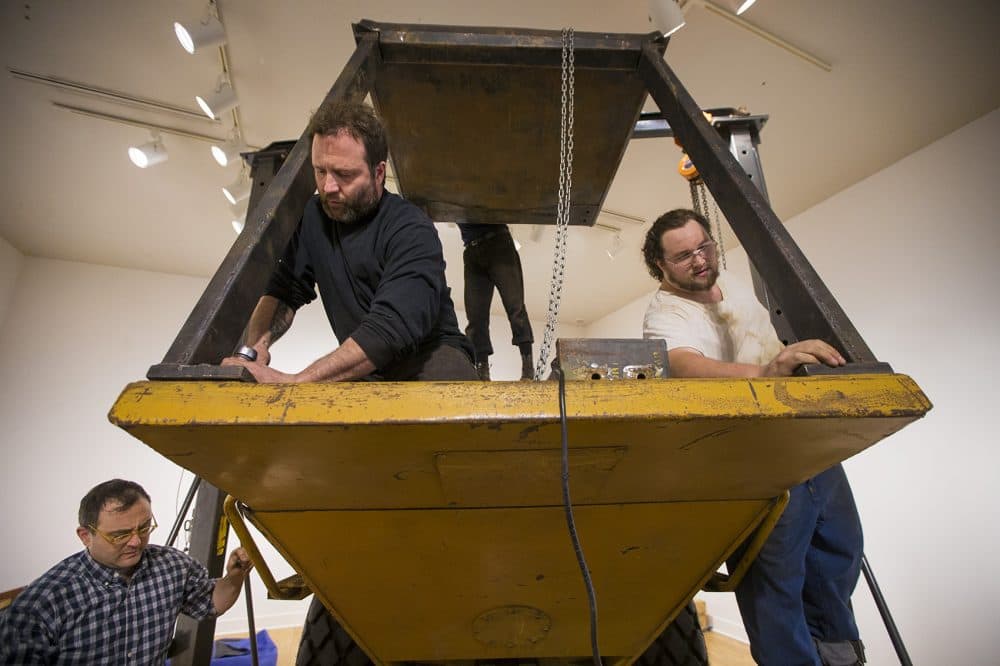 "The Music Box" could be taken as unpatriotic (Cole says it isn't) or as a reaction to our current state of affairs, including this past year's ongoing controversies over the national anthem at NFL games.
But the sculpture was commissioned by the Cleveland Institute of Art back in 2012. The artist said he's gratified that it's remained relevant.
"I made this piece at a time when Trump was a punch line, not a president," Cole said. "Say what you want to say about this particular time in U.S. political history — it's a lot of things — but one thing it's not is un-American."
He added, "I've never had anybody get all up in arms about work that has very obvious political content, because I'm doing my very best to talk respectfully about these things in a meaningful way."
Cole — a descendant of immigrants who's worked in the construction business — took a moment to think before responding to a question about today's fraught political environment.
"I would say that we've existed in a fraught political environment in this country since at least about 1600 — depending on which side you're on," he said.
Like "The Music Box," Cole's other pieces in the show also confront us in compelling, amusing ways. There's his trio of wooden baby rattles that look like World War II-era hand grenades — and a toddler's romper he sewed using Gulf War Kevlar body armor.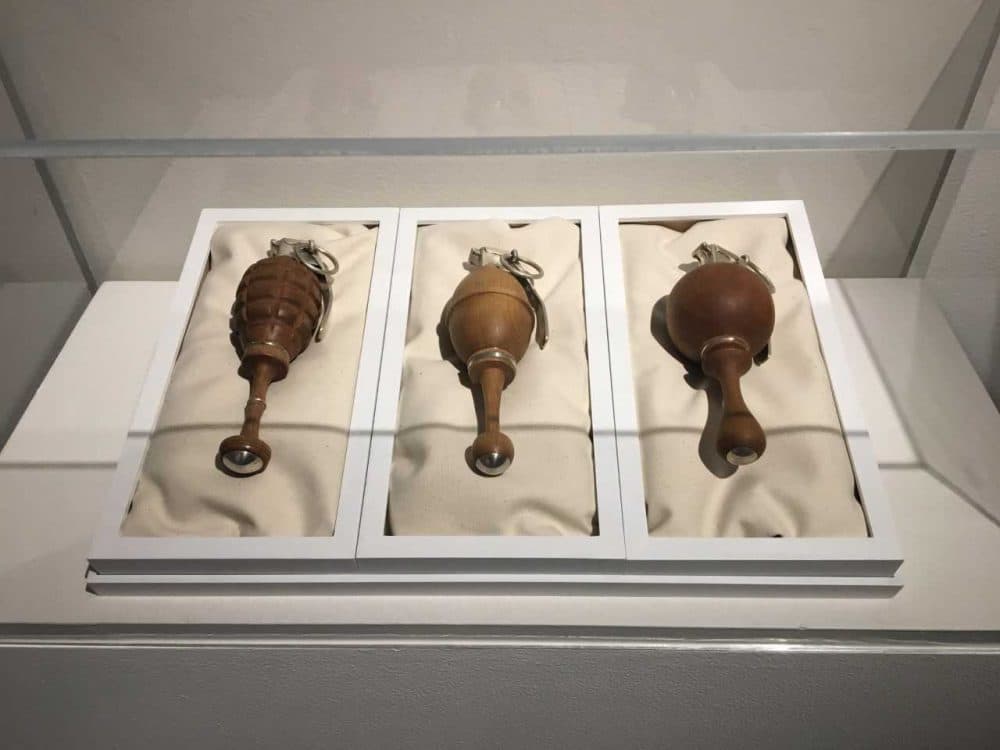 ---
The exhibition "Fantastical, Political" runs through June 3 at the Fitchburg Art Museum.
This segment aired on February 19, 2018.