After 16 Years As Suffolk DA, Dan Conley Won't Seek Re-Election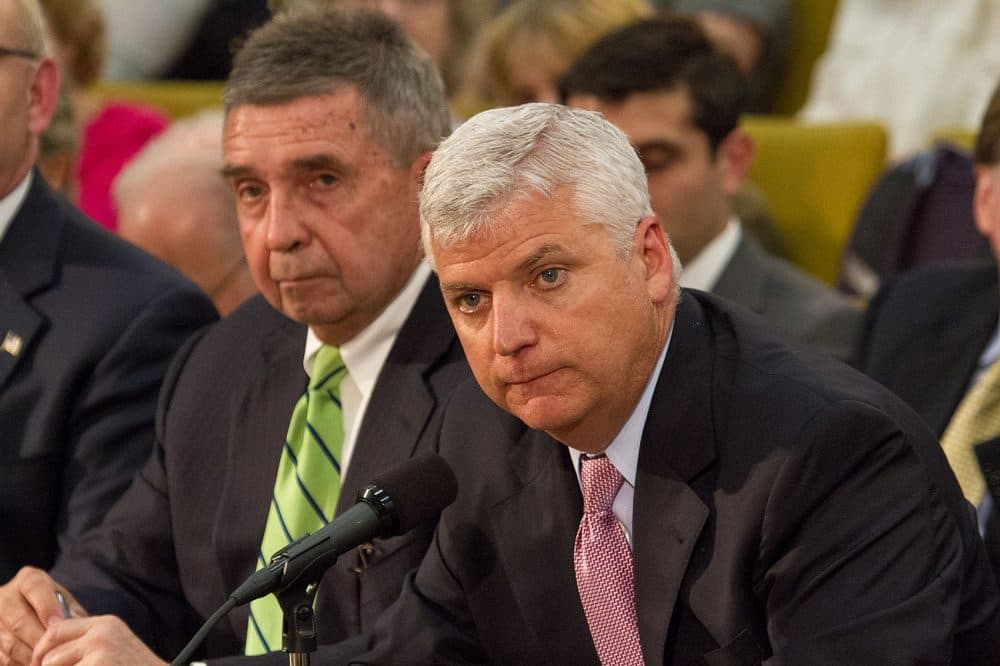 This article is more than 3 years old.
Dan Conley, who has been Boston's top prosecutor for 16 years, will not seek re-election this fall, creating a major opening for lawyers with political ambitions.
A former Boston city councilor, Conley has been the Suffolk County district attorney since 2002, when Acting Gov. Jane Swift appointed him to the position. Conley won election to the office later that year, and was re-elected without opposition three more times.
Conley's announcement Tuesday occurred exactly 16 years after he took office as DA, according to a statement that said he was stepping aside to "give others the same opportunity" that he enjoyed as a political leader. He said, in his statement, that he intends to finish his term, which continues through 2018.
The West Roxbury Democrat told his colleagues that Suffolk County is "now one of the safest, most livable urban areas in America, very different from the Boston I grew up in and much safer than when I was prosecuting homicide, gang, and other cases of violence in the late 1980's and early 1990's."
The departure occurs as lawmakers consider an overhaul to the criminal justice system that they said would reduce the number of people incarcerated. Conley has also been a strong advocate for updating the state's wiretapping laws to extend beyond organized crime.
"The past 16 years have been a period of unprecedented innovations within the office, many of them years ahead of their time. From eyewitness evidence reform to juvenile diversion, I have been fortunate enough to bring these projects to fruition with a world-class team, men and women of uncompromising integrity and deeply heartfelt compassion. These lawyers, advocates, investigators, and others will be a tremendous asset to the 15th Suffolk District Attorney, whoever he or she may be," Conley said.
He said, "At a time when law enforcement has come under intense scrutiny across the county I'd be remiss if I didn't thank the men and women of law enforcement across Suffolk County for their courage, their determination to do a difficult job well, and the standard they set for other agencies across the country."
Conley ran for mayor in 2013, winning 11.3 percent of the vote in the preliminary. Conley also steered the office through the scandal created by Annie Dookhan, the state chemist whose fabrication of drug evidence shook the public's faith in the justice system and threw convictions into question.
Touting lower incarceration rates, including a 40 percent reduction in the population at the Suffolk County House of Correction over the past five years, Conley said the office has been at the forefront of reforms.
"It was here in 2004 that the most sweeping eyewitness evidence reforms in modern history were undertaken to prevent erroneous convictions – a gold standard that formed the basis for what the Massachusetts Supreme Judicial Court would adopt a decade later. In 2005, we adopted policies and practices that would bring unparalleled transparency to the way we investigate police-involved shootings; thirteen years later, few prosecutors' offices in the country come close to what we do. The decision here in 2006 to treat prostituted youth as victims, not offenders, set the stage for the Safe Harbor provisions of the Human Trafficking legislation signed into Massachusetts law five years later," Conley said.
More recently, Coney has been working with Attorney General Maura Healey to investigate potential crimes related to anonymous allegations of sexual assault and harassment by Bryon Hefner, the husband of state Sen. Stanley Rosenberg.
The prosecutor's office, which has jurisdiction over Boston, Chelsea, Revere and Winthrop, has been a "central part of my life for more than 33 years," Conley said. Over the past "many months" he weighed running for a fifth term, he said, ultimately deciding not to even though he said he loves the job.
Candidates for district attorney must be residents of the Massachusetts Bar and a resident of the district.
This article was originally published on February 20, 2018.