Rarely Heard Worcester Speech Shows Another Side Of MLK
Play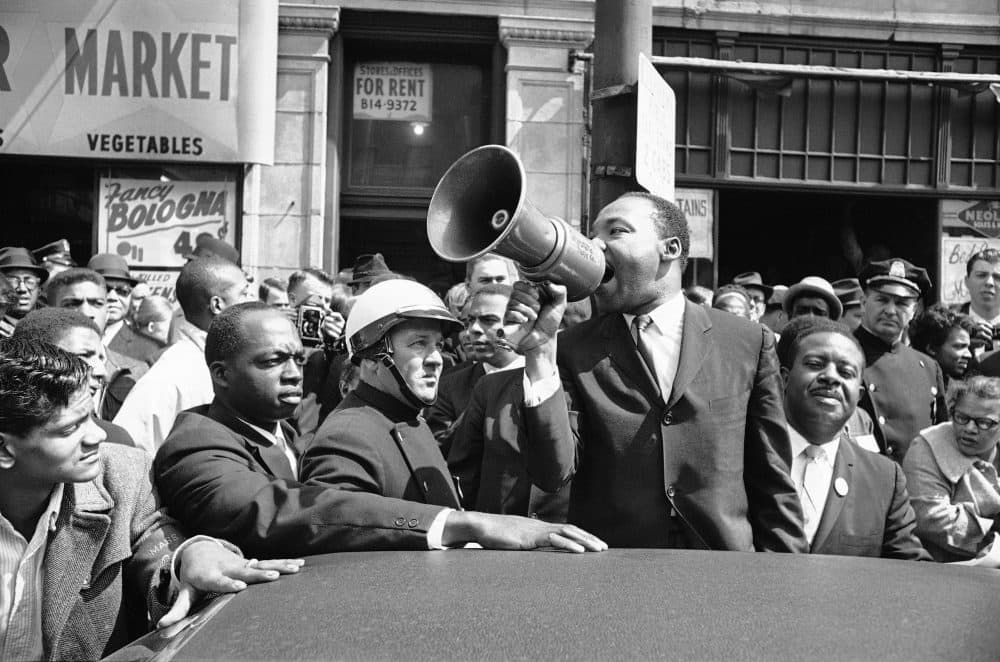 This article is more than 4 years old.
When Martin Luther King Jr. spoke at Temple Emanuel in Worcester in 1961, he opened with these words:
Whenever I return to the New England states, I never feel like a stranger because I've spent some three or four years in this area attending Boston University and Harvard University, so I feel like I'm coming home when I come back this way.
For decades, tapes from this speech were stored in a crowded box belonging to Rabbi Joseph Klein, who invited King to speak at the temple.
Klein's granddaughter, Laura Klein-Weiner, says she first learned her family had the tapes in 2013.
"I guess I had heard that he had come to the temple, but I didn't know that the tapes existed," she told WBUR. "So I was frustrated to know that there was a piece of history that we were sort of sitting on."
Shortly after the discovery, Klein-Weiner asked a friend to post the recordings online, but they didn't get much notice. She then decided to re-post them herself, just last month on MLK Day, on her SoundCloud account. This time, more people were able to find it and listen, including us:
---
Interview Highlights
We sat down with Tommie Shelby, professor of African-American studies and philosophy at Harvard, to discuss elements of the speech.
Bob Oakes: One thing that struck us are some of the similarities between this speech and Dr. King's famous "I have a dream" speech he made two years later. He basically ends both speeches the same way. Do you think this speech is in a way a precursor to the famous March on Washington speech?
Shelby: The subject of the two speeches is quite similar. He's talking about the state of race relations, how far we've come and how far we have to go, and where we have to go to get there. The Worcester speech is probably one of the earliest recordings of this set piece of his rhetorical repertoire, coming two years before the "I have a dream" speech.
Dr. King starts with an optimistic tone, saying that African-Americans are making strides, they're earning more than in past decades, they're seeing the walls of segregation slowly starting to crumble, and then Dr. King says this:
Now it is a fact that we've come a long, long way and it is true but if I stop at this point, I will leave you the victims of a dangerous optimism. If I stop at this point, I will leave you the victims of an illusion wrapped up in superficiality. In order to tell the truth, it is necessary to move on.
Help us understand what is going in Dr. King's mind at this point and where he's directing his urgency.
The speech is structured around avoiding extreme optimism and extreme pessimism. King's own position is kind of realism and truth-telling. He's insisting that we have a long way to go, but we won't get there without determination, sacrifice and a sense of urgency.
Rabbi Klein led Temple Emanuel at the time when he introduced King. At one point before King takes questions, he compares the civil rights leader to the prophet Moses:
I think that the situation with the Negro people in this country is analogous to what happened with the Israelites in Egypt. They too had to wait for a leader, and I think all of us will agree that they have found this leader in Dr. Martin Luther King.
How do you think Dr. King views himself and how do you think he thought about Rabbi Klein's comparison?
You often see a comparison between the Israelites' struggle for freedom and the black freedom struggle and many blacks now are eager to see a heroic, wise, powerful leader emerge — a black Moses if you will. However, King would often caution against the "drum major instinct." This is a desire to lead the parade and feel superior. King thought leaders should see themselves as servants willing to sacrifice themselves for others.
After the speech, Dr. King answered some questions from the audience. It was Dr. King unrehearsed, unfiltered, at times lighthearted and funny. I want to play just a small part of that now.
Rabbi Klein: Do you believe that the fear of miscegenation or economic fears are the major stumbling blocks to the acceptance of integration by white southerners?

MLK: I would say these are the two basic fears. On the one hand, the white south is seeking to defend and preserve a preferred economic position. Also the fear of intermarriage is one of the big fears in the south today. My argument is always this: Properly speaking individuals marrying, not races, so this question should not even come up in the struggle for civil rights. We must make it clear that the basic aim of the Negro is to be the white man's brother and not his brother-in-law. [laughter]
What struck you most about this Q&A?
I really enjoyed this part of the recording the most, frankly. You see him discussing black nationalism, interracial marriage, economic inequality, many other matters. You get a feel for what was often reported by his friends, that he had a great sense of humor, was really good with jokes and quick to make you laugh. You don't always get a feel for that in his speeches when he's much more austere and restrained.
Are these recordings important historically in terms of giving us a new insight into Dr. King?
The Q&A part of it allows you to hear him stretch out on certain issues.
I appreciated hearing Dr. King in long-form as opposed to soundbite.
One worry I often have I have about a focus on phrasings is that people can make them mean anything they want, even in narratives Dr. King didn't support. Having a chance to look at how he develops his political philosophy in extended form blocks some of these unfortunate indications of his words.
This segment aired on February 26, 2018.