Pianist Daniil Trifonov — This Generation's Sensation — Brings His Mentor, Sergei Babayan, To Boston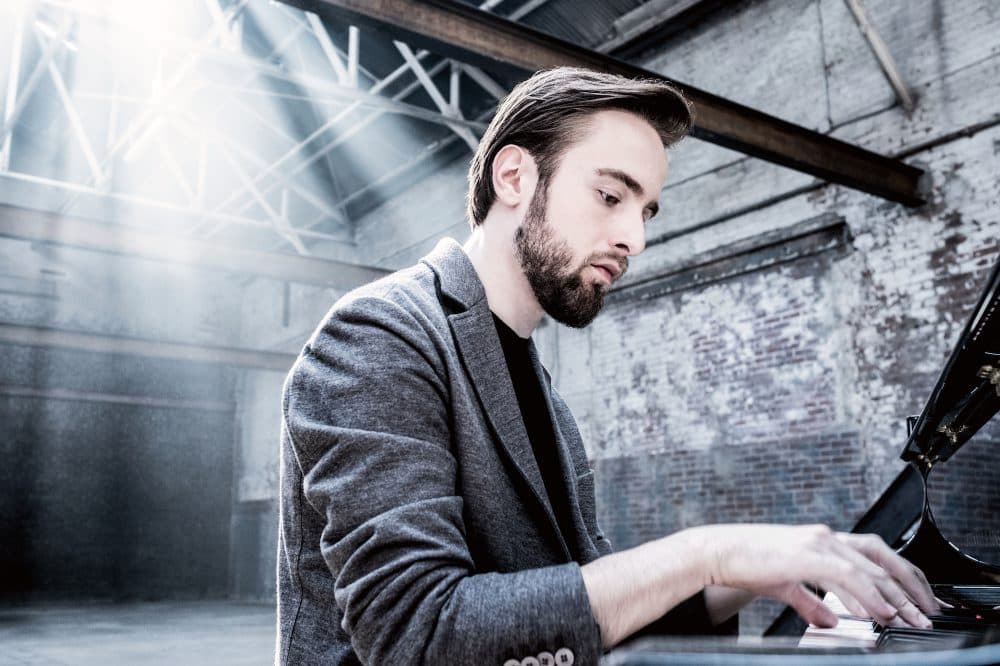 This article is more than 3 years old.
Daniil Trifonov's February calendar says it all.
Fourteen concerts, with eight different programs. Two major concertos, five solo recitals, five duo piano concerts. Two concerts accompanying a singer. One trip to Europe. One trip back from Europe. A brief stop to pick up a Grammy. Somewhere in there he celebrates his recent marriage, to pianist Judith Ramirez.
In between, he puts the finishing touches — "all that's left is the orchestration now," he says — to his latest composition, destined to be a double chamber concerto, for himself and violinist Gidon Kremer. That work, along with his E-flat piano concerto, which he debuted with 2014 in Cleveland, adds composing achievements to his chock-a-block musical resumé.
Here is a piece from his Grammy-winning Liszt recording, "Transcendental":
There's a clever saying: If you want something done, ask a busy person. That certainly seems a valid appraisal of Daniil Trifonov.
The 26-year-old Russian-born pianist has stormed into the classical music spotlight. He's no stranger to Boston, with multiple appearances for the Celebrity Series, and multiple appearances with the Boston Symphony Orchestra as well, including two breathtaking — and completely different — performances at Tanglewood this past summer.
He's back in Boston on Saturday, March 3, playing the final date in a Europe-to-America tour with his mentor, Sergei Babayan. It's a two-piano Celebrity Series recital at Jordan Hall, and if you don't have a ticket in your pocket as you read this, you should go right now and try to get one.
Every generation has its great pianists, and every generation also has one who stands out among those greats. It once was Rubinstein. It was Horowitz. It was Richter. It was Cliburn. It was Argerich. It was Kissin.
Now it's Trifonov. Born in Nizhny Novgorod, Trifonov was a prodigy. To wit: He lost one of his baby teeth during his orchestral debut. Fast forward through various prizes — the Chopin Competition, the Rubinstein Competition, the Tchaikovsky Competition — and Trifonov was soon making debuts on the greatest stages, including Carnegie Hall in 2013.
In 2009, the young pianist had come to the Cleveland Institute of Music to study with Babayan, an eminent pianist and a quiet legend among pedagogues. The relationship continues to this day — "I still take him things that I am working on," Trifonov says on the phone from Vienna, where he is preparing the Schumann concerto with the symphony there.
"I didn't even know him when I went to Cleveland," he says. "It was a recommendation, from my teacher in Russia, Tatiana Zelikman, who had met Sergei in the past.
"The first thing I said to him was that I wanted to prepare for the Chopin competition, which was about a year away. He was cautious at first — the Chopin is not easy, by any measure. But I brought him the third sonata" — no simple work, its four movements ranging from pensive insights to audacious fingerings — "and he became convinced."
Trifonov speaks respectfully of Babayan, but it's obvious that it's a peer relationship at this point. They are performing together, after all, and Trifonov is clearly the headliner on this marquee. Their program includes two suites by Rachmaninov, the rich Mozart D major sonata, the Schumann Andante and Variations and a brief but touching interlude, Arvo Pärt's "Pari Intervallo."
"Most of the planning came from tonalities — a lot depends on that," he says of the program. "The Schumann Andante is in B-flat major, and then we shift to E-flat minor for Pärt. And then we slide into the D major Mozart.
"The Mozart is the new piece in our repertoire," he says. He then shifts gears to talk about the particular challenges of two pianos onstage — as opposed to piano and orchestra, or pianist alone.
"The amount of polyphony gets doubled," he says, "and you have to depend on your ears to sense what is happening acoustically. It's not easy to find balance. But one of the most important things, and we do this in rehearsal, is a common interpretation. In this repertoire especially it's noticeable — but there is much cohesion between us.
"To a certain extent, Sergei is still my teacher," he says. "But there has to be initiative from both performers."
Trifonov has established a home in New York — "the travel considerations are important," he says, "but also by now I feel more accustomed to the city" — and his musical life there is rich. He is curating this year's Perspectives series at Carnegie Hall, half a dozen programs of his own choosing. He's also had a robust relationship with the New York Philharmonic, and performs twice on this September's season opening weekend.
But Boston audiences have seen plenty of Trifonov as well. And comments about his startling musicianship, and extraordinary technical abilities, are almost as common as comments about his appearance. He doesn't make it look easy, like the stately Pollini or the austere Kissin. And he doesn't perform with the uncensored joy of a Gil Shaham, or Yo-Yo Ma.
Trifonov covers the piano in sweat. Hunched over, deep in concentration — unnervingly so — Trifonov takes some getting used to. He uses full-body contortions to reach the right pressure point for each note, realizing the music almost like a modern dancer. By the end of his recitals, he seems drained, like after a hard workout. When I saw his Celebrity Series debut, in 2012 at Pickman Hall, I initially thought that he could never continue playing in such an exhausting manner.
That perception was correct — to a point. The two programs at Tanglewood this summer showed remarkably different sides to Trifonov's playing. A solo recital at Ozawa Hall — including the devilish Schumann Toccata — offered more of the same sweaty energy.
But a reading of Mozart's Piano Concerto No. 21 just a few days later, with Andris Nelsons and the orchestra, was shocking, by comparison, in its restraint. Trifonov sat erect, his hair remained coiffed, and the playing mirrored his appearance: refined and elegant; emphatic but poised.
"Each composer brings out different things," he says when asked about his physical approach, or approaches. "There are specific physical laws that come from the sound — certain necessities. Some things work for some composers, some work for others.
"In Rachmaninov, and a lot of the music of the 20th century — Prokofiev too — the shoulders are most essential. By that time the pianos were gaining more sound, and the composers were using it to further the limits of playing. It's much different from earlier years, even from the Romantic years."
His compositions fill the cracks in Trifonov's itinerary — "you can't schedule ideas," he says. "But that's what first interested me — composing. In the beginning I didn't care about performing, just as a way to bring my ideas to life."
His piano concerto, premiered in Cleveland in 2014, has rich textures, but derivative materials. The giant weight of Rachmaninov, Prokofiev and others presses down on Trifonov's own originality. But it is forcefully conceived, with broad interplay between orchestra and soloist — no small feat, in a work written by and for a virtuoso.
His next major composition was destined to be a double concerto — violin and piano — "and it will be someday," Trifonov says. It is scheduled to premiere on a tour beginning in June. "But for now it is actually two pieces. A piano quintet first, but eventually a work for chamber orchestra with solo instruments. I try to work on pieces on tour, but I don't have a stretch where I can work on one project many days at a time."
That is one thing we can all understand.
---
Daniil Trifonov and Sergei Babayan perform music for two pianos by Rachmaninov, Schumann, Mozart and Pärt on Saturday, March 3 at Jordan Hall, via Celebrity Series. For tickets and information visit Celebrity Series' website.
Keith Powers Classical Music Writer
Keith Powers is a classical music critic for The ARTery.