Forecast: Another Nor'easter To Hit Wednesday, To Coastal Rain And Inland Snow
Resume
Editor's Note: Here's David's updated forecast, on Wednesday.
---
There's no doubt our next nor'easter is going to bring significant snow and heavy rain to the region.
It is March, after all. And while nearly all of us would love to see spring break out across the area, New Englanders know that this can be an awfully cruel month.
I was looking back at records overnight and reminded myself that back in 1993, Boston had more than 38 inches of snow in March — the most snow ever recorded for the month.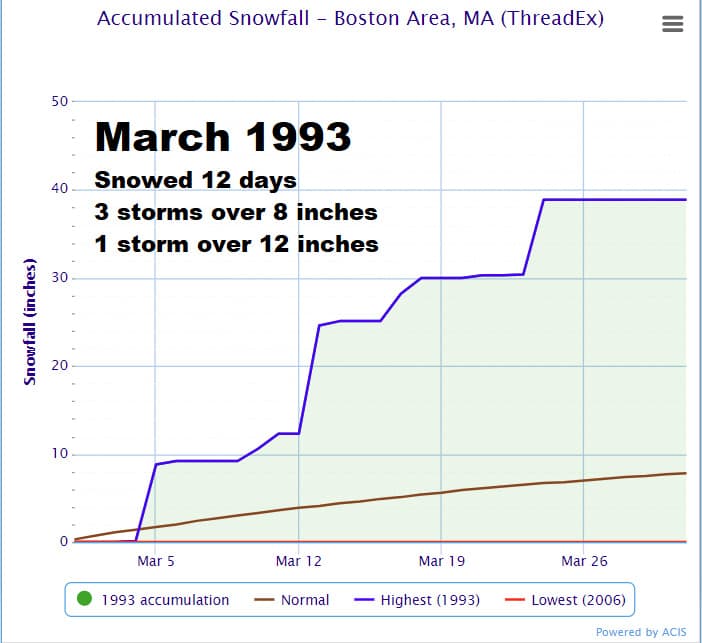 Keep all of that in mind over the next seven to 10 days as two potential storms, including one tomorrow, will bring more snow.
No Weather Issues Tuesday
Today is a tranquil day, giving utility companies another opportunity to restore any power knocked out in the previous storm. I am concerned about more outages tomorrow night and early Thursday, especially over interior areas where the power was not affected as much as it was along the coastline last week.
Our storm will form overnight Wednesday but should not affect the morning commute.
I don't think it will be necessary to cancel a full day of school tomorrow, because the snow is going to begin in the late morning and early afternoon. It might be a good idea depending on the timing to cancel afternoon activities, but we should be able to get most of the school day in on Wednesday.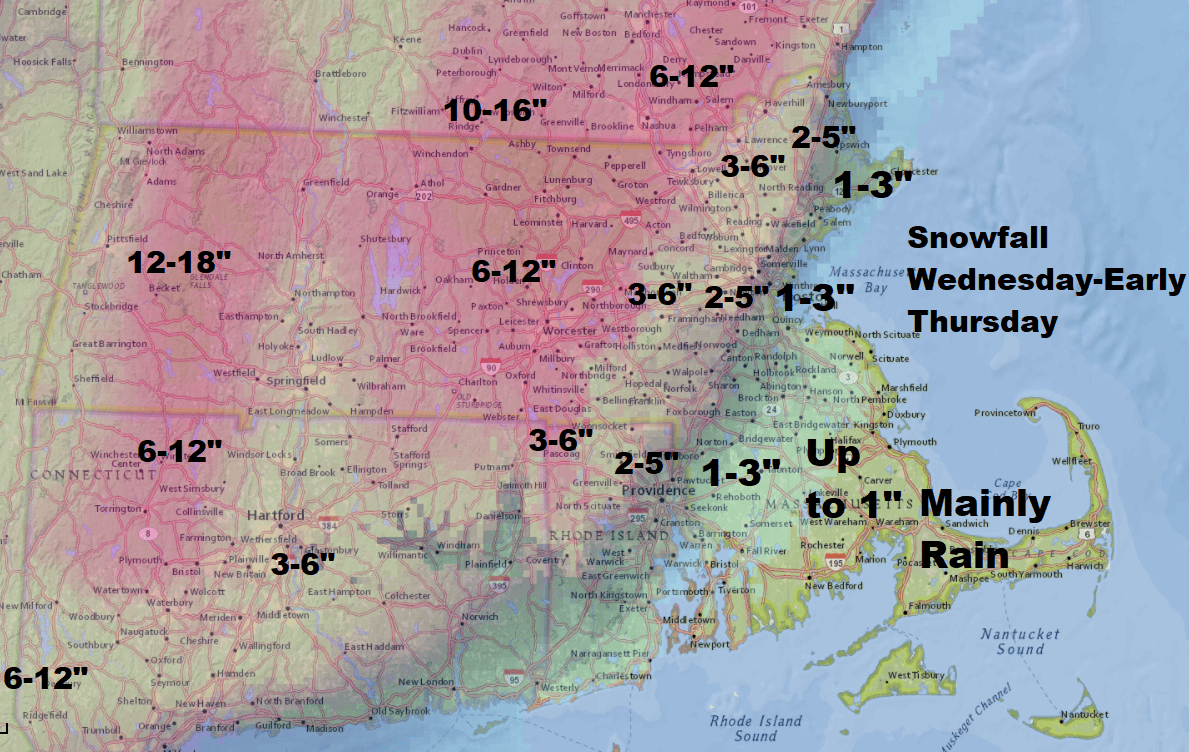 How The Storm Unfolds
After noon tomorrow the snow will pick up in intensity over inland areas, but it will be raining along the coastline. This rain/snow line is likely west of Boston. It looks as though we'll have an easterly wind for a while, which will move warm air far enough over the interior to ensure that the precipitation is either rain or a mixed bag.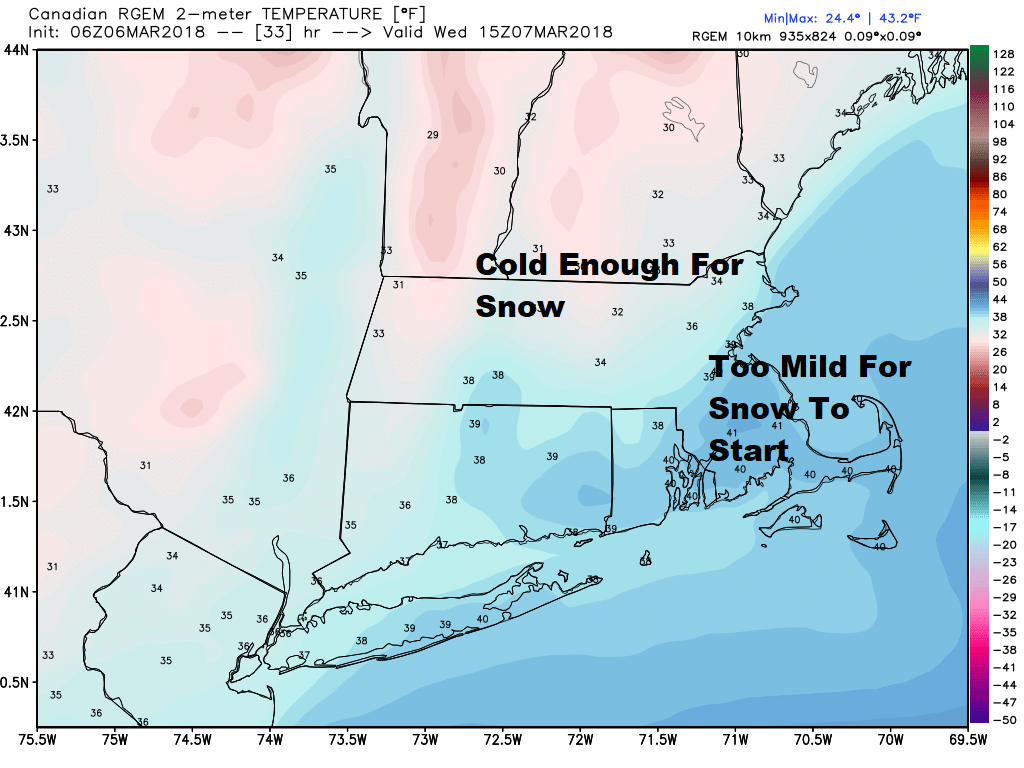 By the commute home Wednesday, I expect roads inside of the I-95 corridor will be wet, and further west, snow-covered. This will slow down the ride significantly. This is likely the worst commute during the storm.
Overnight Wednesday
Snow will be falling heavily — perhaps at rates of 1 to 2 inches per hour over the interior, especially in northern Worcester County. Along the coastline, rain and snow will fall. It may be that Boston gets 1 or 2 inches of snow, or it is also possible that it all remains rain overnight.
Winds will not be as strong as the last nor'easter, but along the coastline they could gust between 50 and 60 miles per hour. Inland areas will gust up to 35 miles per hour, which are winds certainly strong enough to knock down trees and power lines. There's probably also some trees that sustained partial damage from the previous storm, which are now more likely to break.
Thursday
The storm winds down as snow tapers to flurries. There will be some brightening later in the day. Temperatures will reach near 40 degrees, so melting will occur. I expect sunshine to return for the weekend.
Is It A Major Snowstorm For Boston?
I am growing more confident in this not being a major storm for Boston in terms of snow. I think there is a chance if the track of the storm is even further west that the city sees even less than 1 or 2 inches.
Power Outages
As I mentioned, I am worried about power outages. The heavy, wet nature of the snow, along with winds gusting at more than 30 miles per hour, may cause outages. It's tough to know how widespread they will be, but the potential exists for many of us to be in the dark later Wednesday night.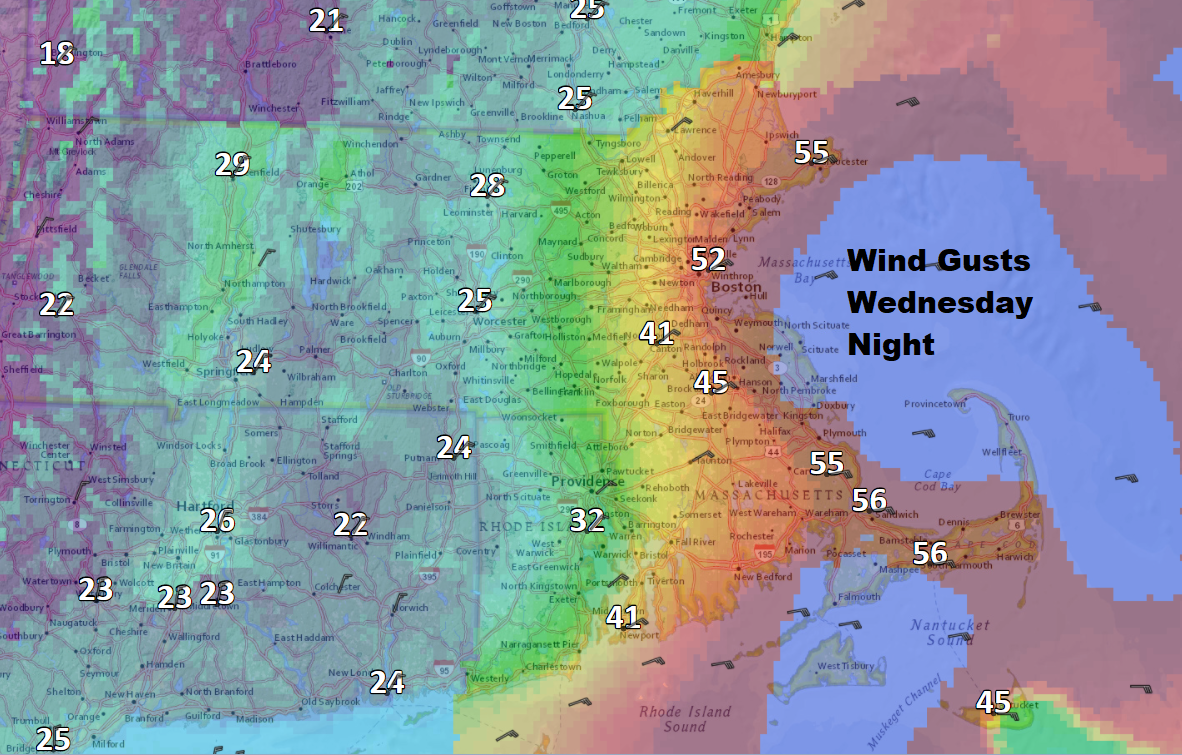 Coastal Flooding
Tides will be running 2 feet or so under where they were for our last storm. Winds will be less intense, and the seas themselves won't build as much.
There could be another storm early next week, but it's too early to know if it hits us or misses.
You can follow my updates here and on Twitter @growingwisdom.
---
Tuesday Sunshine inland, clouds at the coast with a few flakes, cool. Highs around 40.
Tuesday Night: Partly clear and cool. Lows around 27.
Wednesday: Some morning rain and snow showers, then rain at the coast, snow west of Route 495.  Rain will change to snow for a time before ending late at night.
Thursday: Snow and rain showers ending early. Highs in the lower 40s.
Friday: Chilly with some sunshine. Highs 40-45.
Saturday: Partly sunny. Pleasant. Highs 40-45.
This article was originally published on March 06, 2018.