3 World-Class Choreographers Convene For Boston Ballet's 'Parts In Suite'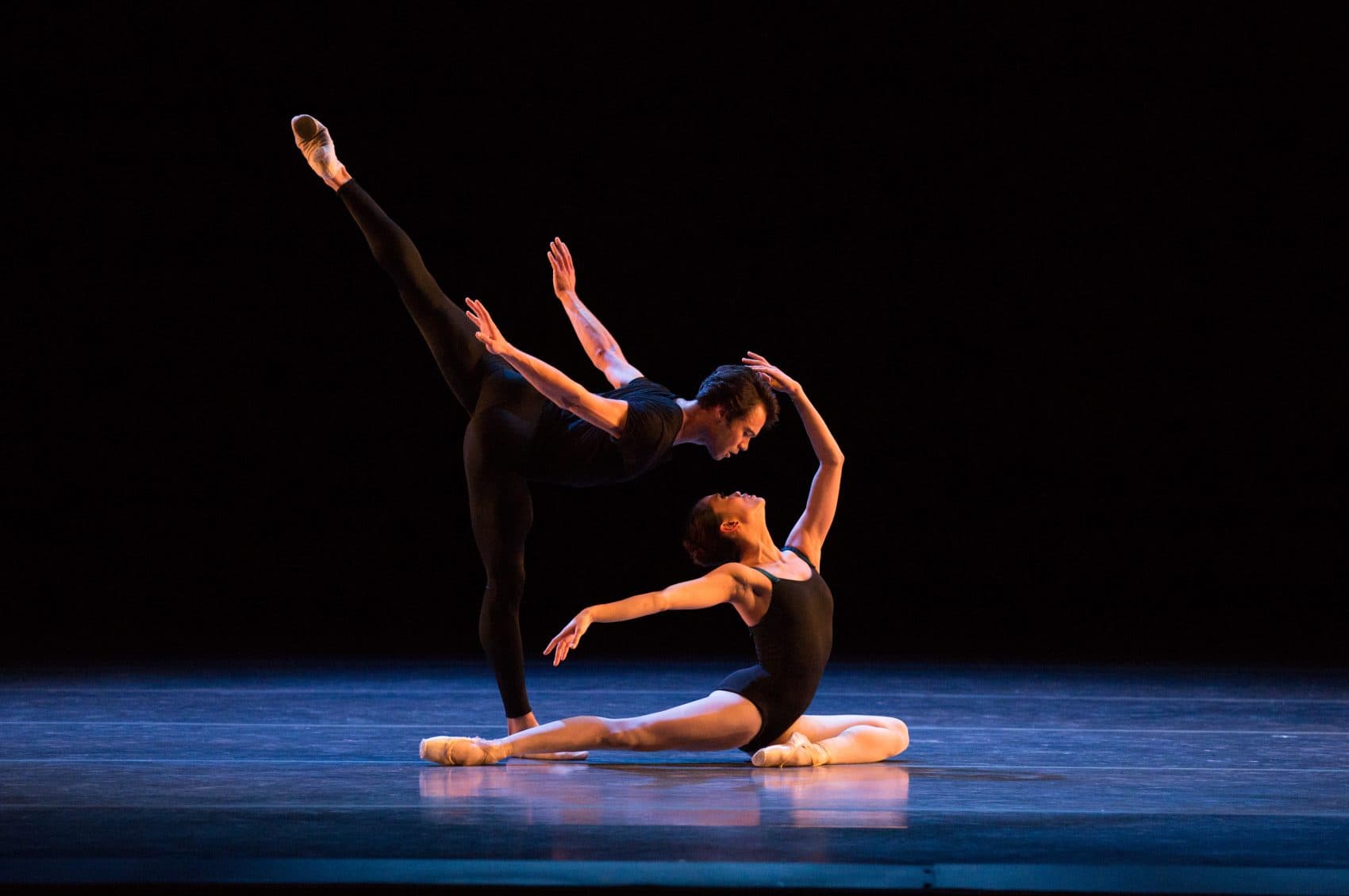 This article is more than 4 years old.
The concept is rather straightforward: dancers dancing. World-renowned choreographer William Forsythe describes the inspiration behind "Pas/Parts 2018" quite simply in a behind-the-scenes video previewing Boston Ballet's upcoming performance. Yet, this is where the simplicity ends.
His work is a deconstruction of classical technique blended with a contemporary aesthetic, each complex detail requiring an exaggerated articulation of even the tiniest, most select muscles in the human body.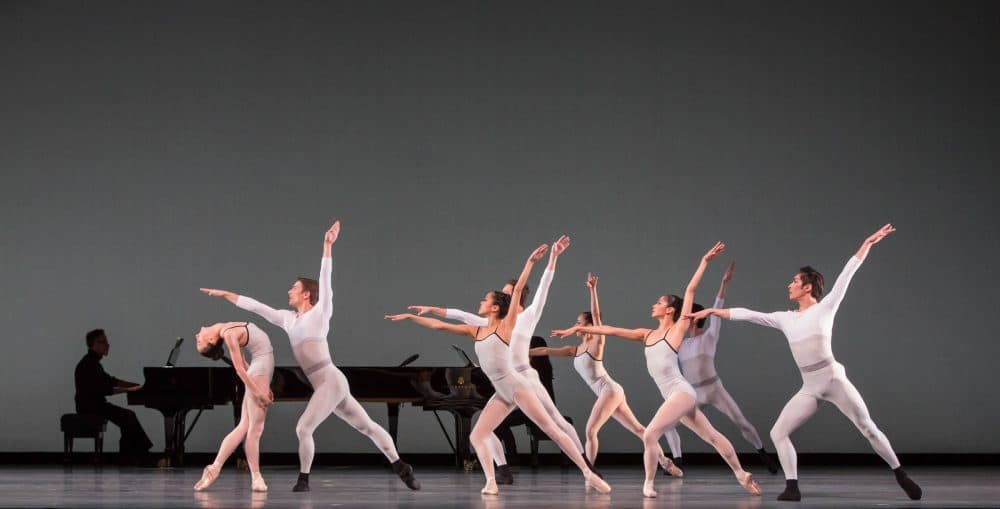 Strength stands at the forefront, and the dancers — men and women alike — reveal a power that is seemingly inhuman. They fearlessly embark upon the immense, bare stage, exhibiting clear purpose in every movement of the 20-section piece, set to an electronic score by composer and frequent Forsythe collaborator Thom Willems.
Originally created for Paris Opera Ballet in 1999, Forsythe later revised "Pas/Parts 2016" for San Francisco Ballet. Now, Boston Ballet will take on this challenging creation, with the slightly updated name "Pas/Parts 2018," becoming the second professional ballet company in the U.S. to premiere the neoclassical work.
This weekend and through April 7, the dancers will present "Parts In Suite" at the Boston Opera House. The program — which artistic director Mikko Nissinen describes as a "brotherhood of excellence" — will also feature creations by two other powerhouse choreographers, including the return of "Bach Cello Suites" by Boston Ballet's Jorma Elo and "In Creases" by New York City Ballet's Justin Peck, who will be making his debut with the company.
"Pas/Parts" joins the growing list of Forsythe work in Boston Ballet's repertoire, which currently includes "Love Songs," "In the Middle, Somewhat Elevated," "The Vile Parody of Address," "The Second Detail," "The Vertiginous Thrill of Exactitude" and "Artifact," which premiered last February.
"I think it's a very healthy company," said Forsythe, a former dancer with the Joffrey Ballet and Stuttgart Ballet. Much of the prosperous environment he credits to the engagement of the artistic director, whom he first met while choreographing at San Francisco Ballet, where Nissinen was a principal dancer. "He comes to rehearsals, he teaches class. He's also trying to do things slightly differently," he said. "After all, he hired me."
Having worked extensively with Boston Ballet before, Forsythe said he had a good sense of the dancers' capabilities. Still, he discovered pleasant surprises throughout rehearsals, in which he not only set the piece on the dancers, but also molded it according to the strengths of his cast and built on certain sections he had not felt completely satisfied with before.
"I think people reveal themselves in different ways under different circumstances," he said. "In one ballet, you might not notice someone's skills as clearly as you do in another ballet. This ballet allowed me to understand the skillsets of a number of dancers differently."
Alongside his work as a choreographer, Forsythe is a professor of dance and artistic adviser for the Choreographic Institute at the University of Southern California's Glorya Kaufman School of Dance, as well as a film and installation artist. His creations in this respect, which he describes as "choreography by other means," will be featured next year in his first comprehensive U.S. exhibit at Boston's Institute of Contemporary Art, according to Boston Ballet's press release announcing the 2018-19 season.
Also next year, Boston audiences will have the opportunity to experience the choreographer's first world premiere created on an American company since 1992, as yet untitled, alongside "Artifact Suite" and the North American premiere of "Blake Works I."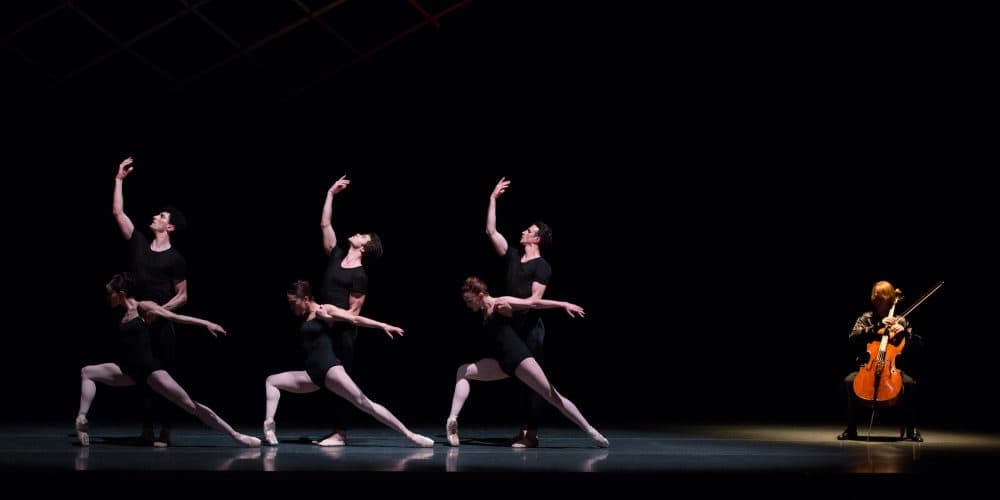 That is to say, this weekend's production is a quintessential example of 21st century dance at its finest, but it certainly won't be the last. Boston Ballet has and will continue to present a variety of repertoire of the highest caliber, and with "Parts In Suite" marking only the second year in the company's five-year artistic collaboration with the choreographer, there are sure to be plenty more explosive performances to come.
"You get to know people better," Forsythe said of his rich, ongoing relationship with the company. "You have insight into their gifts. You adapt your ideas according to who's in front of you. It's a very privileged profession. You get to work with extraordinary people every day. It's never uninteresting."
---
Boston Ballet performs "Parts In Suite" March 9 to April 7 at the Boston Opera House. The company's production of John Cranko's "Romeo & Juliet" will open the following week, running March 15 to April 8.