Forecast: Nor'easter To Hit North, Western Mass. Hard, But Uncertainty Remains In Eastern Mass.
Play
This article is more than 5 years old.
This morning I wrote about the storm's forecast track shifting eastward and this means the snow totals have also shifted with them. Everything else with the storm remains the same.
The change from rain to snow in Boston occurs after the evening commute.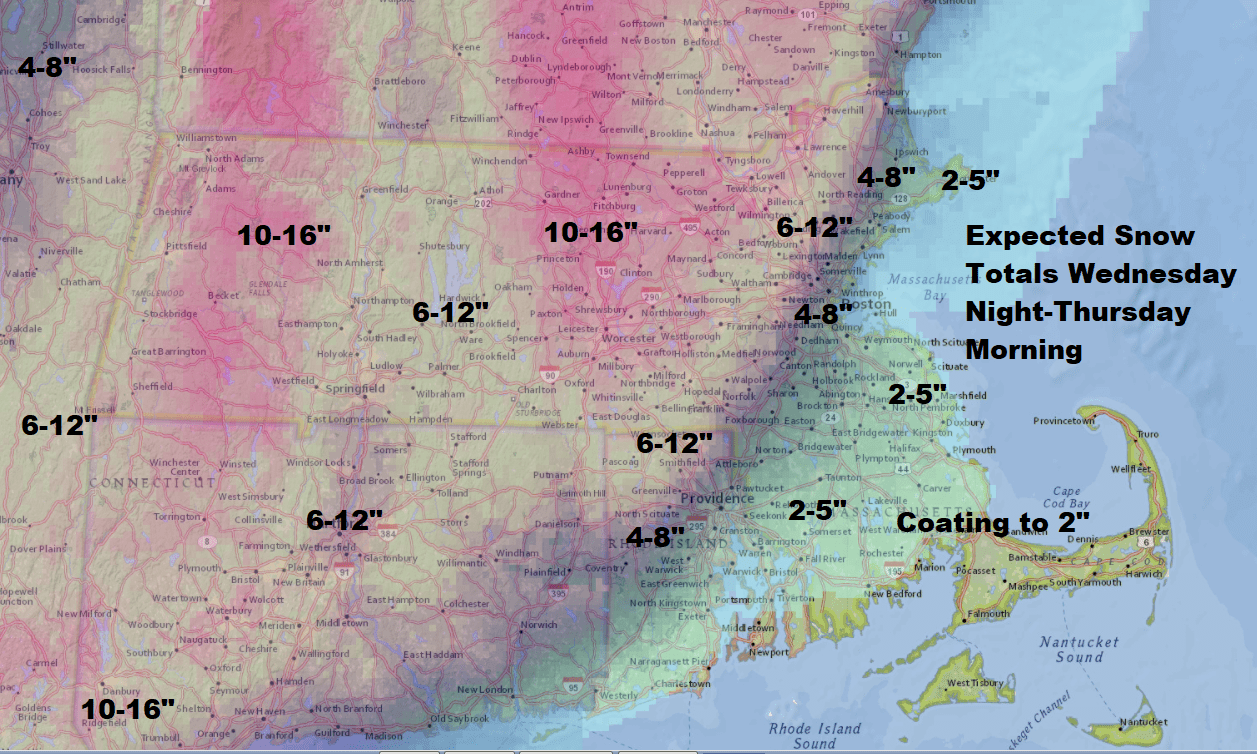 ---
Earlier post:
David did a live Q&A on Facebook at 11:45 a.m. EST. You can re-watch here.
The bulk of the coming nor'easter is going to arrive this afternoon in the form of rain and snow, depending on where you are.
If the storm system jogs further east then the snow total map will also follow. This would bring more snow to Boston.
This scenario is still possible and while it's unusual to have so much uncertainty at this point in a storm it's what happens when a 40 mile difference can be the change between 2 and 12 inches of snow.
I am confident those heavy amounts that you've been hearing about are going to occur from northern Worcester County and on into northern New England, but the amount as you get closer to Boston is still questionable. A difference of 10 miles could be the difference between 2 and 6 inches of snow. It's very difficult to nail down the exact placement of such a gradient, so don't be surprised if you don't have exactly what's on the map.
When storms take this particular track, in addition to the warm air coming into Greater Boston, there's something called the dry slot that also moves over the area.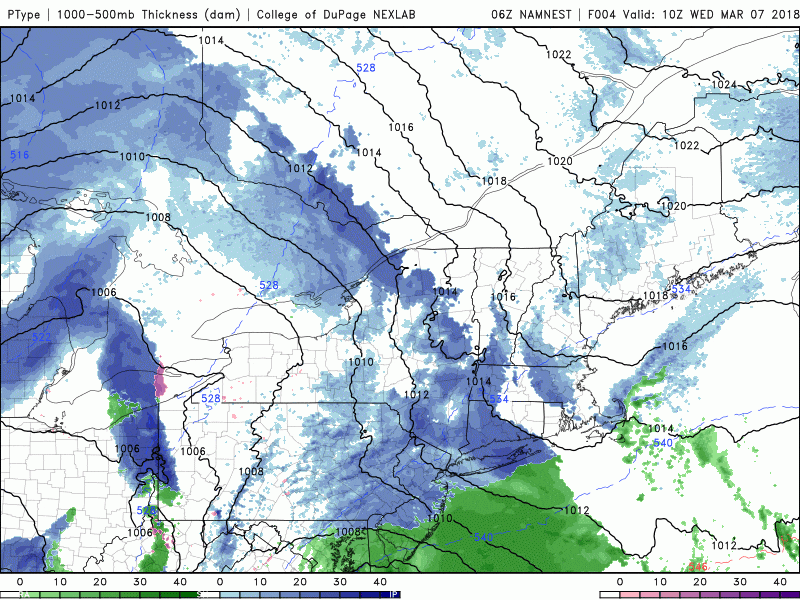 When you have really intense storms, they pull dry air into their centers, but if the storm passes off the coast, the dry slot is also over the ocean so we don't really talk about it much. In this particular case, ahead of the dry slot the precipitation will be quite heavy, but once it moves into Boston later this evening the rain and snow will shut off pretty quickly.
Tomorrow leaves a lot of clouds and a few snow showers but the storm is over.
Timetable Of The Storm
The steady and heaviest precipitation won't move in until this afternoon. Areas with rain could see heavy downpours, while areas with snow could see it fall at the rate of 1 to 2 inches per hour. There could even be the rumble of thunder.
This will obviously create very difficult travel in the snow area, mainly west of I-495. Between I-495 and Route 128, the precipitation could oscillate between snow and rain. It will be very heavy and wet and this could lead to power outages as winds increase. The power situation could be exacerbated by some partially damaged trees from the previous storm.
This Evening's Weather
We will watch the snow continue to fall heavily over the interior, with rain along the coastline, but a trend toward snow even in Boston. I expect most of the heaviest precipitation to be over between 11 p.m. and 2 a.m. Temperatures will not fall rapidly behind the system so you don't have to worry about a flash freeze. Winds will continue to increase and peak this evening with some gusts more 50 miles per hour, along the coastline and into the 40s over the interior.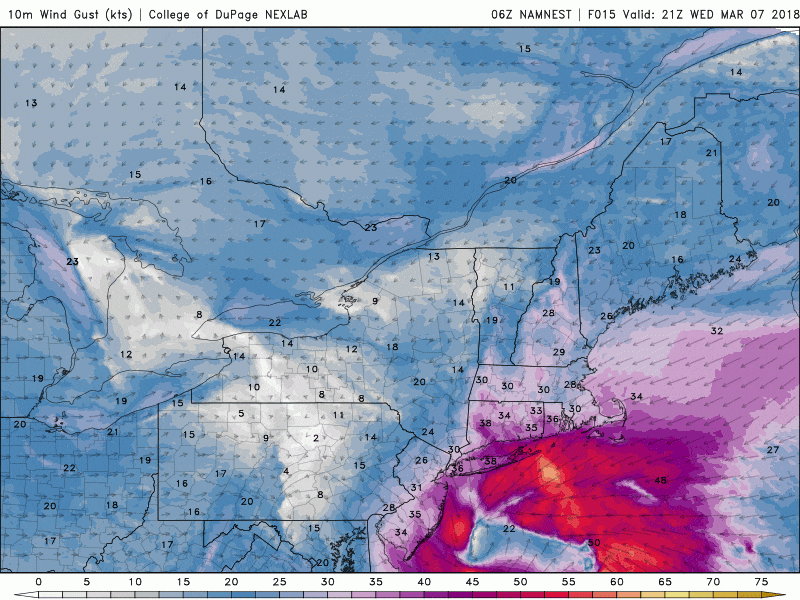 Thursday
The storm winds down as snow tapers to flurries. There will be some brightening later in the day. Temperatures will reach near 40, so melting will occur. I expect sunshine to return for the weekend.
Coastal Flooding
Tides will be running 2 feet or so under where they were for our last storm. Winds will be less intense and the seas themselves won't build as much. However, winds could gust to 50 miles per hour along the coastline and 35-40 just inland. There is a coastal flood advisory over the South Shore and a coastal flood warning over the North Shore. There may be pockets of moderate flooding in the warning area, especially where some of the dunes or sea walls have been breached from the last storm.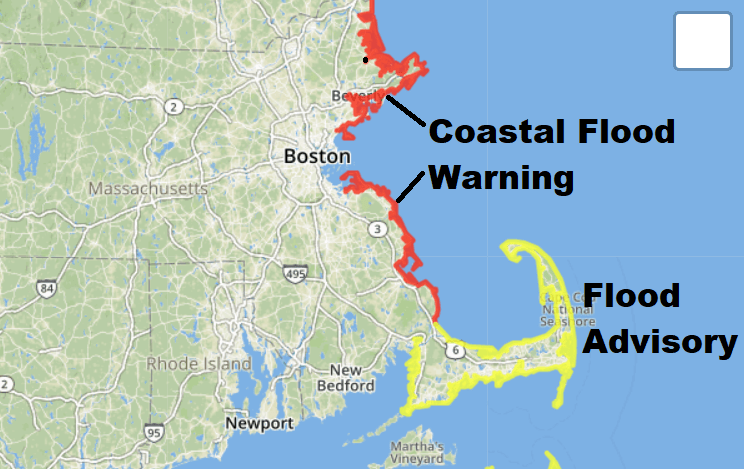 This Weekend: Skiing?
If you can get yourself up to any ski areas in northern New England you will be happy you did. After 1 to 2 feet of snow the skiing should be fabulous along with comfortable temperature for hitting the slopes. Look for seasonable readings here with highs in the low to mid-40s and a blend of clouds and sunshine. There may be some more storminess next week, but let's get through this one first.
You can follow my updates here and on Twitter @growingwisdom.
---
Wednesday: Some morning rain and snow showers, then rain at the coast, snow west of I-495.
Wednesday Night: Heavy snow inland, rain may change to heavy wet snow at the coast. Windy everywhere, but especially strong at the coastline.
Thursday: Snow and rain showers ending early. Highs in the lower 40s.
Friday: Chilly with some sunshine. Highs 40-45.
Saturday: Partly sunny. Pleasant. Highs 40-45.
This article was originally published on March 07, 2018.