Suffolk University Makes Interim President Marisa Kelly Its Permanent President
This article is more than 5 years old.
Marisa Kelly will take leadership of Suffolk University permanently. Kelly has been serving as interim president for 20 months.
She succeeds Margaret McKenna, a president popular with students, alumni and many members of the faculty but who had a contentious relationship with the university's Board of Trustees. McKenna complained the board frequently interfered in her administration of the university.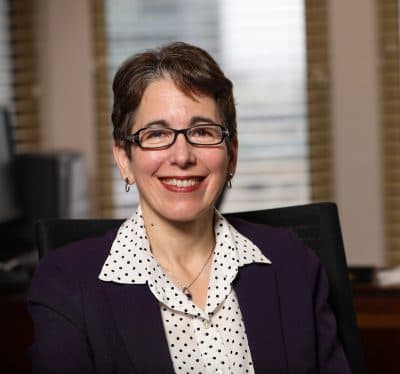 Kelly says that as interim president she has been able to run the university without interference from the board.
"Absolutely," Kelly said in a telephone interview with WBUR Thursday. "I cannot say enough positive things about Chairman Bob Lamb and his leadership of the board. Since he stepped into the chairperson's position ... he has really transformed the board."
Lamb took over the chairmanship of the board last year. He succeeded Andrew Meyer, who agreed to resign as part of a deal that allowed McKenna to serve out her contract.
Among McKenna's most vocal supporters at the time was Colin Loiselle, then president of the Student Government Association. He praises the selection of Kelly.
"It's a great choice," Loiselle, who is now a graduate student at Suffolk, said in a telephone interview Thursday. "I think choosing somebody who has been at the university who has proven herself to be a unifying voice for the school is a phenomenal choice."
Among Kelly's priorities is to increase funding for need-based financial aid for students. About 35 percent of Suffolk's undergraduate students are first-generation college students.
"We need donors to support the institution, to support the students, particularly in the area of scholarships, so I look forward to continuing progress on that front," Kelly said.