'They're Standing Up And Saying Something': Students March To State House To Call For Stricter Gun Laws
Play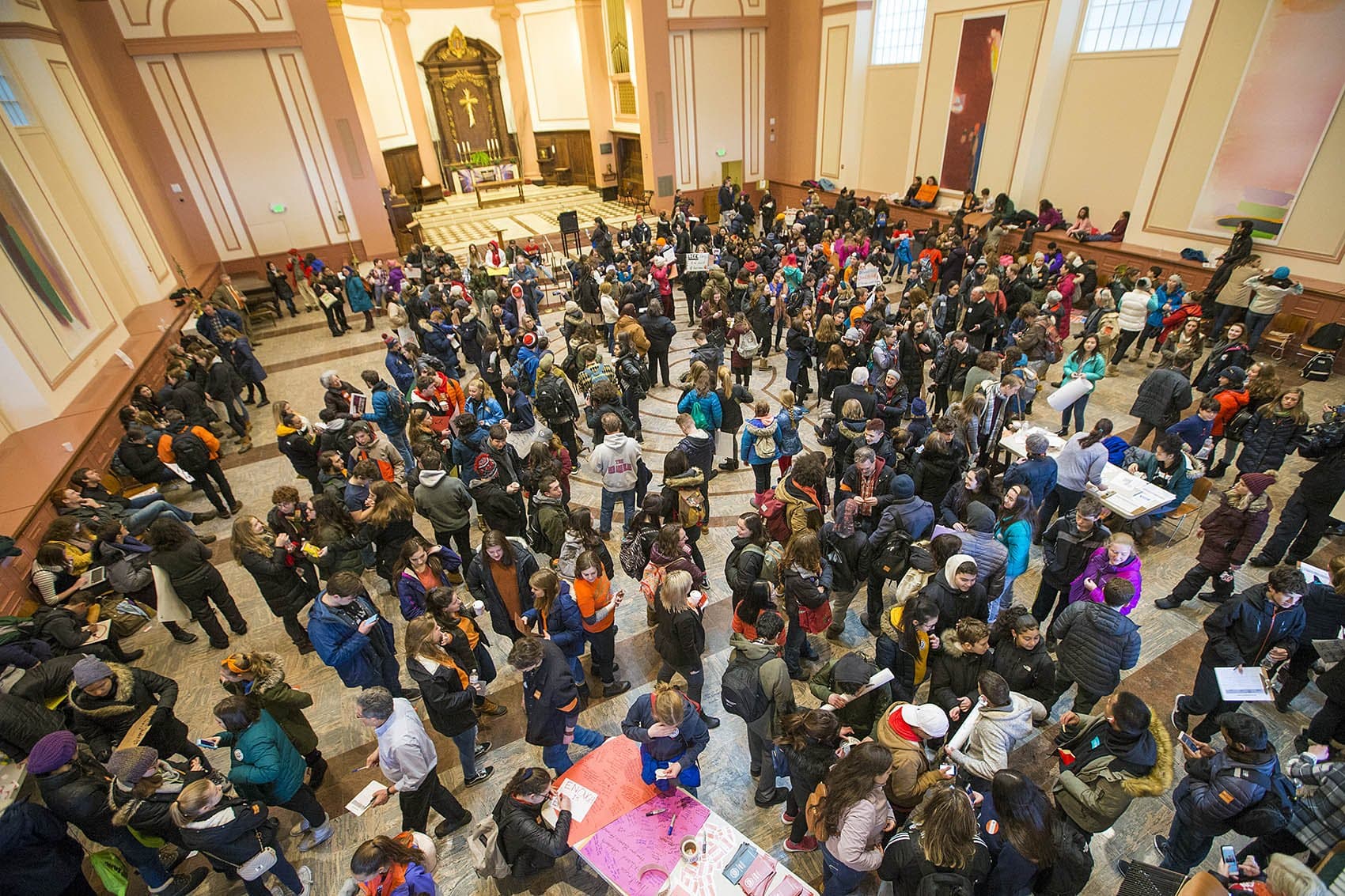 This article is more than 4 years old.
Students across Massachusetts walked out of classes, marched and rallied Wednesday in solidarity with a national day of activism calling for stricter gun laws.
The #Enough walkout occurred exactly one month after the deadly high school shooting in Parkland, Florida. With high-schoolers in more than 40 states participating, the walkouts in many places lasted at least 17 minutes, one minute for every person killed in the shooting at Marjory Stoneman Douglas High School on Feb. 14.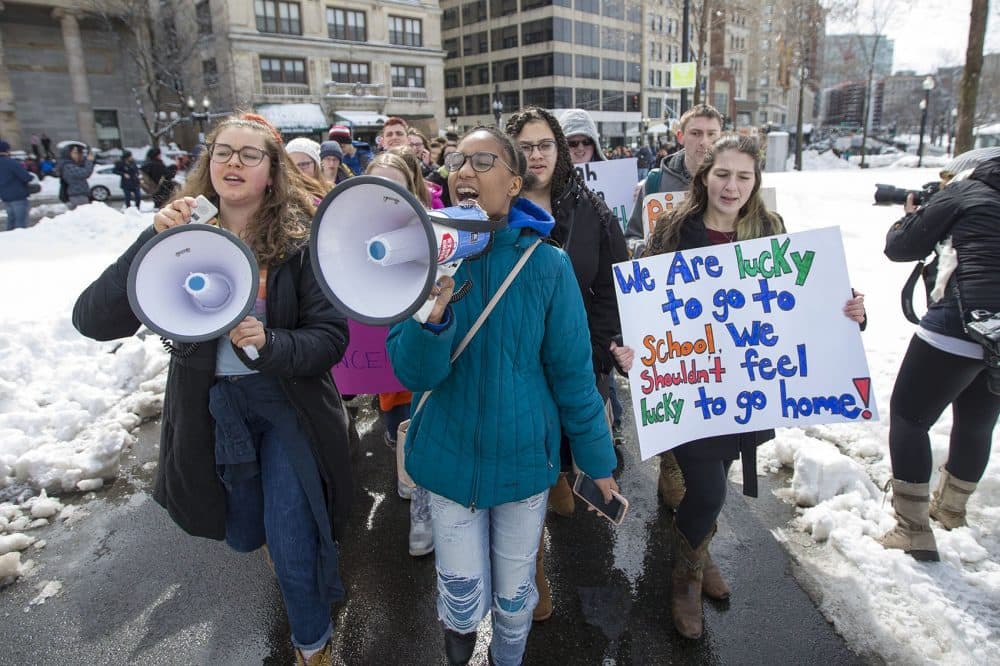 While about 150 schools across Massachusetts signed on to participate, hundreds of students in eastern and central parts of the state could not walk out of classes because schools were closed following a powerful nor'easter that smacked the region all day Tuesday.
But hundreds of local students affected by snow closures — including those from Boston, Cambridge, Somerville, Brookline and Andover — walked out of their homes Wednesday morning and headed to downtown Boston to show their support en masse for the #Enough movement.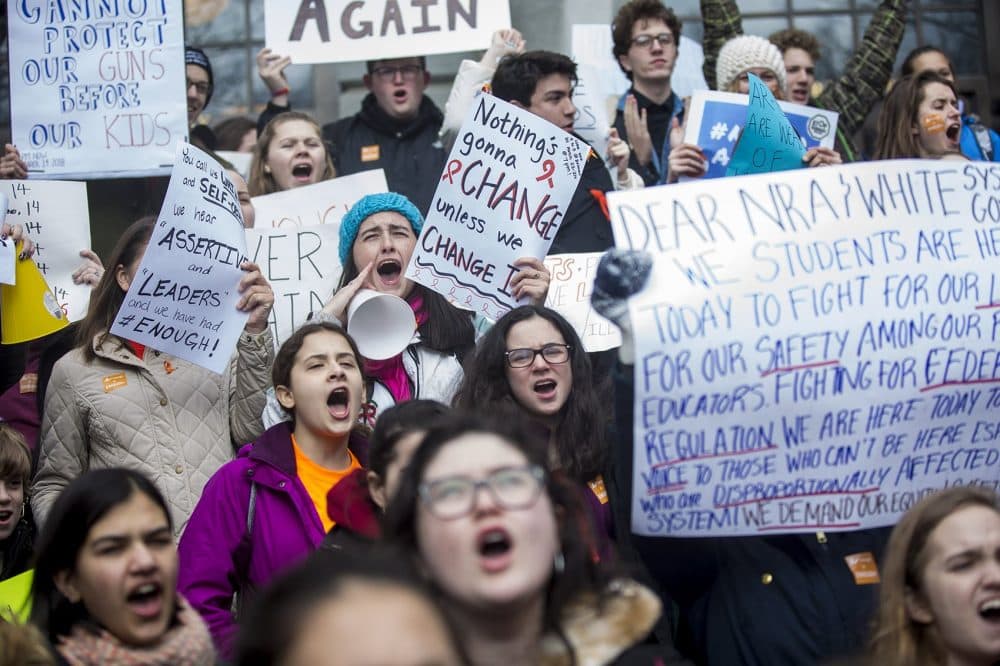 Trudging along snowy sidewalks, the students first gathered at Boston's historic St. Paul's Cathedral on Tremont Street for training on how to be advocates for tighter gun regulations.
Then, the protesters began flooding Beacon Hill, holding a rally at the State House to urge state lawmakers to pass legislation aimed at stemming gun violence.
The students spoke before at least 15 Massachusetts lawmakers before knocking on individual legislators' doors.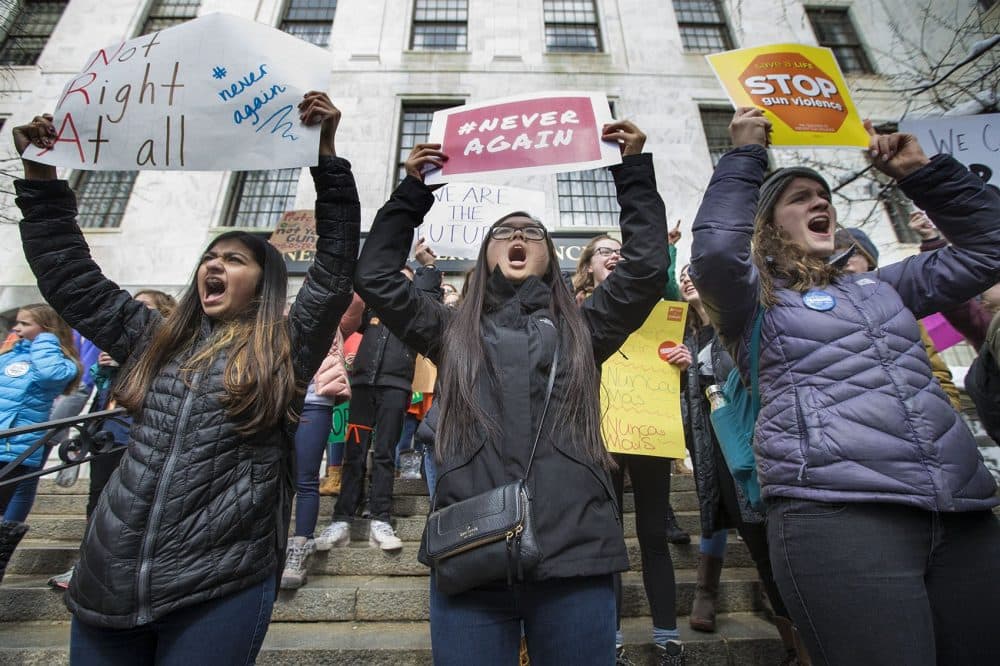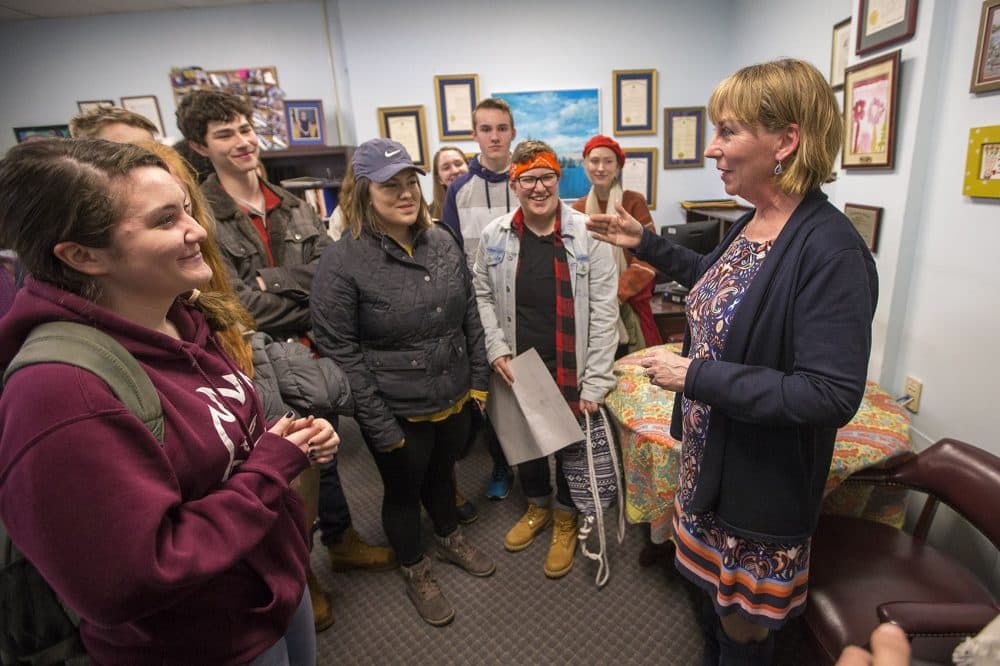 Fifteen-year-old Jaeda Hamel, of Medford, joined students protesting at the State House.
"I feel like this would have the country realize, 'wait, these people don't have these problems, but still they're standing up and saying something and doing something about it,' " she said.
Due to the school closures, several local districts announced Wednesday they would postpone related actions. Both Cambridge and Brookline schools plan to hold walkouts Thursday. Worcester Public Schools, which had planned district-wide participation, rescheduled activities for Friday.
In other parts of Massachusetts, high schoolers with classes Wednesday held their walkouts as planned.
Some students, faculty and staff from Massachusetts colleges also took part in the protests.
Hundreds of Boston University School of Medicine students, professors and staff, for example, gathered Wednesday in solidarity with the #Enough movement.
Sara Holmstrom, who participated in the school's demonstration, is a pediatrician and part of "Doctors Demand Action," group of resident physicians out of Boston Medical Center and Boston Children's Hospital who advocate for gun violence prevention as a public health issue.
"This is a bipartisan and nonpartisan issue," Holmstrom said. "I have no political agenda here. My only goal is to prevent injuries and deaths from gun violence."
Massachusetts has some of the strictest gun laws in the nation, but some students at the State House advocated for support of two bills now before the chambers.
One of the bills (H.3610) calls for an Extreme Risk Protective Order, a policy that would make it easier for police to temporarily remove firearms from individuals deemed a threat to themselves or others.
As WBUR's Max Larkin reported:
Incidents of gun violence are relatively rare in Massachusetts. Around 50 public school students are disciplined annually for carrying a firearm. But most of the confiscated weapons are air rifles or toys.
Across the state, dozens of protesters on Wednesday afternoon stood outside the Smith & Wesson plant in Springfield.
The gun company is the manufacturer of the type of AR-15 rifle used by the 19-year-old man indicted on 17 counts of first-degree murder in the Parkland shooting.
In a panel discussion Tuesday, students from Marjory Stoneman Douglas High School are scheduled to speak at Harvard about their activism in the wake of the shooting.
Here are more photos from the protests in Boston: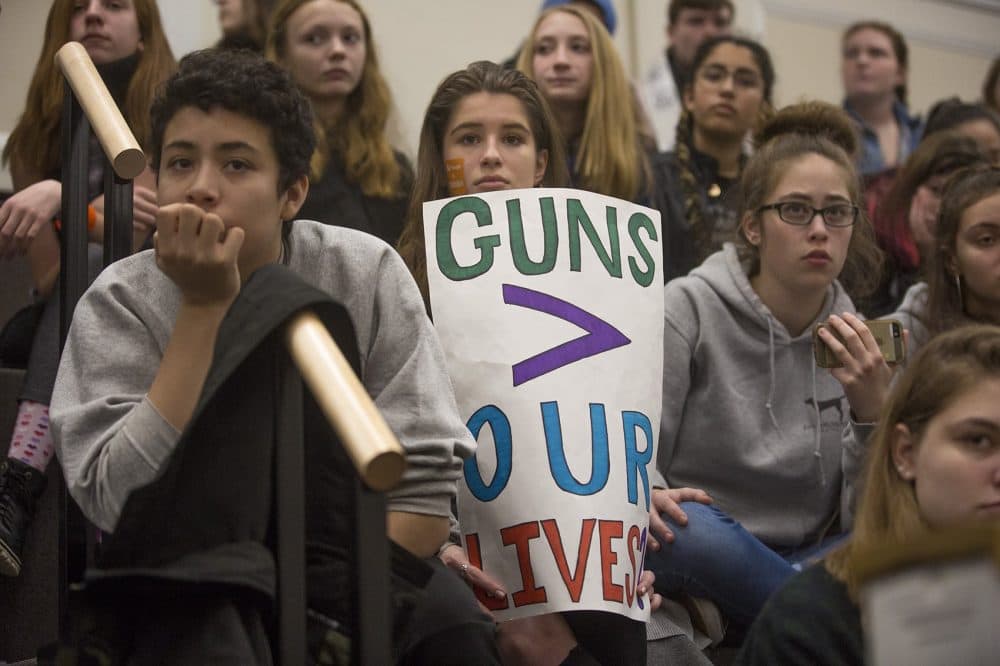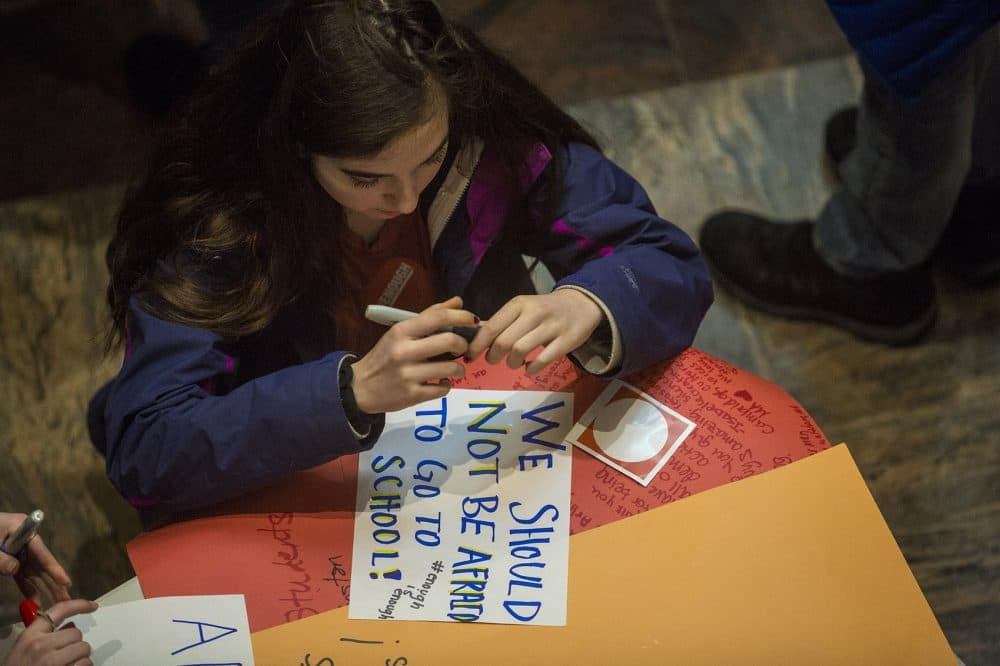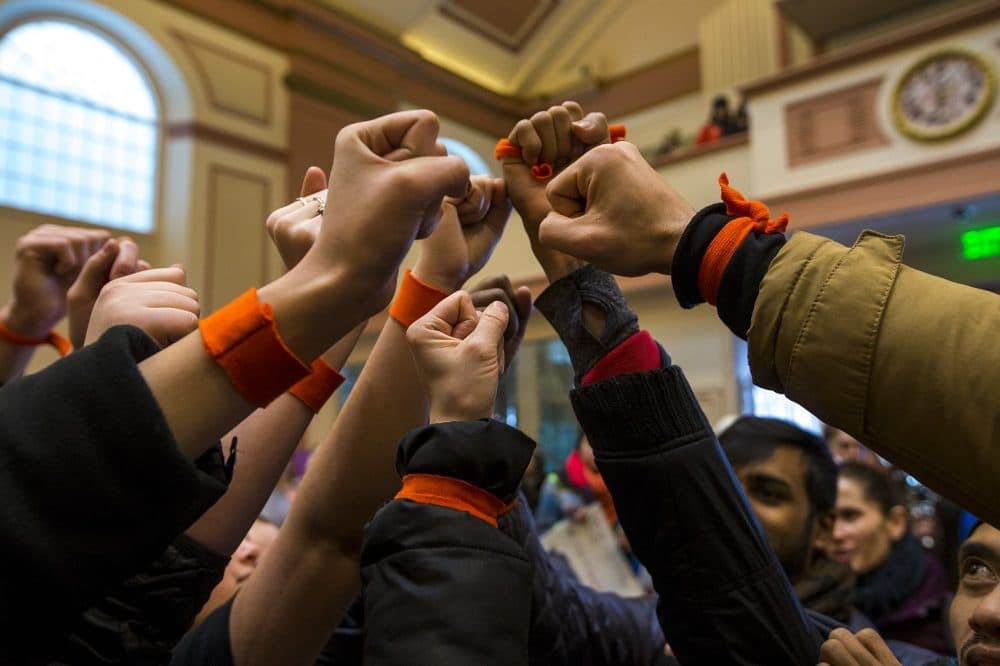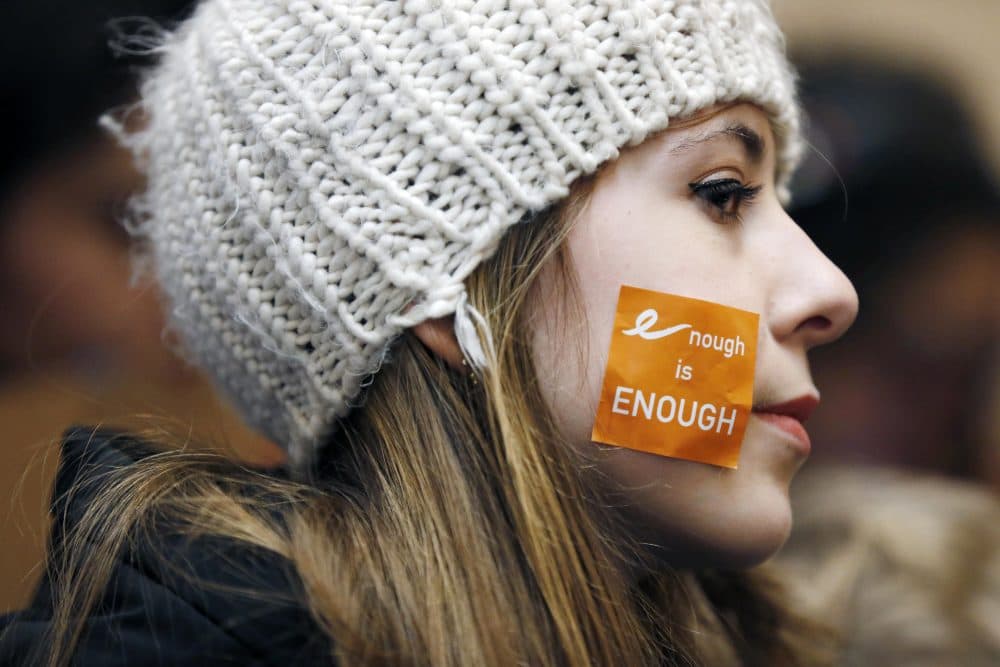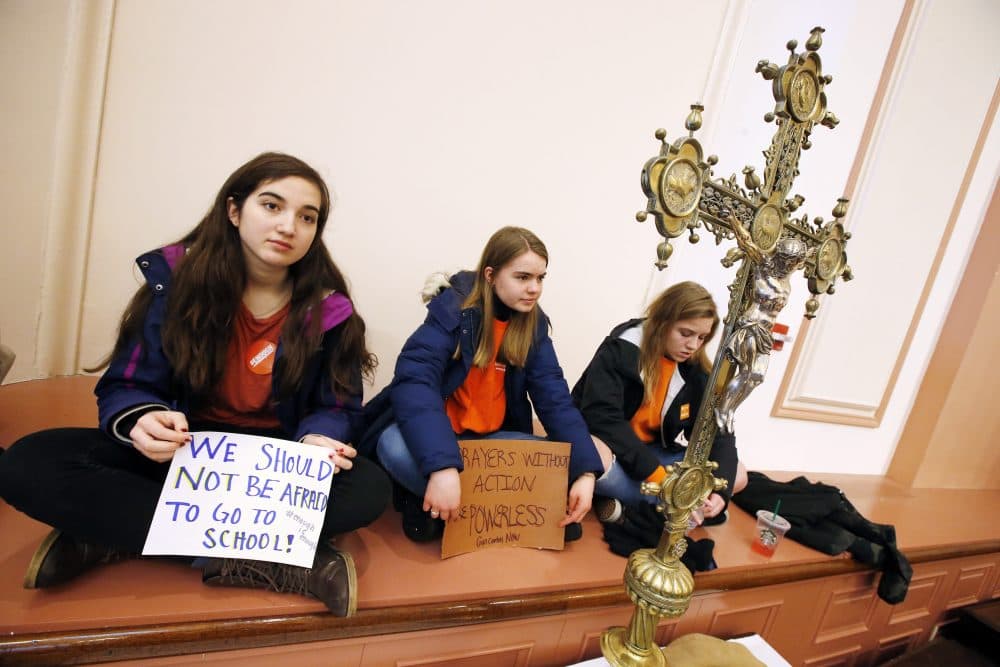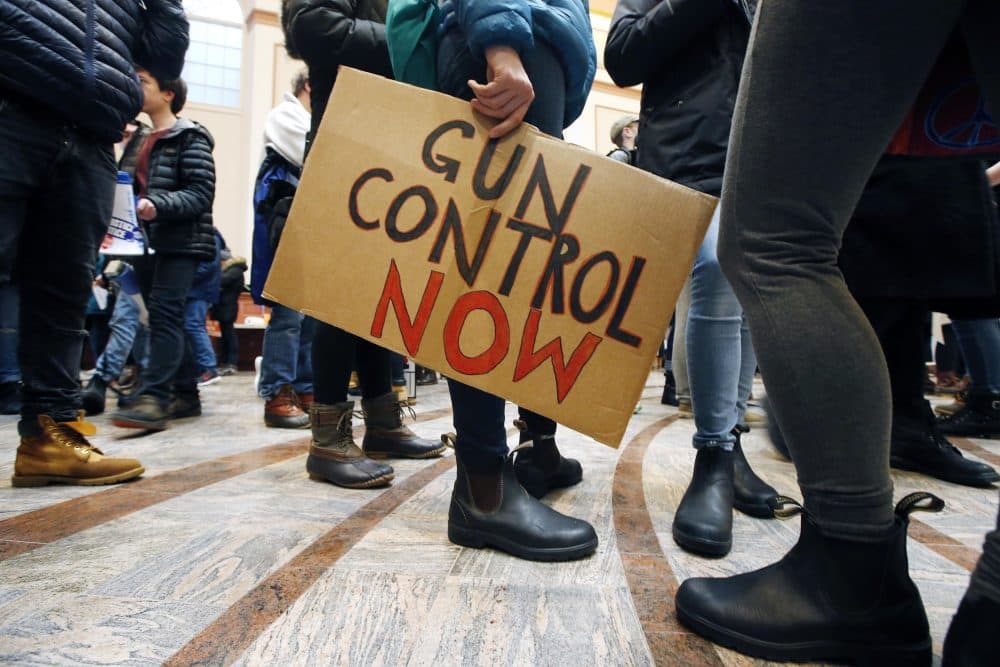 WBUR's Max Larkin, Carrie Jung and Fred Thys contributed to this report. The audio atop this post is of Jung's report for All Things Considered
This article was originally published on March 14, 2018.
This segment aired on March 14, 2018.