Forecast: Continued Cold As Possible Mid-Week Storm Looms
We will start the new week in a tranquil fashion, with plenty of sunshine as cold high pressure dominates the Northeast. Winds will be lighter than they have been, but temperatures will still remain colder than normal, staying in the 30s for a good part of the week.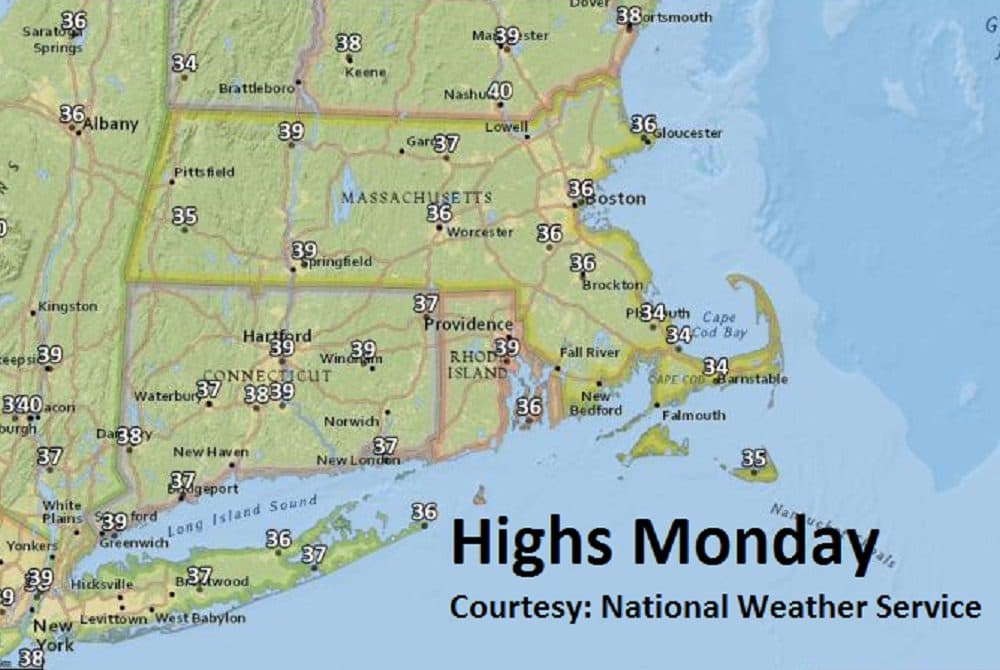 Just as things have settled down from last week's blizzard, our attention again turns to a potential developing storm for the middle of this week. A storm system is moving in from the Midwest and will slide off the Mid-Atlantic coast well to our south on Tuesday. High clouds from this system will be visible but no precipitation is expected.
But more importantly, there will be a second storm on the heels of that first one from the Midwest that has a strong jet stream energy associated with it. It's this storm that may potentially affect our weather later Wednesday into Thursday as it intensifies and tracks once again south of Cape Cod.
The model guidance has not been very consistent with the placement or intensity. But one thing is for sure — there will be a storm and it will be cold enough for snow, should there be any precipitation.
Early indications show a band of moisture rotating through the region Wednesday night with some accumulating snow. But as we've noted time and time again, it will be dependent on the exact track and intensity.
We will have a much better idea by the end of Monday as to the potential impacts this storm will have on Greater Boston. In the meantime, we should expect a period of some snow Wednesday night, with increasing northeast winds and temperatures in the low to mid-30s.
---
Today: Sunny. Highs mid-30s.
Tonight: Mostly clear, cold. Lows in the upper teens to low 20s downtown and on the southeast coast.
Tuesday: Sunshine with some high clouds. High 38.
Wednesday: Mostly cloudy. Snow possible at night. Becoming windy. Highs in the mid-30s.
Thursday: Mostly cloudy, windy. Highs in the mid-30s.
Friday: Becoming partly sunny. Slightly milder. High 43.