Forecast: Here's What To Expect With Our 4th March Nor'easter
03:32
Play
This article is more than 3 years old.
It appears the bulk of the storm will slip south of the region so the good news is we won't see nearly the snow amounts that places south including New York are seeing.  The snow will wind down Thursday morning.
Story continues below
Current conditions in Boston
'Another nor'easter will affect the region later today, overnight and into early Thursday.
Each part of southern New England will be impacted differently. There are going to be pockets of heavier snow in bands from roughly Worcester to Boston and points southwest. The placement of these pockets is difficult to predict, but know that when you look at the general overall accumulation map, some areas are going to exceed the highest threshold.
For a storm about to get underway, I think most forecasters would admit a lower-than-average confidence on snow totals.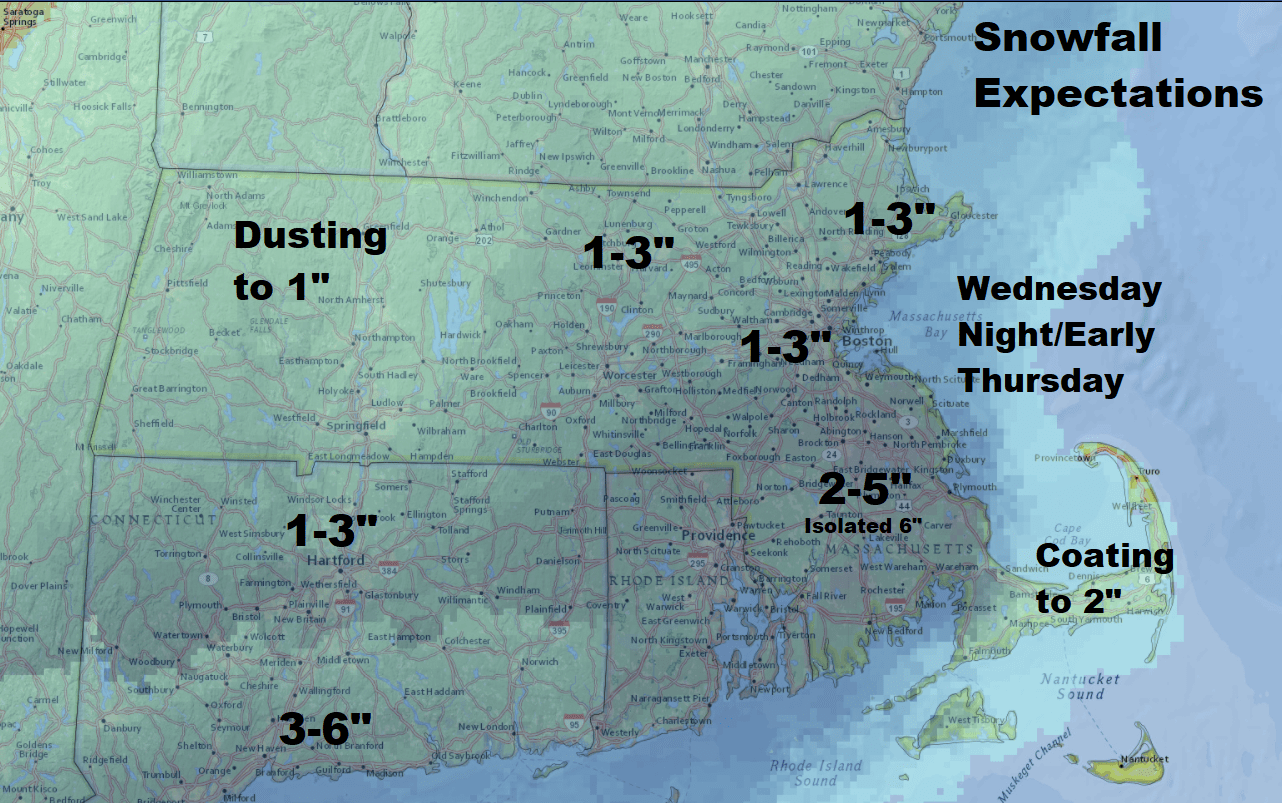 For planning purposes, although there may be some snow and even mixed precipitation today, most of the storm occurs from about 7 p.m today to 8 a.m Thursday. After that there will be lingering snow, but not much accumulation. Across the South Coast, the storm will be underway earlier this afternoon.
Editor's Note: If you're having a hard time seeing Dave's Facebook Live, click here to view it on Facebook.
Very Heavy Snow South Of New England
A storm system to our south is walloping the mid-Atlantic with a very heavy March snowstorm. The track of the storm is not perfect for southern areas to receive a lot of snow, but it's close.
The other piece of this weather system is that it's not a typically concentrated low pressure area; rather, it's a bit strung out. The elongated structure of this particular storm means that the precipitation will also be elongated, but have a sharp cutoff on the western side of it. In other words, it's another storm where you can go from a foot to a few inches in a relatively short distance, likely from southwest of Boston to southern New Hampshire.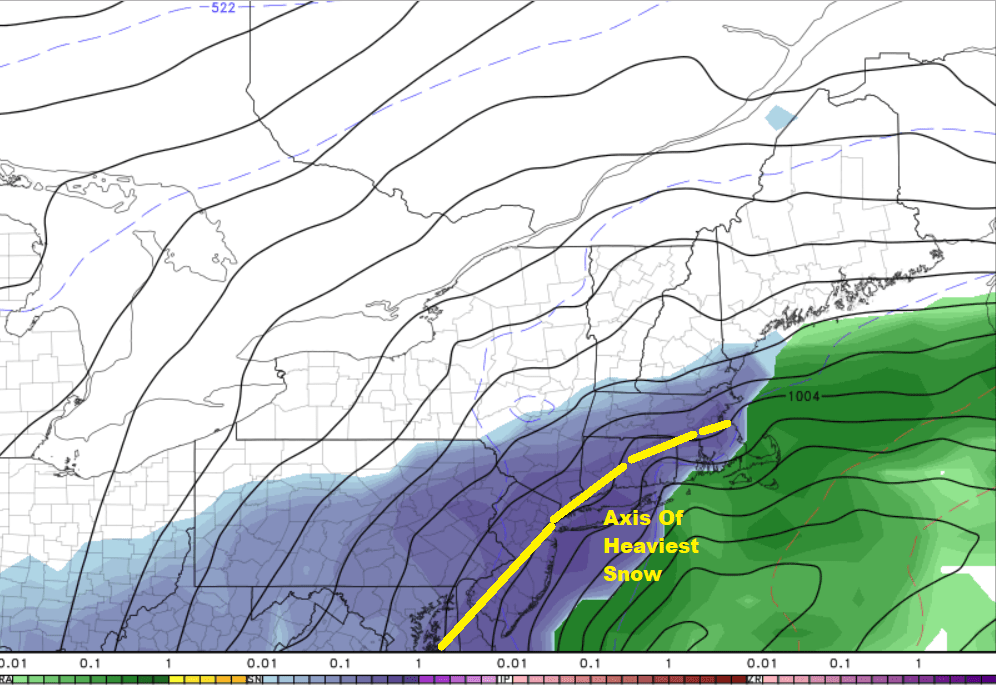 Since the storm doesn't really get underway until this evening, anything that does fall — especially over Cape Cod, the Islands and the South Coast — before that time has minimal impact. The high sun angle this time of the year will prevent any of that snow from really sticking to roads so I don't consider it a major travel issue.
It won't be until tonight when the sun goes down and the precipitation becomes more intense that we start to see the snow accumulate on roadways in addition to the other surfaces.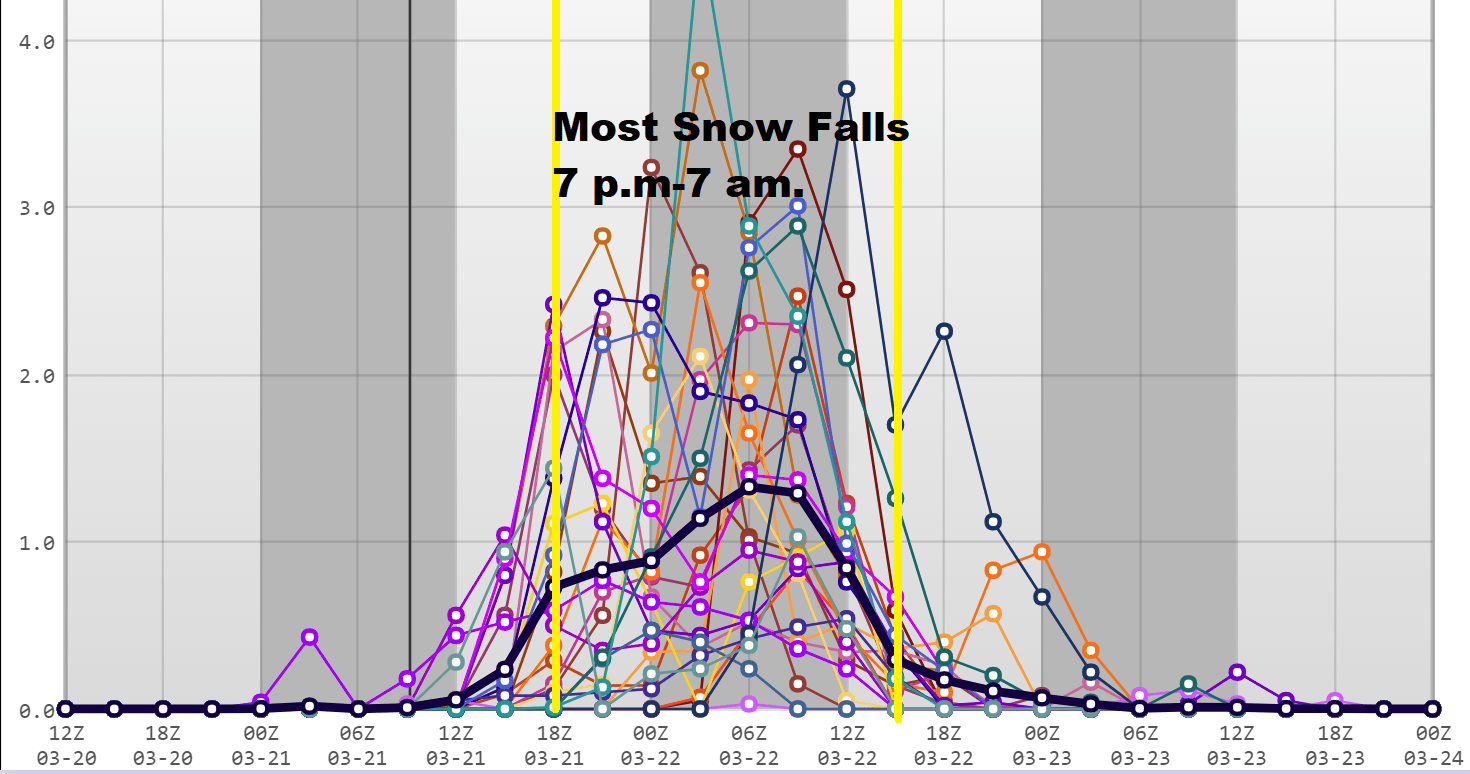 In the middle of the night, the snow will come down quite hard, perhaps even up to 2 inches per hour in a few spots. When you get up tomorrow morning, expect most of what is on the accumulation maps to have fallen, although there could be an inch to 3 inches before 10 a.m. if the storm lingers.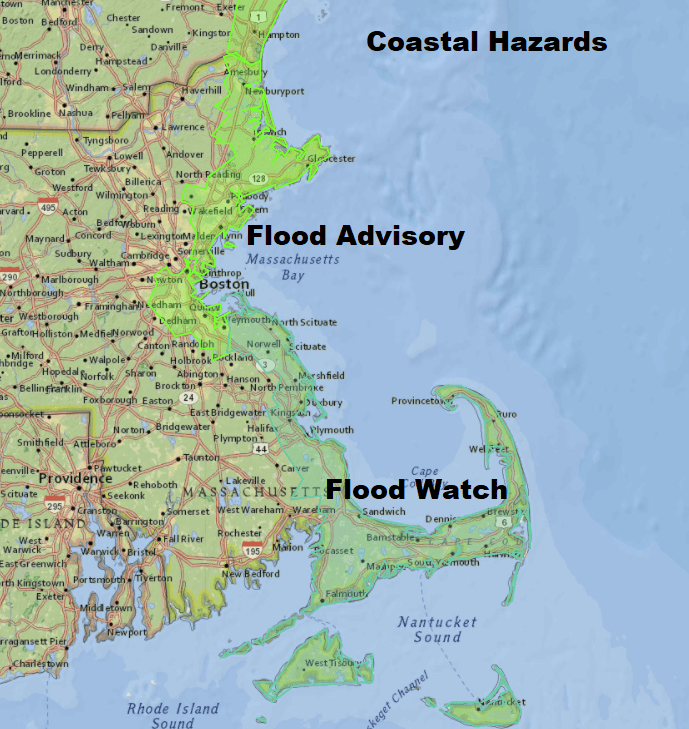 Coastal flooding will be minor to borderline moderate. The shore has taken a beating this month and it's once again astronomically a high tide period of the month. This was the case in the first nor'easter, but the tides aren't as high nor is the storm as strong this time.
Does The Power Go Out Again?
Power outages are going to happen, but since there will be less wind inland and not as much snow as some previous storms they should be more scattered. Nonetheless, I would plan on losing power from Worcester to the coastline as these things can surprise us.
Taking A Breather 
The weather improves slowly Thursday afternoon. Friday remains cloudy with a few snow showers, but nothing more.
The weekend brings a cold and dry air mass to the area. This should keep the snow away for now, but I don't see any warm spring weather for a while.
You can follow my updates here and on Twitter @growingwisdom.
---
Wednesday: Cloudy, a few snow or rain showers south of Boston. Steadier snow (mix Cape) overspreading the area after 2 p.m. Arriving in Boston near or after the evening commute.
Wednesday Night: Snow, may be heavy at time. Lows 28-34. Winds increasing, strongest at the coast.
Thursday: Snow ends, remaining cloudy with snow showers or light rain showers. Highs in the upper 30s to near 40.
Friday: Cloudy a few snow showers, maybe some sunny breaks. Highs around 40.
Saturday: Mainly sunny and cool. Highs 35-40.
Sunday: Party to mostly sunny. Highs in the upper 30s.
This article was originally published on March 21, 2018.
This segment aired on March 21, 2018.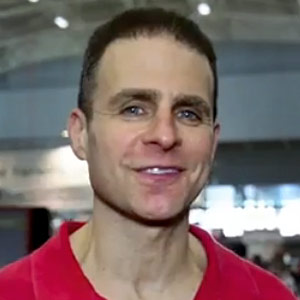 David Epstein Meteorologist
David Epstein is WBUR's meteorologist.