Sidney Gish, Boston's Bandcamp Phenom
Play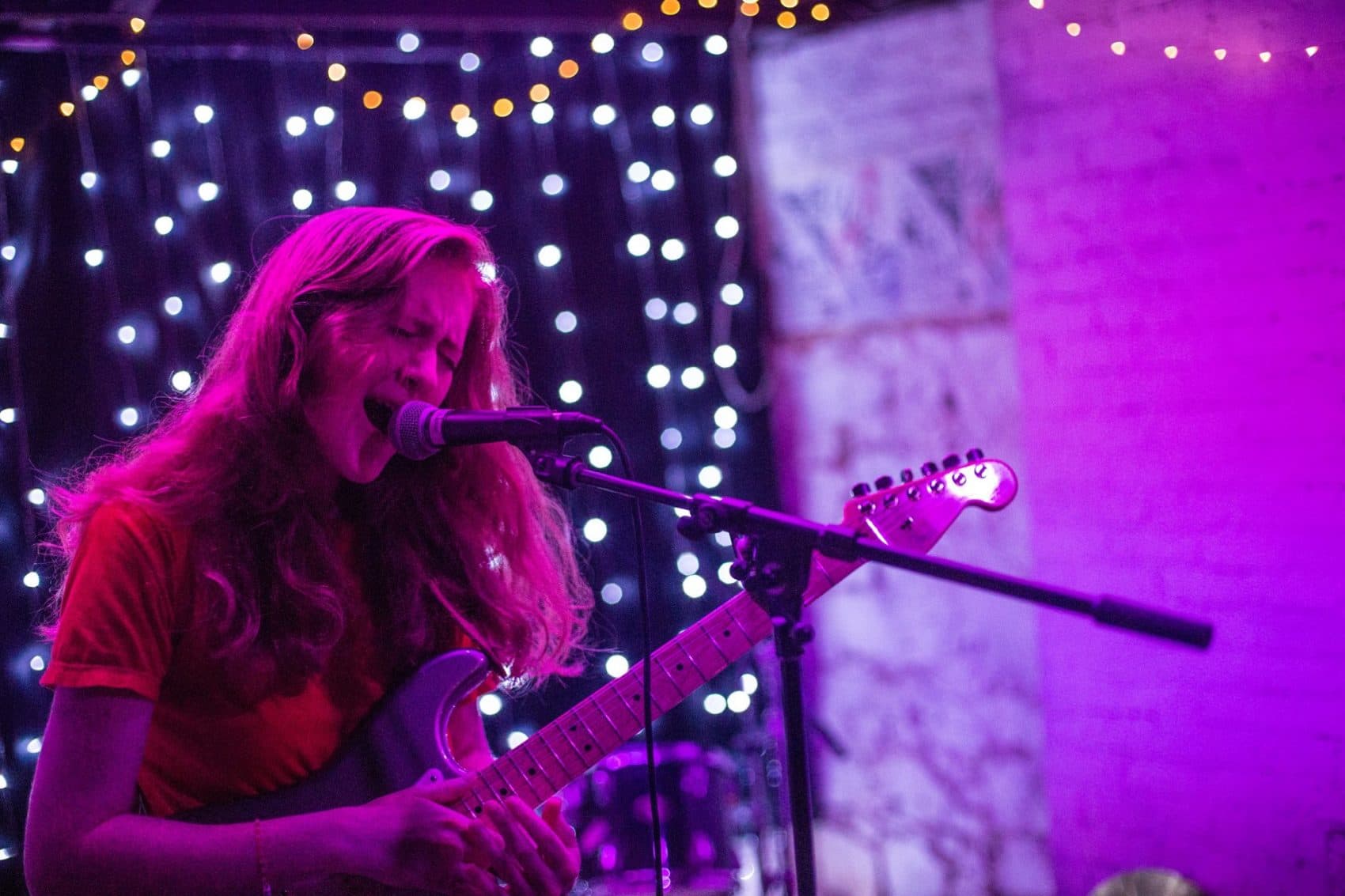 This article is more than 4 years old.
This story is the first in The ARTery's ongoing Sound On series highlighting rising local musicians.
---
One of Sidney Gish's most popular songs is a softly yearning number called "Persephone." Yes, that Persephone — princess of the underworld, daughter of Zeus, abduction victim and child bride, who is forced to live half the year in Hades' realm after she nibbles on fruit from the land of the dead, which in Greek mythology is like signing a marriage license in hell. So much for trying new things.
In the myth, Persephone's mother, Demeter, the goddess of the harvest, is so distraught by her daughter's disappearance that she stops nurturing the earth's crops, and they die. According to the Greeks, that's how we ended up with seasons. Or, as Gish succinctly puts it in her song, "six pomegranate seeds, winter in Greece."
"Persephone" doesn't actually have much to do with the myth from which it draws its name. Instead, the story's unfortunate heroine is invoked as a signifier of knowledge, a word encountered in a college textbook only to be tripped over later in conversation. "I've called Persephone by the name 'purse-a-phone,' " Gish croons over a crude drum loop and sing-songy chords. "Greek goddesses aren't what you grab when leaving home."
The song continues along these lines; there's a joke about mispronouncing "Protestant" as "pro-TEST-ant" ("it's not a word, let alone a church that you could send donations to") and stanzas packed with wordplay. These flights of fancy are interspersed with sharp, relatable moments of insight. "What if I don't/ Let them know that I don't know/ Because I don't/ Even know anything," Gish murmurs as the ditty nears its conclusion. And so "Persephone" becomes a meditation on growing up, and the dawning realization that even in adulthood people rarely feel like they know what they're doing.
That's what Gish's songs tend to be — mundane (or obscure) meanderings peppered by puns and brief, dazzling extrapolations. But to hear her tell it, they are mostly the result of randomness.
" 'Oh if I'd known I'd mess up this many times I'd shut up for the rest of my life,' " Gish says, quoting a line from the song. "Which sounds, I guess, hashtag-deep, but I was like, 'Oh, I guess this rhymes,' in the practice room and I didn't think that much about it."
Gish, who is 20 years old, is currently enrolled as a music industry major at Northeastern University in Boston. As a student there, she is required to alternate coursework with full-time internships, and at the moment, the rising bedroom pop sensation is living in an apartment in Manhattan while she interns in the A&R department at a record label.
"They're so risqué when you're little," Gish tells me over the phone, speaking at her habitually rapid clip. We're discussing Greek myths, and the inspiration for "Persephone." Gish continues, "It's technically a myth, so you still have to read about it for school or whatever. I was like, 'This is so wild, it's like a weird reality show.' "
"Persephone" can be heard on Gish's latest album, "No Dogs Allowed," which she dropped, with little fanfare, on the music streaming site Bandcamp on New Year's Eve. "Sidney Gish's new album is so good," The FADER gushed. Pitchfork gave it an approving review. NPR Music featured Gish as part of its Slingshot series highlighting up-and-coming new artists.
Like everything she has ever made, "No Dogs Allowed" is the product of Gish's solo efforts. She wrote all the songs, played all the instruments, mixed all the tracks. It's a skill set the musician honed in high school, when she first began "f---ing around in GarageBand," as she says. Gish still remembers the first song she ever wrote. "I called it 'Fabulous Entrance Music.' It was a drum loop and I did like a MIDI piano over it, and it was s---," she says. The song lived for about a year on her computer before she deleted it.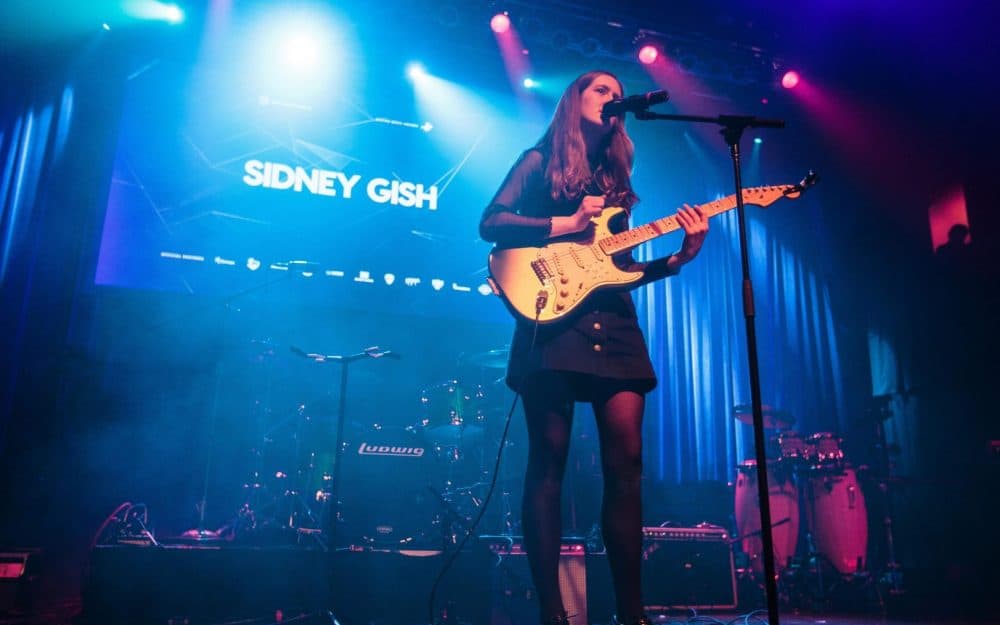 Gish's interest in songwriting began as an almost maniacal obsession with melody. "In middle school I had no attention span and I was just like, 'If I don't like this song at the chorus, I'm going to delete it from my iTunes,' " she says. "I only wanted the best songs."
Like a lot of teenagers, Gish downloaded most of her music illegally from the internet. Sometimes an album would arrive in her iTunes library without an icon, and when that happened, Gish would simply design her own album art in Microsoft Paint. Eventually, "I realized I could make my own songs also," she says. "And so I started doing that."
Songwriting proved a valuable outlet. Growing up in suburban New Jersey, Gish was a shy kid. She sang in choir, but didn't really think of herself as a musician. "I would just be on Tumblr all day making posts and hoping they'd go viral," she says. "And making songs and hoping they would go viral. And just living on the internet with my journals, and walking around the mall with my friends and not really doing much of anything." (Perhaps her greatest viral hit occurred in 2016 when she started sending doodles to her mother to turn into embroideries; the pair were featured on Buzzfeed and Gish's mother began selling their creations on Etsy.)
Learning to write songs helped bolster Gish's confidence. And she attacked it with increasing voracity, churning out music at an accelerating rate. In 2015, Gish uploaded her first collection of finished material to Bandcamp: 16 tracks that she had recorded throughout high school. She titled it "don't call on me," but stopped short of labeling it an official album. A year later, she released 20 more songs in what she called another "dump album" — a collection of songs "dumped" onto the internet without any real coherence — that she named "dummy parade." Both non-albums were accompanied by an encouraging note from their creator. "Even if you make s----- scrappy music, you're still making music, and if you make some album art and haphazardly glue all those songs together, it's legit," she wrote in the credits to "dummy parade," concluding, "go out and make art."
Gish's early catalog is indeed scrappy, but it's also surprising and delightful. You can hear her trying out ideas, deepening her understanding of songcraft. There's an earlier, faster version of "Persephone" with finger snaps and a jaunty piano riff. "Don't call on me" includes a track called "the college admissions song," which Gish submitted as part of her college applications.
Even her most whimsical experiments are impressive. "Here's what I will do/ When I've nothing to say," she chirps, a cappella, on "sing a refrain," the opening track to "dummy parade." "Open up GarageBand/ And sing a refrain." The tune has a curious cadence to it, a cutesy lilt, but it contains hidden complexity — as Gish's clear soprano cascades over itself in rippling harmony, the tune reveals itself as a round, à la "Row, Row, Row Your Boat." A concise 38 seconds long, the track is at once a throwaway indulgence and a thrilling show of inventiveness.
Many of Gish's early songs were made using a looping app on her phone called VoiceJam, though she eventually graduated to a proper loop pedal. Her guitar playing improved, along with her sense of harmony. (A stint in the Northeastern all-female a cappella group Pitch Please! may have helped with that.) The quality of Gish's recordings got better, too. Nowadays she works with the audio editing software Logic. More and more her focus has turned to refining her engineering skills. "I like being self-sufficient," she explains.
The singer's innate talent is evident in even the most rudimentary of her early experimentations. Her keen ear for melody was present from the start, her self-referential humor on display. In another era or another context Gish might have been a prodigy, one of those 5-year-olds on YouTube dazzling the world with Mozart piano concertos. Instead she discovered herself on Tumblr and transformed a shy kid's bedroom art into a career.
Gish's precociousness, and prolificness, bring to mind another Bandcamp phenom, the indie rock musician Will Toledo, who rose to fame as Car Seat Headrest after self-releasing 11 albums online while in high school and college. Such prodigious output is the result of a lot of work, but if Gish is any indication, it's also the product of a lot of play. Her newer songs may be more polished than those primitive GarageBand projects, but they all stem from the same adventurous impulse — an eagerness to try, and even fail at, new things.
---
Editor's Note: This story was part of a series that was formerly called Up Next. We're now calling it Sound On. Check back for more stories like this throughout the year. 
This segment aired on March 28, 2018.