How The New England Aquarium Seeks To Urge Visitors To Act On Climate Change
Play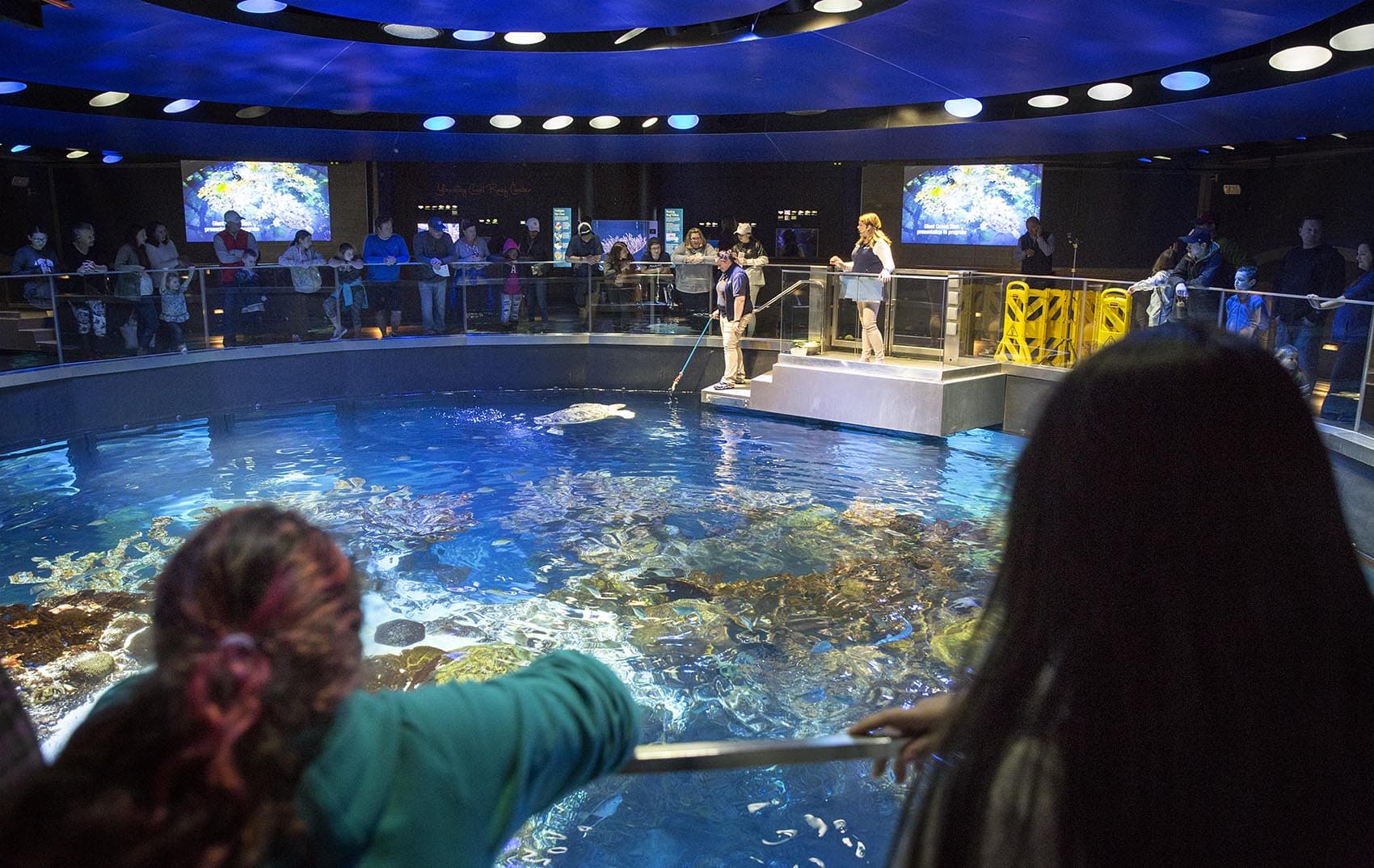 This article is more than 4 years old.
The irony was hard to miss.
The Aquarium MBTA station was closed due to flooding, and the aquarium itself, nearby on Boston's Central Wharf, was closed out of caution for its visitors.
The early March nor'easter and near-record high tides pushed floodwaters into the state's low-lying coastal areas — in Boston, and in places like Quincy and Scituate — raising questions about the region's climate preparedness, and offering a vivid glimpse of the havoc higher sea levels and more severe storms are likely to bring.
Meanwhile, inside the New England Aquarium (NEAQ) itself, climate change is a central aspect of the programming. In recent years, the aquarium has increased its focus on climate change education, using research-tested language to speak directly about the issue. And it urges visitors to take up the cause of emissions reductions.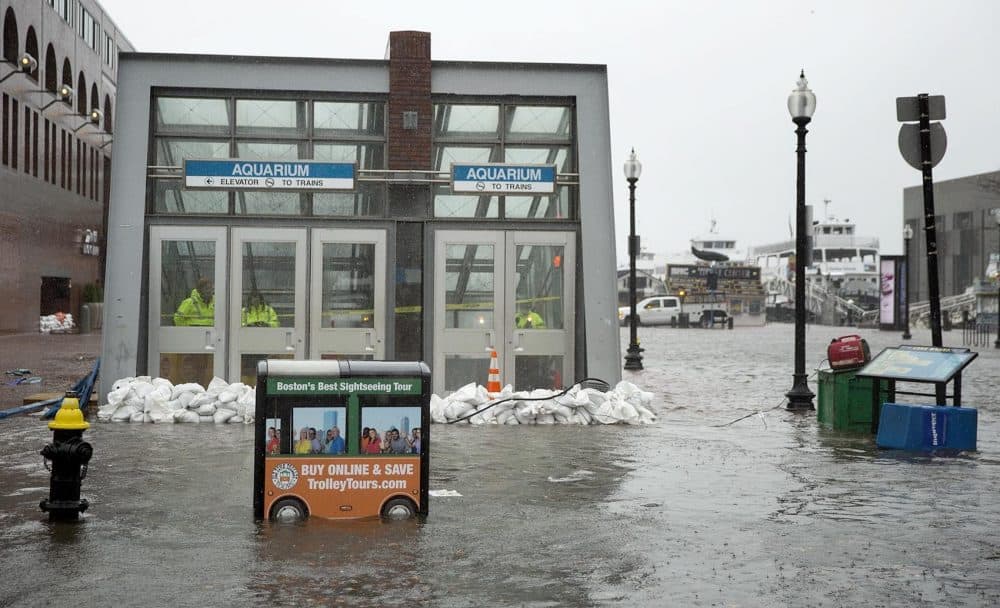 The focus was evident on a recent weekday morning, as children and their parents ringed the top of the NEAQ's giant ocean tank. They gathered to hear a talk from Lindsay Jordan, a senior visitor education specialist.
A massive 90-year-old green sea turtle named Myrtle floated to the surface and Jordan soon pivoted to climate change, citing an alarming trend: Sea turtles' sex, she said, is determined by temperature, and with warmer sand around the eggs, the vast majority in Florida are hatching as female.
"The good news is, we know exactly what's causing this," Jordan told visitors. "It's things and choices we make every single day. Most of the energy that we consume in this country is produced by burning fossil fuels like coal and oil and gas."
Burning fossil fuels creates carbon dioxide, which creates, she put it, "a blanket that traps our Earth's heat." Jordan said it's a "simple mechanism" with the simple solution of limiting the burning of fossil fuels.
Then Jordan pushed the message more explicitly, encouraging those in attendance to seek out community-wide efforts at fossil fuel reduction and to "use your power as citizens to vote for people and for policies that support renewable energy."
The audience may not have been rapt — many children especially were clearly focused on the marine life down below — but, Jordan said, "if [visitors] can leave here and continue thinking about the issue, then we're on the right track."
Community Goals, Not Individual Actions
The NEAQ's climate education efforts stretch back about a decade, when it joined with fellow institutions — like zoos and museums — to form a network of informal science educators. Boosted by millions in federal grant money, the National Network for Ocean and Climate Change Interpretation (NNOCCI) is now working in 170 institutions in 38 states (and developing a more diversified funding model).
NNOCCI's goal is to train educators who will increase public discourse about climate change, and to do it in a way that's solutions-oriented and civic-minded.
The aim, says Billy Spitzer, the NEAQ's vice president of programs, exhibits and planning, is not simply to remind people to recycle or not to use plastic bottles.
"We try to focus on things that are practical but that also are kind of civic and social," he said, things that "address what's really at the root of the problem here and what's likely going to make a difference in our ultimate carbon footprint."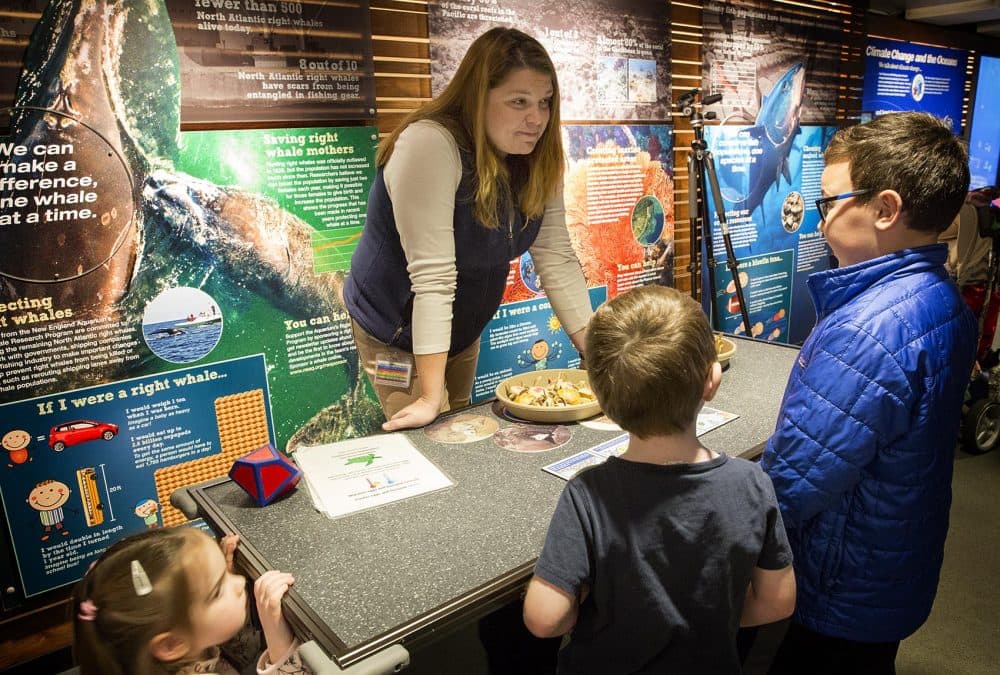 NNOCCI-trained educators pay particular attention to certain communication strategies, though, as The New York Times has reported, some institutions may be more subtle or cautious in their messaging.
Spitzer said educators are told to stress the values of stewardship, protection and responsible management, and they include enough straightforward science for visitors to understand the mechanism of climate change. Jordan also said she speaks in a "these are the facts" tone, and uses metaphors. (Remember that heat-trapping blanket she mentioned in her presentation atop the giant ocean tank?)
Preaching To The Choir?
The growing education effort at local institutions is occurring as the term "climate change" is being stripped from some federal government planning documents.
And it's fair to question the impact of the network's direct messaging. Poll after poll reveal a wide partisan split on concern about climate change — and research has shown that people often follow their partisan leaders' viewpoints on certain issues.
In addition, Spitzer says visitors to aquariums and zoos are often predisposed to learn about climate change. Jordan says that in her eight years at the NEAQ — in liberal Boston, of course — she can recall only a few times in which people have come up to her wanting to debate the issue.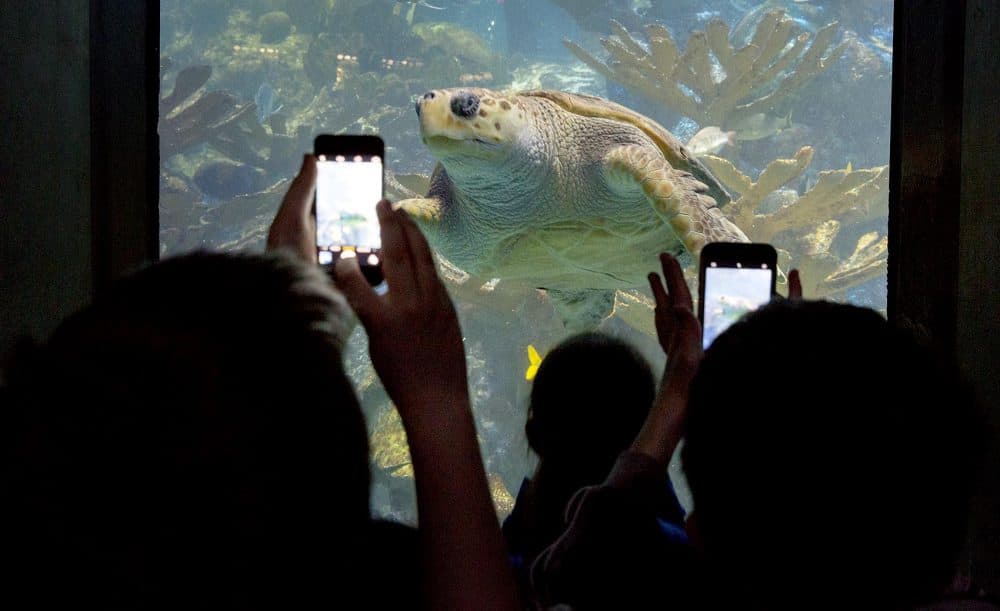 So the audience may be somewhat self-selecting. But Spitzer and Jordan point to survey data, from 2010, showing that museums, zoos and aquariums are among the most trusted sources of information about global warming. And Spitzer says about 60 percent of the U.S. population attends museums, zoos and aquariums.
"We look at it and say, 'Hey, if we can influence 60 percent of the population, that's pretty darn good,' " he said.
From Education To Action
Educators' exhortations, woven into their presentations, are just one aspect of the NEAQ's climate programming. There's also teacher training, an exhibit on the wall of the aquarium's first floor and hands-on educational activities. In one, kids have to identify what things emit carbon dioxide, and which things absorb them.
And the NEAQ's new CEO — named just last week — told WBUR she wants to expand the aquarium's climate change research and awareness efforts.
The messaging connected with Abbey Catalano, a 16-year-old from Nashua, New Hampshire, who listened to Jordan's sea turtle presentation with family members.
Catalano said she doesn't really learn much about climate change in school.
"Honestly, this is the most I've heard about it in a long time," she said.
For many visitors, though, listening is one thing; acting is another.
Several mothers at the aquarium with their kids that day said the inclusion of the climate change messaging was a pleasant surprise, but they admitted it's a second-tier issue for them, as voters and citizens.
WBUR's Bob Shaffer contributed reporting.
This segment aired on April 3, 2018.