New MLK Biographies Detail His Ties To Boston University And Robert F. Kennedy
05:45
Play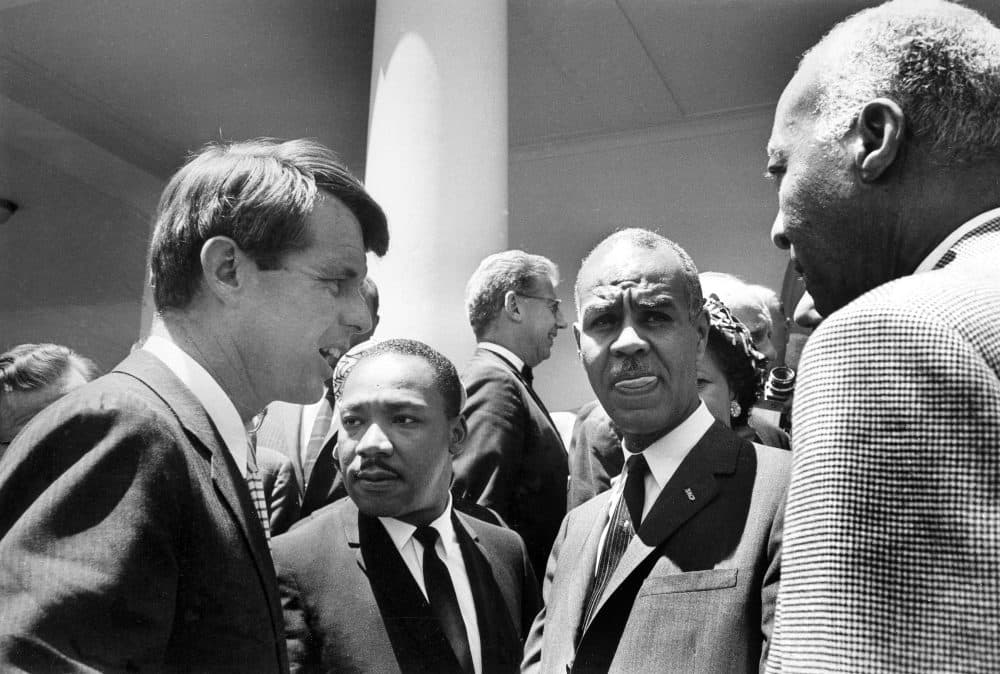 This article is more than 3 years old.
Fifty years ago in Memphis, on April 3, Martin Luther King Jr. delivered his final speech. The next day, King was assassinated.
On the 50th anniversary of his death, new biographies reveal facets of his life.
One depicts his relationship with Robert F. Kennedy as more strained than previously reported. Another explains why King chose to attend Boston University.
BU is where King became Dr. King. It's also where he chose to become a civil rights leader. He came to BU to pursue a doctorate in theology in 1951.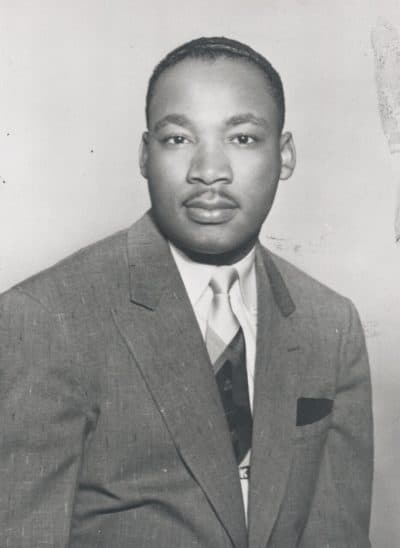 "He was studying systematic theology, which is sort of like the most philosophical branch of theology. It's the most heady and sort of removed from the day to day," says BU archivist Ryan Hendrickson.
Hendrickson says at BU, King came under the influence of a professor named Allan Knight Chalmers, who had been a leader in earlier civil rights struggles.
"King is very interested in this, because he's trying to decide for his life: Does he want to be a kind of pastor in a very high-class church in the South, or does he want to go into social activism?" Hendrickson says. "He almost doesn't make that choice until he goes to Montgomery to become a pastor there right at the time that the bus boycott starts."
King became pastor of the Dexter Avenue Baptist Church in Montgomery in 1954, and would play a leading role in the boycott the next year.
Some of the documents from the Montgomery bus boycott are on exhibit at BU. Hendrickson, assistant director for manuscripts, reads from a leaflet passed out by boycott organizers after they won.
"The whole bus is now for the use of all people. Take a vacant seat. Oh, and do not deliberately sit by a white person unless there's no other seat," Hendrickson reads.
"The idea was not to be provocative, I think, right?" Hendrickson says.
"When sitting down by a person white or colored, say: 'May I?' or 'Pardon me' as you sit. This is a common courtesy," Hendrickson reads.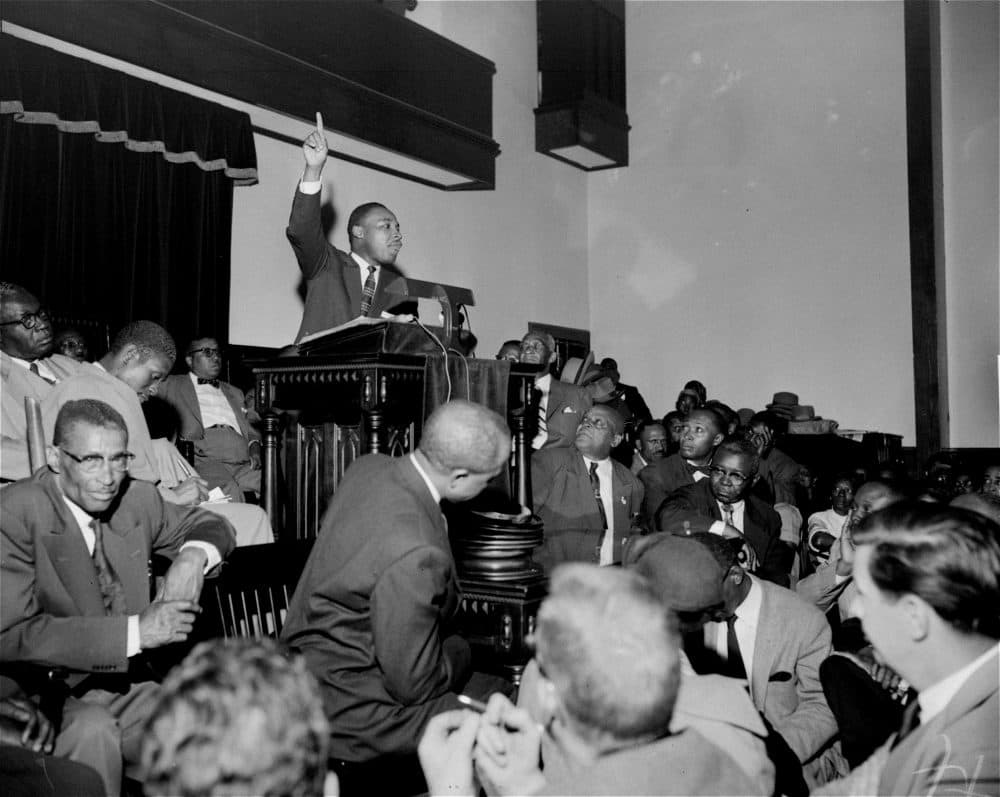 King donated his papers to BU in 1964.
He came to Boston from Crozer Seminary in Upland, Pennsylvania.
Author Patrick Parr says three Crozer professors recommended BU.
"I'd say on his mind was, 'I gotta stay in the North for a little while longer,' " Crozier says. "He was not ready to go back south. At that point, if he doesn't go to Boston, what's waiting for him is a life in Atlanta, and that's with his father, and he's going to stay in the shadow of his father, he's going to be a co-pastor at Ebenezer Baptist Church in Atlanta, and kind of wait until his father retires."
Parr's new book, "The Seminarian," released on Sunday, is about King's life just before coming to Boston, when he attended Crozer.
Another book, "The Promise and the Dream," out Tuesday, explores the relationship between King and Robert Kennedy, who was attorney general from 1961 to 1964.
Author David Margolick says he found that relationship was much more more complicated than he had anticipated.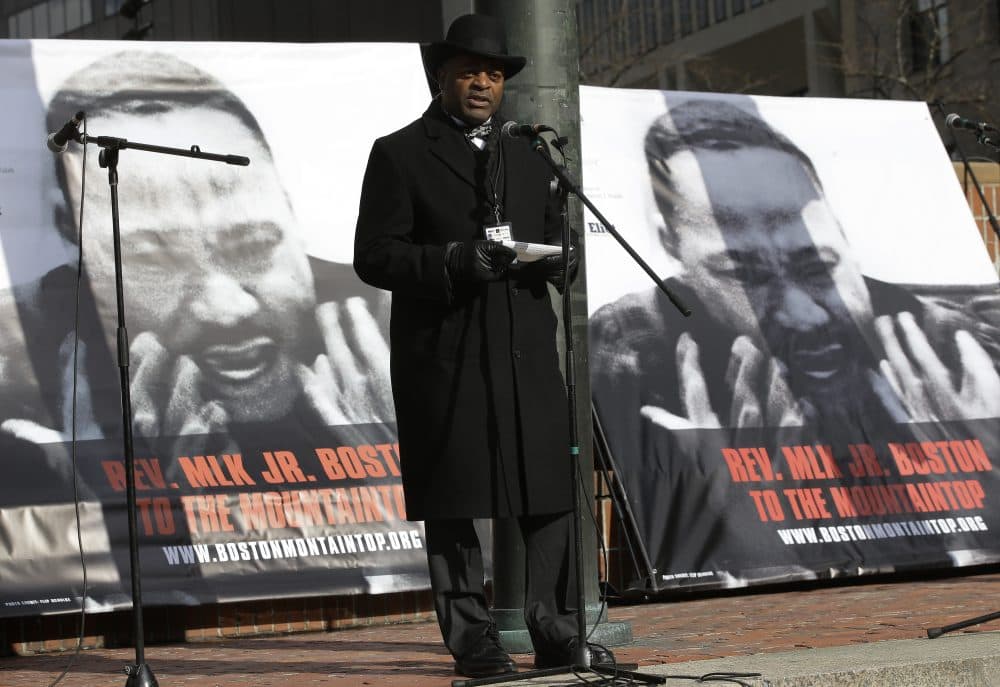 "Martin Luther King was always asking for help from the Justice Department and always frustrated in the lack of response," Margolick says. "He was always asking that civil rights leaders and civil rights workers be protected in the South, and invariably he got the same response from the Justice Department and from Kennedy, which is: 'We're not policemen. We can't send people down there to protect you. That's the job of the local police.' "
Margolick says King felt that the Justice Department never did its job. Still, he says, in the end, Robert Kennedy became a better friend to the black community than his brother John, and by the 1968 presidential primaries, it was clear that King's heart was with Kennedy.
On the night of April 4, 1968, as riots erupted across the country, Kennedy ignored advice to cancel a campaign stop in an African-American neighborhood in Indianapolis, and announced King's death from the back of a truck, clutching crumpled notes he never once looked at.
"For those of you who are black and are tempted to be filled with hatred and mistrust of the injustice of such an act against all white people, I would only say that I can also feel in my own heart the same kind of feeling. I had a member of my family killed, but he was killed by a white man," Kennedy said.
There was no rioting in Indianapolis that night.
This article was originally published on April 03, 2018.
This segment aired on April 3, 2018.