Mother Whose Son Was Fatally Shot By A Boston Cop Files A Civil Rights Lawsuit
Play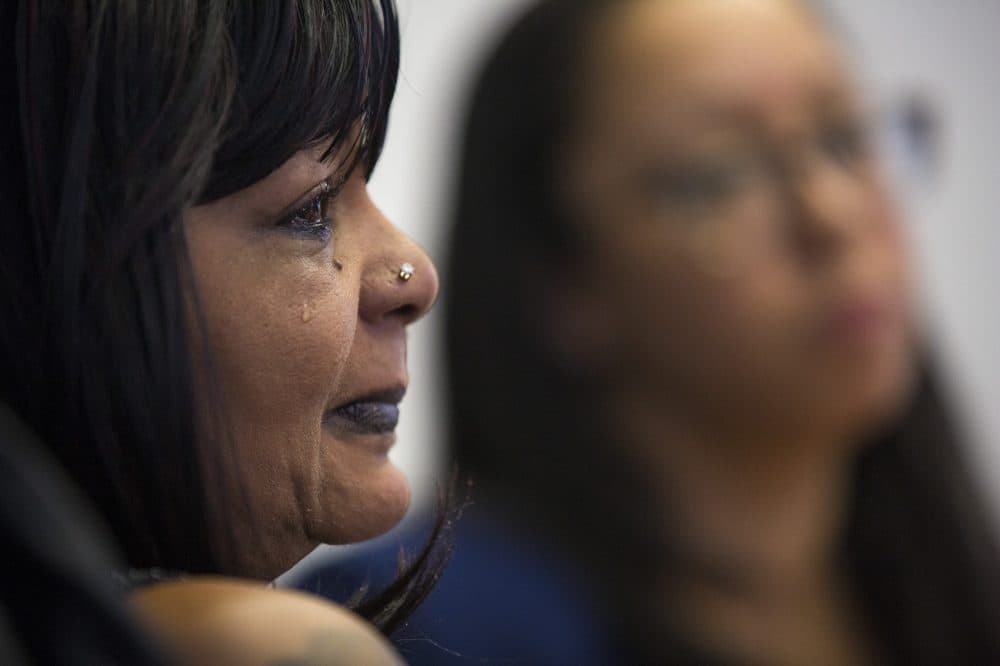 This article is more than 4 years old.
A Boston woman whose son she says was unarmed when he was fatally shot by a Boston police officer is filing a federal civil rights lawsuit against the city.
Terrence Coleman, a 31-year-old black man who suffered from paranoid schizophrenia, died on Oct. 30, 2016, after being shot twice in the abdomen by Officer Garrett Boyle.
In August, Suffolk County District Attorney Daniel Conley ruled that Boyle was justified in fatally shooting Coleman, because Coleman allegedly swung a 5-inch-long kitchen knife at officers and emergency medical technicians.
Coleman's mother, Hope Coleman, denies that her son had a knife.
"I need justice," she said Wednesday, choking back tears in the office of her attorney. "This is going on too long and not just my son, for everyone else. I'm just tired of killing of young black brothers, or any other nationality. It's not right."
The complaint — filed by the Boston-based Lawyers' Committee for Civil Rights and Economic Justice and the law firm Fick & Marx — says that police unnecessarily responded to a 911 call from Hope Coleman for an ambulance to take Terrence to the hospital for medical attention.
It says Terrence Coleman's death was "a result of a BPD officer's use of excessive, unreasonable, and deadly force" and that the city "systematically and knowingly fails to train its police officers and EMTs to provide appropriate services" to people with mental health disabilities.
"I regret calling for help," Hope Coleman said. "It's on my conscience. I should've never called, but my son needed help. I didn't ... want to kill him."
The mayor's office had no comment on the lawsuit. The Boston Police Department said it would not comment on ongoing litigation. Police Commissioner William Evans, along with Officer Boyle, are among the defendants named in the complaint.
Hope Coleman is being represented by Sophia Hall, of the lawyers' committee. Hall said in addition to monetary damages, the suit seeks to bring about reforms in the way police deal with people with mental illness.
"This is precisely the situation in which the proper responders [who] should have come were trained to handle that situation," Hall said Wednesday. "But from the moment [Hope Coleman] made that call, everything that the city did was wrong. And that resulted in the loss of her only son."
When he released his findings, in August, Conley said that he was "keenly aware of the tremendous loss suffered by Mr. Coleman's family members, particularly his mother, whose attempt to seek help for her son ended in his death during an armed confrontation with police."
The filing was timed to coincide with the 50th anniversary of the assassination of Martin Luther King Jr.
This article was originally published on April 04, 2018.
This segment aired on April 4, 2018.