On 'Juliana Hatfield Sings Olivia Newton-John,' A Boston Icon Makes A Case For The Pop Diva
Play
This article is more than 5 years old.
Anyone who knows Juliana Hatfield probably remembers her from the '90s, when her band The Juliana Hatfield Three was a mainstay on alternative rock stations and MTV. Her biggest hit was a song called "My Sister," a lean, pugnacious number that encapsulated the scraggy sound Hatfield became famous for.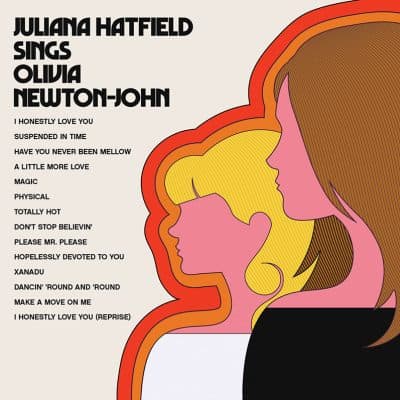 So some might be surprised to learn about Hatfield's latest endeavor: an entire album of covers of Olivia Newton-John, the English-Australian singer and actress best known for her star turn as Sandy in the hit 1978 film "Grease" and for a string of treacly soft rock gems in the '70s and '80s. The project — titled, appropriately, "Juliana Hatfield Sings Olivia Newton-John" — drops April 13, and Hatfield marks its release in concert at ONCE Somerville on Friday, April 6.
It's not the first time Hatfield has tackled the work of musical icons — her 2012 all-covers album "Juliana Hatfield" featured treatments of songs by the likes of Liz Phair and Led Zeppelin. But "Juliana Hatfield Sings Olivia Newton-John" is a deeper, more personal effort that reflects a lifetime of Newton-John fandom.
"When 'Grease' came out in theaters I went crazy for it and I went back to the theater again and again to see it," says Hatfield, who grew up in Duxbury and now lives in Cambridge. "I think that I felt an affinity for the Sandy character, because I felt like I was sort of cursed to be a quote-unquote 'good girl.' "
But it wasn't just the character of Sandy who Hatfield fell in love with — it was Newton-John. She admired the performer's easy grace onstage, and her voice, which was somehow sweet and powerful at the same time. As a kid, Hatfield found solace in the music.
"The environment I grew up in was kind of dysfunctional and chaotic, and I was drawn to Olivia Newton-John because she was soothing to me," Hatfield says. "She embodied something that was positive and peaceful."
Even as she grew older, emerging as a central figure in Boston indie rock, Hatfield says she never stopped listening to Newton-John's music. So when she sat down to pick out songs for the record, she wasn't surprised to find that the pop singer's catalog held up.
"So many of her songs are so likable, just really well-written, well-structured pop songs," Hatfield says. "I knew I could pull it off, right? And I knew that I could bring my own sensibility to the great songs that were already in existence."
In fact, many of Hatfield's interpretations hew quite close to the originals (albeit with fewer synths). Her exquisite treatment of Newton-John's 1978 hit single "A Little More Love" matches the original beat for beat, and might be confused with its doppelgänger were it not for those churning guitars.
But not everything came so easily. Some of Newton-John's most famous numbers just didn't quite fit with Hatfield's spikey sensibility, and required some reimagining.
"With 'I Honestly Love You,' " Hatfield says, referring to Newton-John's famous 1974 ballad, "there's something a little bit too sentimental, or it's a little bit too heavy-handed. So I really reimagined that one. And I gave it some grime and some chunks, and I just kind of toughened it up."
Hatfield's version is a touch faster than Newton-John's, and more insistent. "My feeling is that 'I Honestly Love You' is about frustration and running up against a wall and having to just crumple and then turn and walk away," Hatfield says.
In a way, the album is a defense of Newton-John — her artistry, her skill and her time-tested appeal. "There are people who think of her as a sweet confection with no depth or substance," Hatfield says. "But there's actually a lot of sadness and darkness and resignation in the songs."
And, Hatfield says, it's also a defense of her own work.
"I know that there are people out there who never took me seriously, maybe because of the sound of my voice," she says. "I had a kind of girlish-sounding voice. And my insecurities, I think they were always noticeable in my music. I was never shy about projecting my insecurities."
But on "Juliana Hatfield Sings Olivia Newton-John," she sounds pretty confident. The music is as sturdy and captivating as ever — an earnest, slightly grungy celebration of two unlikely musical soulmates.
This segment aired on April 6, 2018.