UMass President Defends Mount Ida Acquisition, Says He Isn't Playing 'Zero-Sum Game'
Play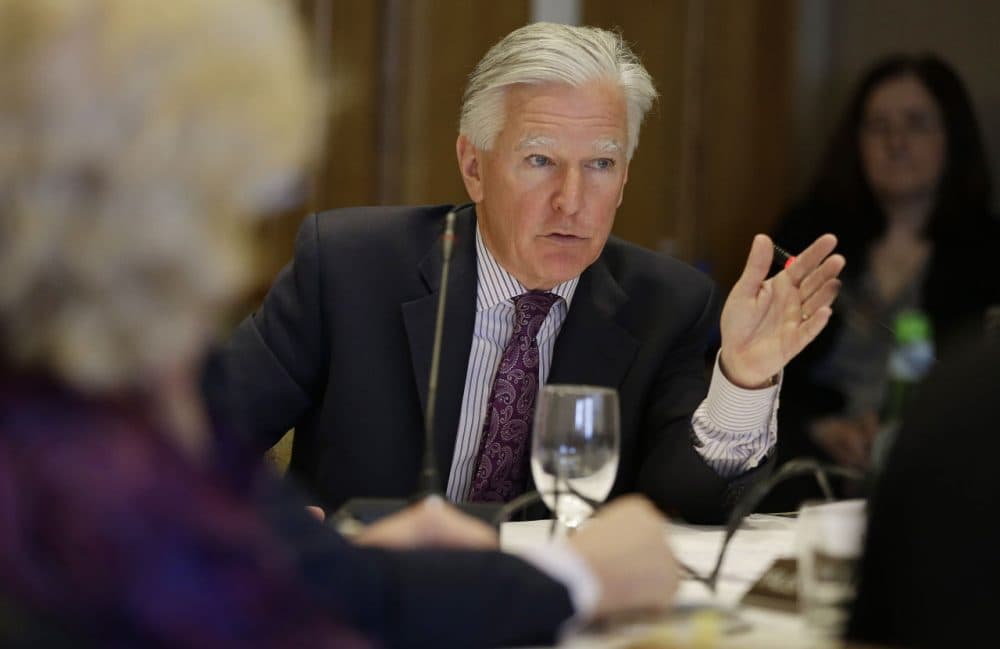 This article is more than 4 years old.
Marty Meehan, president of the University of Massachusetts system, is defending the decision to acquire the Newton campus of Mount Ida College, saying it will open essential work and internship experiences to students from the flagship Amherst campus.
UMass Amherst has been climbing the ranks of America's best public universities in recent years. But it's not getting any closer to Boston.
In a recent interview, Meehan said the two-hour drive separating Amherst's students from New England's largest labor market limits their opportunities for internships and part-time work, something that both business leaders and recent research say are invaluable for finding work for new graduates.
"Giving students the experience they need to get jobs when they graduate — in STEM fields, in companies in Greater Boston — I would say that is not frivolous, it's something fundamentally core to the UMass mission," said Meehan.
Buying Mount Ida, with its existing campus, he said, is a bargain for UMass Amherst: an estimated $75 million for a ready-made campus of dormitories, food services and classrooms that might have cost twice that much to build from scratch.
Of course, the university system Meehan oversees already has a city campus: UMass Boston (UMB), on the Dorchester waterfront. That school is still facing a budget deficit and long-overdue repairs.
For Steve Striffler, a professor of labor studies at UMB, the news felt like confirmation of the system's "misplaced priorities."
"I did have the thought, Why don't we make sure all of our existing campuses are on sound financial footing before we go out and buy any new ones?" he said.
Striffler says he doesn't want to deny UMass Amherst the chance to expand, but the purchase of Mount Ida feels less than necessary.
"UMass Boston is laying off staff and faculty, cutting centers and institutes and reducing services," he said.
In a statement, UMB student body president Katelyn Mitrano expressed "outrage" that the system was "directly cutting into [UMB's] market share" in greater Boston rather than encouraging Amherst students to use a preexisting exchange program to spend time at UMB.
Advocates asked UMass's board for $5 million in emergency support to block layoffs at UMass Boston late last year, but the board denied the request.
Meehan said he's still lobbying for the state to pay for UMass Boston's infrastructure improvements. Gov. Charlie Baker has committed $78 million to the project this fiscal year.
The needs of the different campuses shouldn't be seen as a "zero-sum game," said  Meehan.
He said UMass Boston is headed back toward financial stability, but the process can't be allowed to interfere with sensible expansion on the other campuses.
"The notion that students who attend UMass Amherst should have the money that they pay in tuition go to the Boston campus, where they don't attend — that doesn't make any sense at all," he said.
For the time being, Meehan warned against underestimating the power of cheap real estate when it comes to solving tricky financial problems.
The Bayside lot in Boston — which UMass bought in 2010 for $18 million — is now on the market, and expected to sell for as much as 10 times that. And the profits have already been earmarked for UMass Boston.
Meanwhile, the state's board of higher education still needs to approve the terms of Mount Ida's closure and UMass Amherst's planned expansion.
In a letter sent to Mount Ida President Barry Brown Tuesday, Deputy Commissioner Patricia Marshall wrote that the board was "disappointed" with the "lack of appropriate and timely communications" regarding the deal, and the "accelerated timeline" of the college's closure.
State officials hope to meet with Mount Ida administrators next week.
This segment aired on April 11, 2018.