Amid Cries Of 'Traitor' And 'Thank You,' Vermont Gov. Scott Signs Gun Control Bills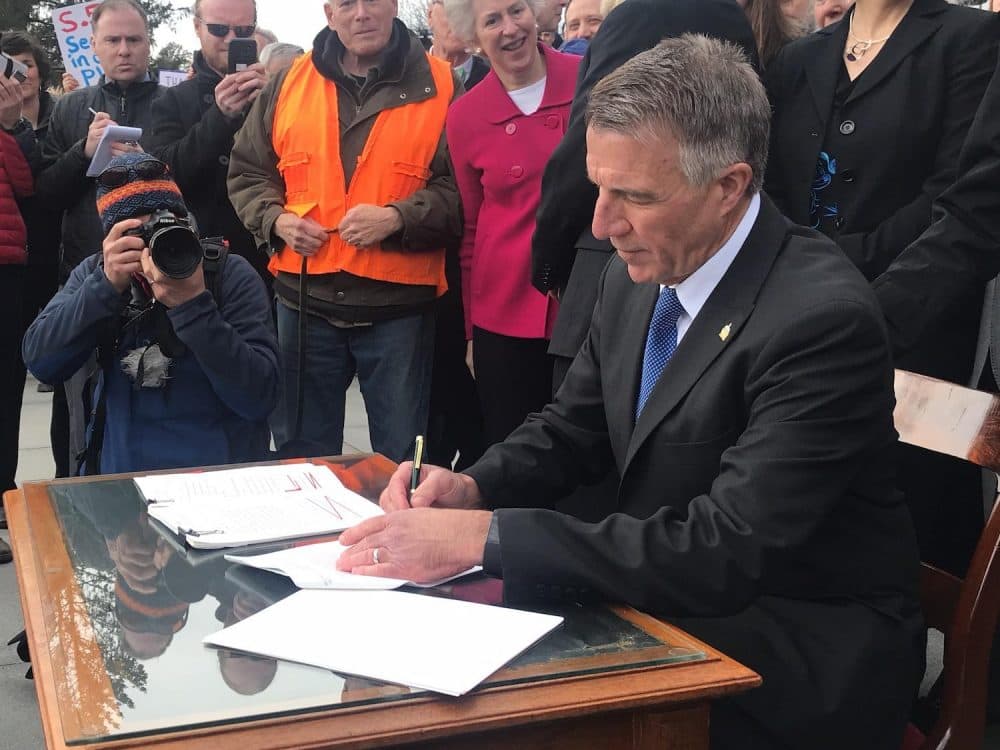 This article is more than 3 years old.
On the steps of the Vermont Statehouse, Gov. Phil Scott on Wednesday signed into law a sweeping set of gun control measures.
In a tweet Monday, Scott made an open invitation, for anyone who wanted to, to join him at the bill signing in Montpelier:
As Scott emerged from the Statehouse shortly after 2 p.m. to sign the legislation, about 100 gun rights activists began shouting, "Traitor! Traitor!" and, "You lied!"
During his 2016 gubernatorial campaign, Scott vowed to oppose any new restrictions on gun ownership.
But Wednesday, Scott said he was wrong, and realized things needed to change after the arrest of Jack Sawyer, an 18-year-old man who allegedly planned to inflict mass casualties at Fair Haven Union High School.
"I was alarmed to learn just how close we came to the same tragic fate the people of Parkland faced," Scott said. "Overnight, we would have gone from one of the safety states in the country to among the deadliest."
The 100 or so gun rights activists who turned out for Wednesday's ceremony, however, were unmoved by Scott's rationale for signing the bills.
At various times throughout Scott's speech, the gun rights advocates erupted in chants of, "Traitor, traitor, traitor." Proponents of the bill countered with, "Thank you, thank you, thank you," until Scott would resumed his remarks.
At a few points, Scott acknowledged his detractors.
"While I know many celebrate the passage of each of these bills, I also acknowledge some of you do not," Scott said. "And I understand your frustration."
"No you don't!" came the cry from one man wearing an orange vest and hat.
Scott pressed on through the shouting.
Scott said he's convinced the bill will help prevent gun violence in the future and does not take away anyone's Second Amendment rights.
"I want to be absolutely clear," he said. "I believe these measures will make a difference and I firmly believe each and every one of them is consistent with both the United States and Vermont constitutions."
And as opponents continued to jeer him, Scott said he believed that a growing lack of civility in political debate is a key factor of violence in this country.
"That we can't debate the issues and find common ground or agree to disagree respectfully and that the growing divide is a dark place where the embers of hate and bigotry and blame can grow," he said. "These things are what's hurting our nation."
This story was first published by Vermont Public Radio.