Yarmouth Officer Shot, Killed In Barnstable While Serving Warrant, Authorities Say
Resume
A 29-year-old man with a lengthy criminal record will face a murder charge Friday morning for fatally shooting a Yarmouth police officer on Thursday afternoon.
State police say 32-year-old Sean Gannon was shot Thursday afternoon in Barnstable on Cape Cod. He was in a group of fellow officers from Yarmouth, Bourne and state police serving a warrant in Marstons Mills.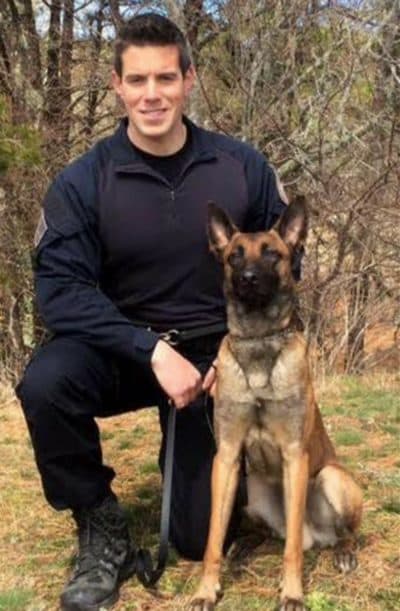 Officials have not yet said what happened during the warrant serving, but it ended with Gannon being shot. He was taken to Cape Cod Hospital, where he later died.
Gannon had been with the Yarmouth police for eight years. He was married with no children and had previously worked as a police officer at Stonehill College in Easton.
Yarmouth Police Chief Frank Frederickson said his department is reeling from the loss.
"We will, together, get through this, and we plan to keep Sean's memory alive, and I hope that everybody out there appreciates the work that police officers across the country do every day," he said Thursday night.
Yarmouth's state Rep. Tim Whelan, previously a state police sergeant, and had worked at the Yarmouth barracks, knew Gannon personally. He was at the police station Thursday night, commiserating and offering comfort to other Yarmouth cops.
"He's a real classy guy," said Whelan, of Gannon. "He conducted himself with honor, from start to finish."
State police say Gannon's police dog, Nero, was also injured. The dog's condition was not immediately known.
The suspect, 29-year-old Tom Latanowich, of Somerville, was taken into custody after a standoff with police. Officials said he has a lengthy rap sheet, with 111 prior criminal charges.
Material from the Associated Press was used in this report.
This article was originally published on April 12, 2018.
This segment aired on April 13, 2018.