What You Need To Know About The 2018 Boston Marathon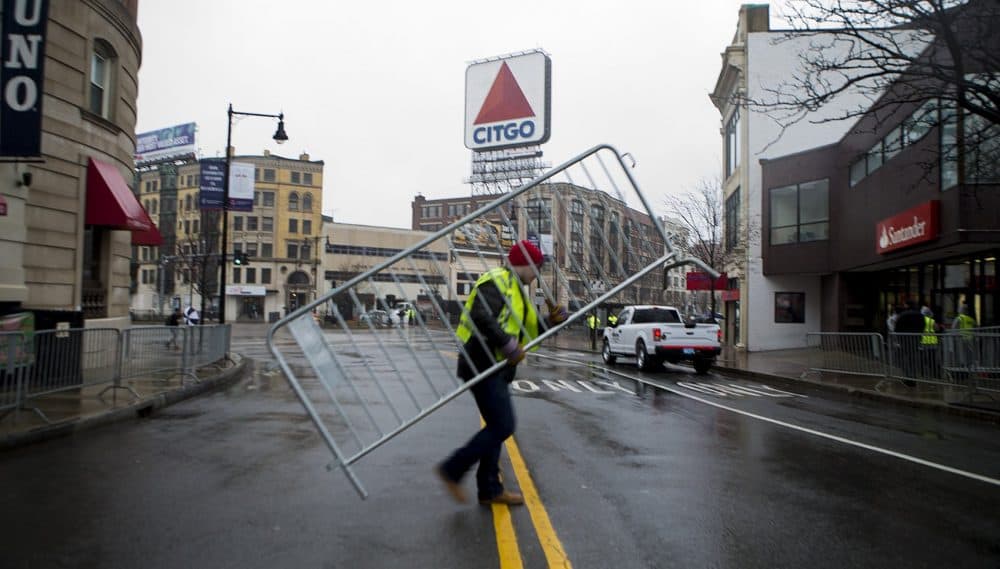 This article is more than 4 years old.
The big day is here — it's the 122nd Boston Marathon. At least 30,000 people are expected to hit the streets for the annual 26.2-mile race.
Because of the bad weather, marathon officials are urging participants to dress properly and to make sure they immediately get warm once finished, so as not to risk hypothermia.
Five years after the 2013 bombing, officials said in a press conference earlier in April that while there are no specific threats, there will still be about 8,000 public safety officials along the race route.
The rules for spectators and participants have remained basically the same, too: No backpacks, costumes, coolers and selfie sticks, among other items.
You can read the BAA's spectator guide for more information.
Weather:
Meteorologist David Epstein says it's likely to be a chilly and wet marathon, with even the possibility of a few thunderstorms.
Race Start Times:
Mobility impaired: 8:40 a.m.
Wheelchair men: 9:02 a.m.
Wheelchair women: 9:04 a.m.
Handcycles: 9:25 a.m.
Elite women: 9:32 a.m.
Elite men and wave one: 10 a.m.
Wave two: 10:25 a.m.
Wave three: 10:50 a.m.
Wave four: 11:15 a.m.
Race Day Road Closures:
All times are approximate. If a link is not provided to announcements from public officials — which give greater details on the roads closing in that town/city — closure times are based on those listed by the BAA. Some roads in Boston will begin closing over the weekend, too.
Getting To The Starting Line:
Roads will close in Hopkinton at 7 a.m. on race day, and there will be no on-street parking allowed in the town of Hopkinton. Whether you're a spectator, volunteer or runner, if you plan to drive there, it's a good idea to arrive at available parking lots early, as space will be limited.
Parking For Spectators And Volunteers:
Free parking is available at Hopkinton State Park, which is walking distance from the commuter rail. Then, shuttle buses will take you to the race's start. Runners can park there and use this service, but if they do, they will still need to walk a mile to the Athletes' Village and are subject to additional security screening.
Parking For Runners:
Parking is available at the Industrial Park on South Street (which can be accessed from I-495 via exit 21B), and shuttle buses will bring participants to the Athletes' Village starting at 6 a.m. until 11 a.m. However, runners are encouraged to take BAA buses, departing from the Tremont Street side of the Boston Common between 6 a.m. and 8:59 a.m. to Hopkinton.
Getting To The Finish Line:
Parking will be restricted on many streets throughout downtown Boston on race day, and with streets around the course closed to drivers, using public transportation is your best bet.
The MBTA's Boston Marathon site has maps and advice on how to take the subway, commuter rail and buses, as well as updates on changes to services.
If you want to drive in, the city recommends you don't, and asks you to use the MBTA or Hubway instead. Parking meters will be free, but many of them will be closed, so make sure to check before  you park.
Uber To The Course:
The BAA has established official "Uber zones" across the course. You can find out more using the Uber app but here's where the BAA says the zones will be:
Cleveland Circle – Brookline
Washington Square – Brookline
Coolidge Corner – Brookline
Commonwealth Ave – Boston
Columbus Avenue – Boston
Copley Square – Boston (Friday, Saturday, Sunday only)
What Not To Bring:
It's very similar to other years — no weapons, no backpacks, no coolers or glass containers. Read more here.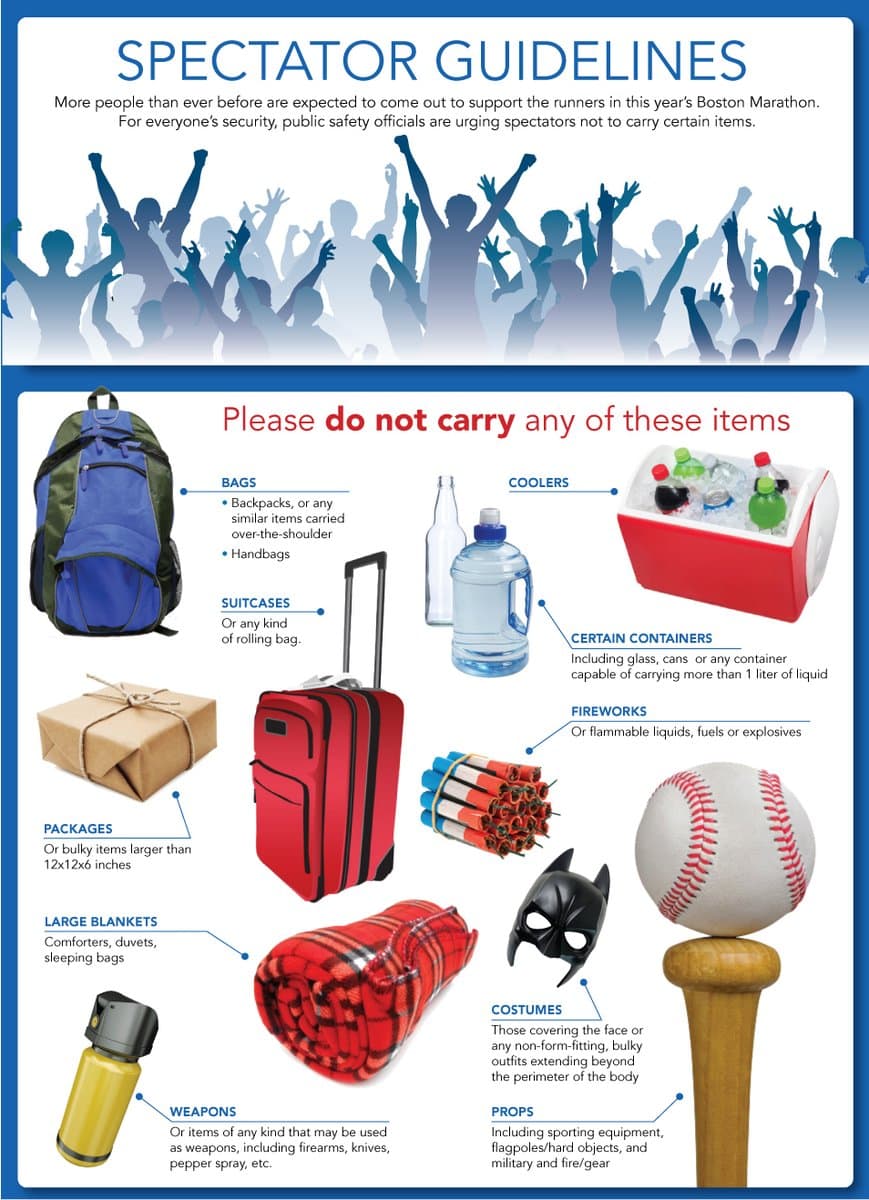 How To Watch Live:
CBS Boston WBZ-TV will be airing the marathon live from 7 a.m. to 3 p.m. ET. They will re-broadcast starting at 8 p.m. on myTV38. CBSBoston.com will live stream. NBC Sports will be covering the race live from 8:30 a.m. to 1 p.m. on the NBC Sports Network. More info.
Here's our guide, from 2014, on the best places to watch the marathon.
Also, follow along with WBUR Monday on our website, Twitter, Instagram and, of course, on air.