Thousands Attend Funeral For Yarmouth K-9 Officer Killed In Line Of Duty
Resume
Thousands of law enforcement officers and civilians attended the funeral Mass Wednesday of a Yarmouth police officer killed in the line of duty.
Sean Gannon, Yarmouth's first K-9 narcotics officer, was fatally shot while serving an arrest warrant with other officers in Barnstable last Thursday. He was 32, and had been with the Yarmouth police force for eight years.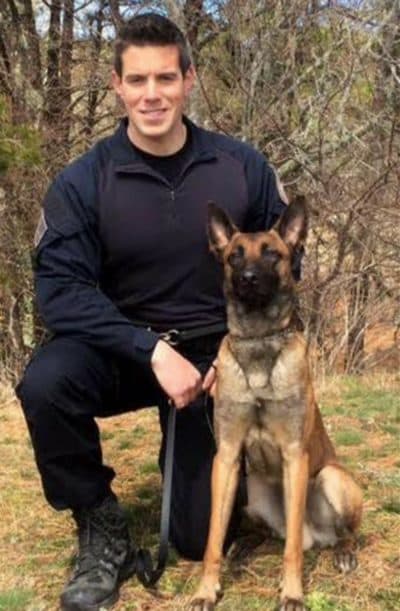 Gannon was promoted posthumously to sergeant.
As WBUR's Steve Brown reported last week, Yarmouth Police Chief Frank Frederickson called Gannon a "remarkable young man."
Gannon leaves behind a wife, Dana, parents and siblings. The funeral was held at St. Pius X Parish, a Roman Catholic Church in Yarmouth.
Gannon's patrol dog, Nero, was also shot. Nero had surgery last Friday and is recovering.
Investigators have not yet described the events that transpired when authorities, including Bourne officers and state police troopers, served the warrant. The 29-year-old suspect in the shooting, who police say has 111 prior criminal charges, has been charged with Gannon's murder.
With reporting from WBUR's Fred Thys, Lisa Creamer and Newscast Unit
This segment aired on April 18, 2018.