The Risky Game One Doctor Plays To Help Patients Find Affordable Insulin
Play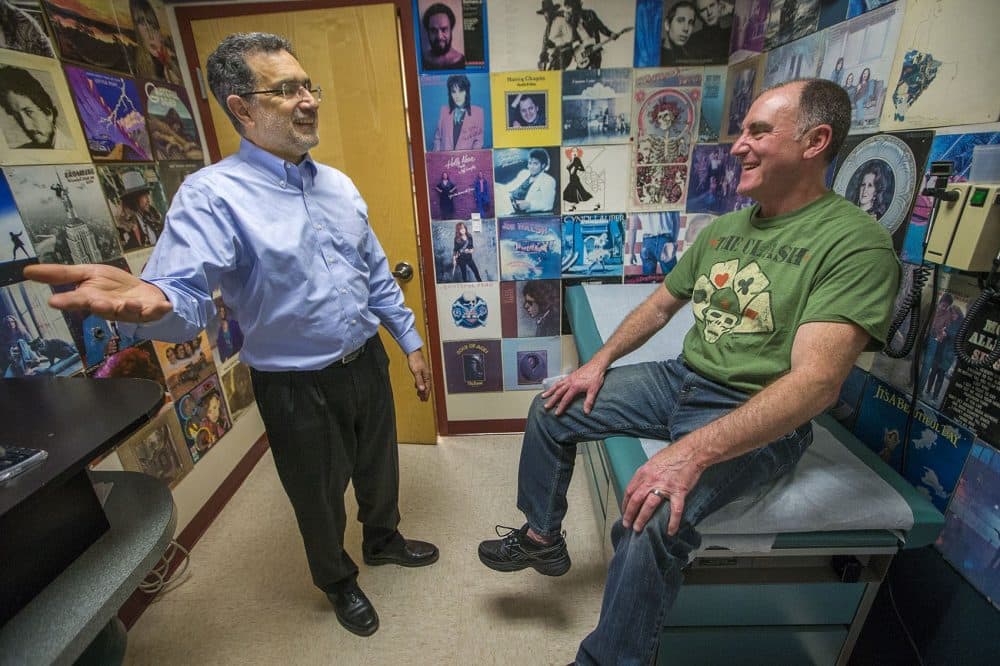 This article is more than 4 years old.
---
When Larry Rose filled his prescription for Lantus last year, and his copay came in at $400, he knew something had to change.
Just three months earlier, a 90-day supply of the popular insulin brand had only cost him $15.
Rose hurried in to see his doctor for what he hoped would be an affordable substitute.
"And he said, 'Yep, I'm used to this. I can't get you a cost. We're going to have to play a game,' " Rose says, recounting the conversation.
That game turned into an exercise in futility for Rose and his doctor, one many patients will relate to as the price of insulin and other drugs soar. Doctors write prescriptions. Patients take them to a pharmacy. Some leave without their medication when they learn the cost. Diabetes and other ailments left untreated get worse. Patients return to their doctor and the cycle starts again.
"If I can't have the conversation, if I can't know the costs in real time, in the exam room, I'm at loss," says Rose's physician, Dr. Hayward Zwerling. "I can't make a final decision."
When Rose arrived, looking for help, there were three or four brands of insulin -- long- and short-acting, in different doses and applicators -- that Zwerling could prescribe.
"The problem was, I had no way of knowing which one was affordable," Zwerling says.
There are several websites that list the cash prices for insulin and hundreds of other drugs. But most of Zwerling's patients have health insurance, and each health plan varies. When Zwerling meets with patients, he can't tell what the copay will be for each drug. He doesn't know if the patient has met their deductible. Those on Medicare may be in the so-called doughnut hole. The brands of insulin Zwerling prescribes are covered by some plans, with varying costs for members, and not others. And the negotiated price for each drug may be different from insurer to insurer and pharmacy to pharmacy.
How The 'Game' Works
So Zwerling says he's resigned to playing a game with patients who are willing to hunt down the cost they'll pay for insulin. Here's what happens: Zwerling writes a letter to Rose's regular pharmacy that includes a list of insulin brands and doses.
Rose heads to his pharmacy with the letter to figure out the prices of the drugs. He waits at the drop-off counter watching the pharmacist peck away at the keyboard. Each search comes back as "price not available." Eventually the pharmacist gives up and tells Rose to come back with the actual prescriptions. If the pharmacist has an actual order, he might be able to say how much Rose would have to pay.
Rose retreats to Zwerling's office. He's agitated but determined. Rose has been in waiting rooms alongside patients with advanced diabetes.
"I would see people that were missing an eye; I'd see people who were missing limbs," Rose says. "I need insulin, 'cause I don't want to lose my feet."
The game proceeds now with a risky move. Dr. Zwerling writes Rose a handful of prescriptions he can take back to the pharmacy.
"But I'm very cautious about who I'll give multiple prescriptions to," Zwerling says. "And if I do that, I'll write all over them in big bold letters, 'this or this, not both.' This would be a catastrophic mistake to take twice or three times the amount of insulin."
Zwerling is balancing risks: that patients won't take their insulin because they can't afford it, versus finding out what they can afford using multiple prescriptions.
"If I end up in court, God forbid," says Zwerling, "my argument is going to be, 'I tried to do what I thought was in the patient's best interest.' "
Rose goes back to his pharmacy, this time with his little pile of prescription slips. They help some. He finds out that one medication isn't covered by his insurance. Another might cost more than $300 a month; the pharmacist can't tell unless he actually fills, or adjudicates, the order. Rose doesn't take that chance. He opts for a generic insulin that seems cheap at the time. The price has since tripled.
"So that was a useless exercise," says Rose, shaking his head.
"The amount of time he spent trying to figure this out, that's not reasonable," says Zwerling.
In all, it takes three doctor's appointments, two trips to the pharmacy, four or five emails and a couple of phone calls to determine that the only affordable insulin for Rose is a generic that he has to inject twice a day. The once-a-day options are too expensive.
"This is a progressive disease, it always changes," Rose says, "so we're going to be doing this for the foreseeable future."
Prescriptions Not Included In Requirements
There are some remedies in the works. CVS Health has just rolled out a program that lets pharmacists show patients the cost of a prescription before they fill it, as well as cheaper options.
Kevin Hourican, president of the CVS retail pharmacy business, says patients will be able to get the information Rose has been looking for.
"That's 100 percent the reason we began this effort, because of the rising cost of drug prices in our country and the fact that consumers are somewhat flying blind on the cost of those medications," Hourican says.
CVS has a tool it says can give physicians like Zwerling real-time costs for each patient, based on their insurance. The company is in the process of trying to partner with major electronic health record systems. That adoption and upgrades will "take time," Hourican says.
For consumers, Hourican says the CVS Caremark app offers members the same real-time information. Rose, who has designed apps himself and now works for IBM, has the Caremark app and says the search results don't typically match the prices of his medications, so he doesn't rely on it.
Massachusetts is, in theory, ahead of many states because doctors, hospitals and insurers are required to help patients find the price of services. But that requirement does not apply to pharmacies or prescriptions, and there's no move to amend the law. That's disappointing to some consumer advocates.
"All health care prices should be included, but particularly drug prices, since they are such an important component of health care and since ... it can be a very large out-of-pocket expense for many consumers," says Barbara Anthony, a former state undersecretary for consumer affairs, currently with the Pioneer Institute.
In a statement, a spokesman for Gov. Charlie Baker says:
The Baker-Polito Administration believes that providing greater transparency into the cost drivers of health care spending is an important element to an affordable and quality health care system. The proposal we included in our budget and requested of the federal government would provide for greater transparency and additional management tools to negotiate lower pharmacy rates for 1.85 million members in our MassHealth program.
This segment aired on April 19, 2018.