Beloved Tenor Plácido Domingo, At 77, Returns To Boston
This article is more than 3 years old.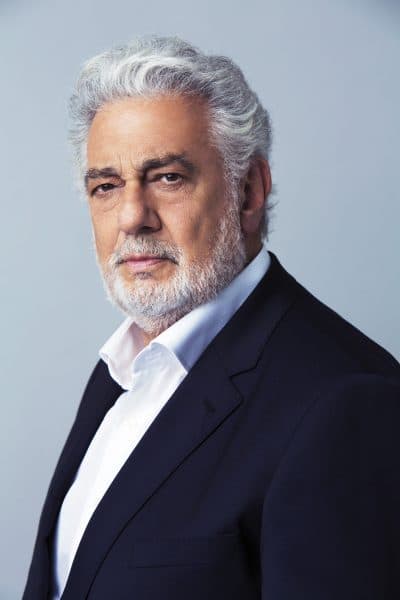 Plácido Domingo is probably the best-loved living opera singer in the world. He's 77 years old and still singing leading roles at the Metropolitan Opera. He was recently the heroine's father in Met's production of Verdi's "Luisa Miller." He's now singing baritone roles; decades earlier, one of his great successes was in the tenor role.
I found his performance, which I saw via the Live in HD series, deeply moving and his singing astonishing, giving the highest notes of his baritone range a tenor ring. When Domingo isn't singing, he's conducting (at the Met or, for the first time this summer, at the Wagner festival in Bayreuth, Germany) and directing the Los Angeles Opera. In 1993, he founded Operalia, the World Opera Competition, to help launch promising young operatic careers. In "Luisa Miller," his daughter was sung by Bulgarian soprano Sonya Yoncheva and he was interviewed during the intermission by celebrated countertenor Anthony Roth Costanzo, both of whom were Operalia first prize-winners.
On Thursday, April 26, Domingo will return to Boston in a concert at the Boch Center's Wang Theatre. It will be his first appearance here in 10 years. According to his longtime music director Eugene Kohn, he has chosen an "accessible" program that includes "tuneful opera selections," operetta, Broadway, Zarzuela and Latin favorites — "Something for everyone!" Joining him will be German-born soprano Micaëla Oeste and Brazilian soprano Camila Titinger.
I had some questions for the fabled singer, which he generously answered:
Lloyd Schwartz: I first heard you before I ever heard of you. It was 52 years ago, in 1966, in Sarah Caldwell's extraordinary production of Rameau's "Hippolyte et Aricie," in its American premiere. You were a revelation. Your singing was so beautiful you blew everyone away. How did Caldwell find you? 
Plácido Domingo: "I am happy that someone still remembers my performances with Sarah Caldwell's remarkable Opera Company of Boston. I don't remember how she found me, but she may have heard me when I made my Boston debut in 'The Messiah' with the Handel and Haydn Society in December 1965 -- or maybe she had heard one of my performances in 'Carmen' or 'Butterfly' with New York City Opera earlier that fall. I remember that Rameau's style in general and the part of Hippolyte, in particular, were new and very difficult for me. The role was one of the lightest I ever sang, and the coloratura passages were a real challenge."
What do you remember about working with her?
"Sarah Caldwell's work was brilliant -- she could do so much in a very restricted amount of time! And she was a real character. I remember her lying down on the stage and eating one doughnut after another during staging rehearsals, and occasionally even dozing off. But somehow she always managed to bring things off beautifully."
You were singing with Beverly Sills before she became an "overnight sensation" as Handel's Cleopatra at the New York City Opera later in 1966 and no one knew yet that she could sing this kind of florid Baroque music. What was it like to sing with her? Then you were back in Boston shortly afterward as Rodolfo opposite Renata Tebaldi's Mimi in Caldwell's production of "La Bohème." What do you recall about that?
"Beverly was of course a natural comedian in addition to being a great singer, so it was a lot of fun to work with her. And singing for the first time with the great Renata Tebaldi, in 'La Bohème,' was very exciting for me. My son Plácido was only a few months old at the time, and Tebaldi was always doting on him. All in all, those weeks in Boston were a wonderful time for me."
You just got a great review in The New York Times of your performance as the heroine's father in Verdi's "Luisa Miller," a baritone part. It was your 149th different role and something like your 700th performance at the Met. Did you have any idea you would have a career that would last more than twice as long as most opera singers?
"Of course I had no idea, when I was younger, that I would be able to sing so long. I remember that when I was 40 I thought, 'Wouldn't it be wonderful if I could sing opera until I am 50!' And here I am at 50 plus 27. I always say that my vocal longevity is the result of a combination of good luck, a strong physical constitution, careful choices of roles over a long career and good musical training, which allows me to study scores without having to sing my part — to 'get it into my throat,' as we singers say — until I already know it in my head."
How have you found singing as a baritone? Is it as satisfying as singing tenor?
"Singing as a baritone is absolutely as satisfying as singing as a tenor. The baritone roles that I have been doing, by Verdi and other composers, are so wonderful — I feel the same sense of wonder and responsibility in singing them as I felt in singing the tenor roles, often in the same operas."
You've also served as a conductor. When did you start thinking about conducting? What is your approach to conducting? What do you think you have to contribute as a conductor? What does it allow you to do that singing doesn't?
"I thought about conducting even when I was a student at the conservatory in Mexico City, more than 60 years ago, and I observed Igor Markevitch's conducting classes there. My approach to conducting is the same, I suppose, as the approach of every other serious conductor: I learn the score as thoroughly as I can, and I try to communicate my interpretation as well as I can, through gesture, eye contact and explanations. I hope that I contribute honest and convincing musical interpretations and that the singers and instrumentalists I conduct are happy to work with me. Conducting, unlike singing, allows me to communicate my great love of music without having to stand on the stage and produce the sounds out of my own voice."
Why do you like doing this concert tour? What's your greatest pleasure in doing it?
"I do these concerts because they bring various types of music before audiences that aren't necessarily made up only of opera lovers. They also provide a different experience for me, instead of singing or conducting whole opera performances. And they give me a chance to show off the talents of young singers, most of whom were either participants in my Operalia World Opera Competition or in one of the Young Artist programs that I am proud of having established in Los Angeles, Washington and Valencia, Spain. It is part of my mission to give as many opportunities as possible to young singers, to ensure that opera will continue to thrive for future generations."
---
Plácido Domingo will appear at the Boch Center's Wang Theatre on Thursday, April 26.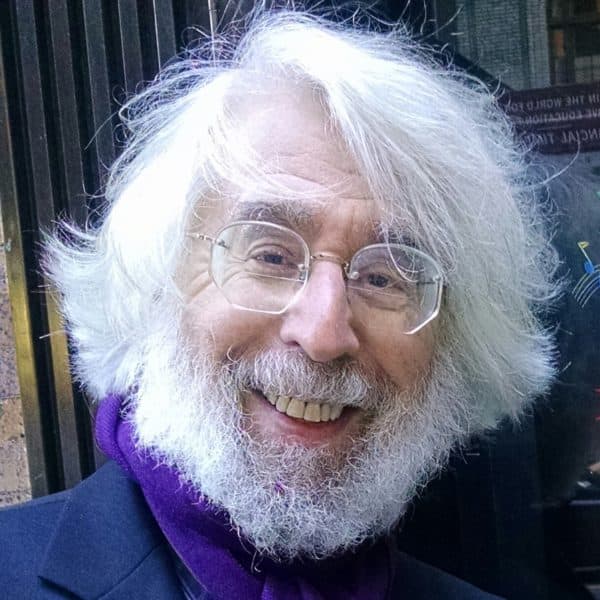 Lloyd Schwartz Arts Critic
Lloyd Schwartz is the classical music critic for NPR's Fresh Air and Somerville's Poet Laureate.