A Gift, A Challenge, An Isolating Experience: Artists Explore The Complexities Of Breastfeeding
Anyone who has ever connected themselves to a humming, puffing breast pump knows how empowering — but also confining — the experience can be.
The modern machine is a tool of liberation, allowing nursing moms to feed their babies while away. But being literally stuck to a sucking contraption — often in some small, hidden-away back room — can sometimes make a person feel like both an outcast and a cow on a dairy farm.
As curator Laura Zittrain sees it, the act "transforms a mother to an antisocial factory."
That's just one of the themes she's exploring in a weekend-long exhibition that goes up Friday evening at MIT titled, "Between the Magic and the Machine." For it, Zittrain reached out to some creative breast feeders who've expressed their own conflicted relationships with pumping through art.
The display is part of "The Make The Breast Pump Not Suck Hackathon" weekend at the MIT Media Lab, which is looking to solve problems and create innovations in breastfeeding and postpartum health.
While breastfeeding could be magical, the artworks Zittrain gathered raise compelling questions about what happens when the natural act is married to a machine.
"A show about breastfeeding is shockingly rare," Zittrain said, "yet one might expect with the growing political voice of women that an exhibit about politics, the feminine body and mother-specific technologies would be more common."
She calls breastfeeding "an enormous gift, and a beautiful challenge, marked by innumerable cultural barriers and outdated devices. These artistic works are an invitation to mothers, parents and people everywhere to share in this remarkable human feat that renders one completely invincible, yet utterly vulnerable."
The show includes 43 works by six artists. The largest is a 14-by-10-foot print of drying breastmilk. The smallest is a bronze-casted pump fitting that measures 3-by-5-inches.
Here's a sampling, with some reflections from each of the artists:
Laura Breiling
"I saw these women in [Berlin's] Görlitzer Park last summer," says Breiling. "They were breastfeeding their children, peacefully, in the midst of an active hustle. Many of my illustrations are inspired by people in my surrounding environment, or 'Kiez' as we call it in Berlin. Görlitzer Park is a problem district and a multicultural meeting place at the same time. Nonetheless, I love spending time there in summer and meet my friends."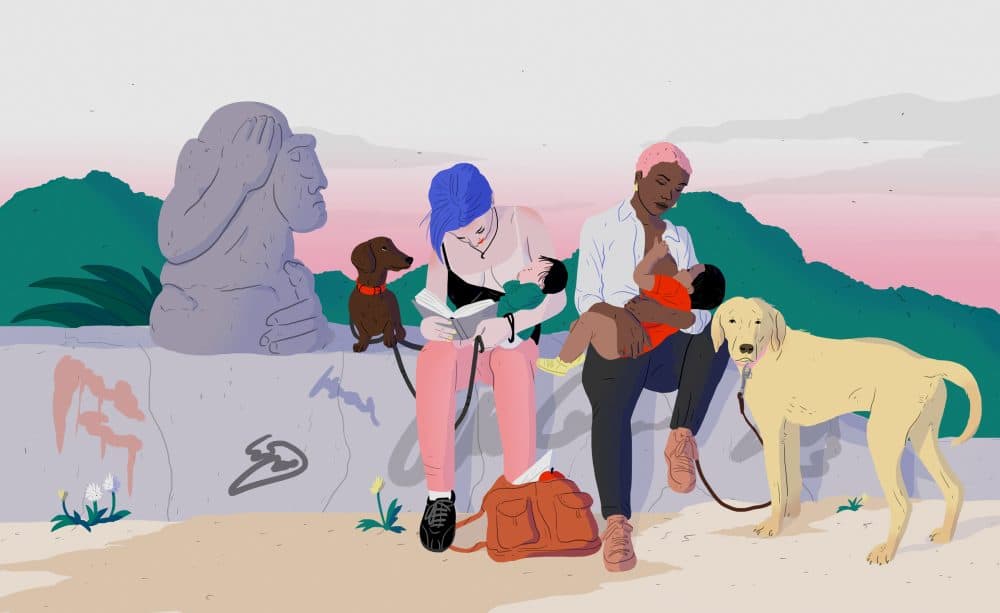 ---
Lakisha Cohill
"The inspiration behind the Goddess breastfeeding shoot was to inspire women all over the world that one, it's OK to feed your child whenever, wherever, and however you please; and two, that black women do breastfeed," Cohill says. "My goal is to show more positive images of strong women, not just women as a wives, sex symbols, or the 'typical woman,' but to capture beautiful images of us as astronauts, electricians, engineers, judges, coal miners, truck drivers, and breastfeeding in public. I'm just trying to normalize all these things through art, to show the world how great, and beautiful we are, while proving that anything you can do we can do better, because, well we were simply made for this."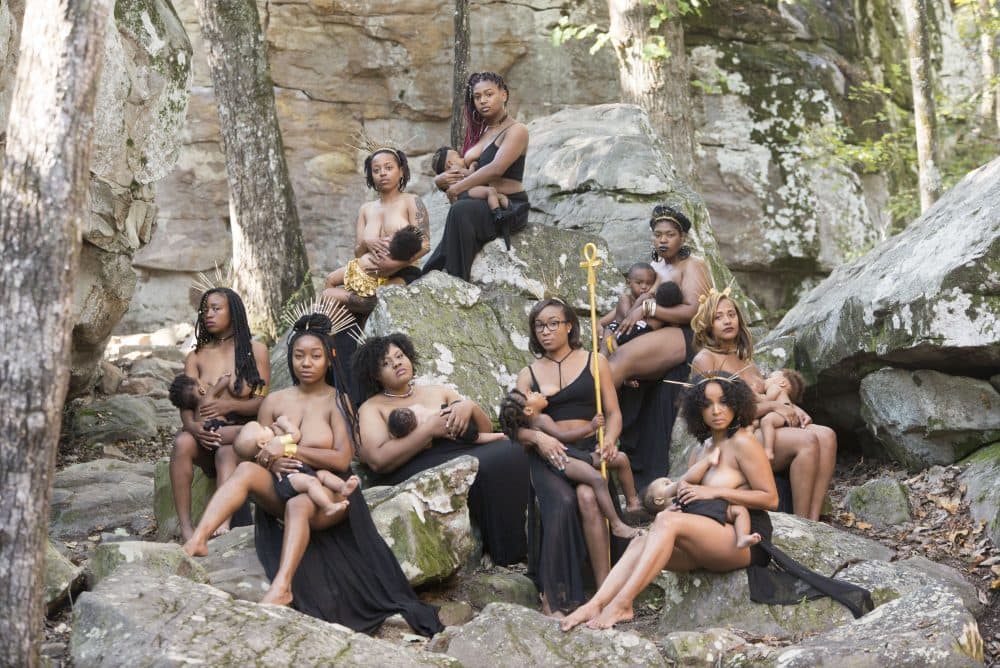 ---
Eva Zasloff
"Breast milk is incredible — as a metaphor, as nourishment and as a biological substance! There is so much more to unfold in the realm of science and breast milk," says Zasloff. "As a physician caring for families in the fourth trimester, I spend my days talking and thinking about this. In the piece, 'Reflections on Breastmilk,' with milk donated by many postpartum woman, I explore breast milk with light reflection through a microscope at 750x magnification. These images are projected to create a dreamscape space where we can stargaze at the microscopic views of light reflecting on breast milk."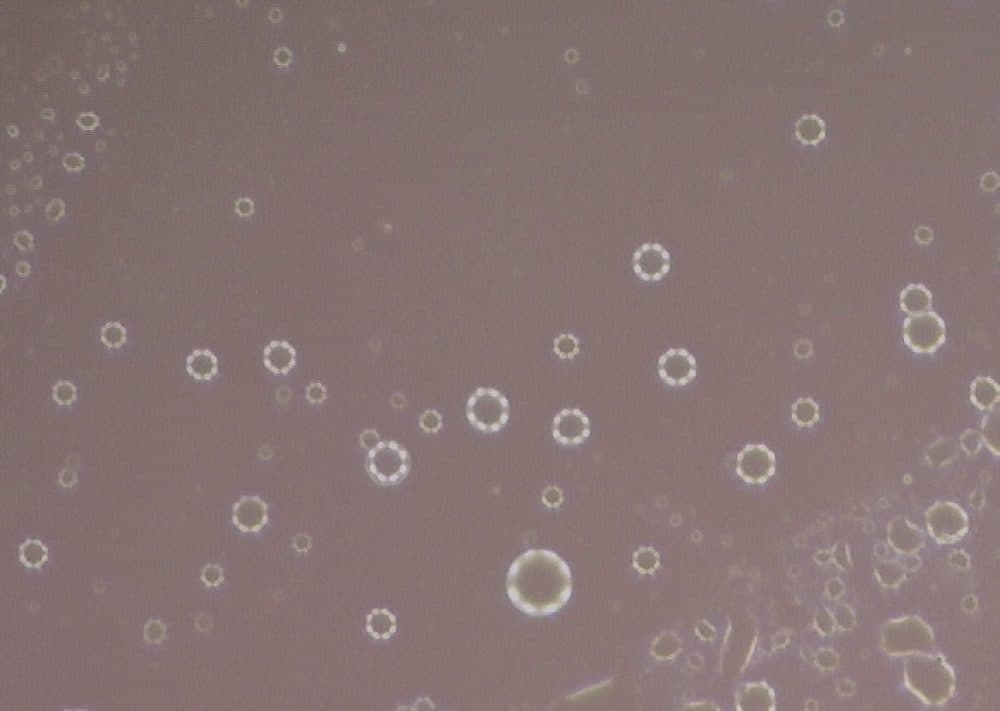 ---
Emily Bhargava
Bhargava collected photos and stories from women across the nation to provide a look into different experiences of pumping as part of daily life.
"Since pumping is often done in private spaces, many women and men who haven't pumped don't understand the effort, the time and the logistics that can be involved in feeding a baby," says Bhargava. "And pumping isn't just about logistics. This exhibit gives women a chance to explain their feelings about the process, including their frustrations and their hopes. The participating artists have given us a peek into their lives that can help us find ways to make pumping more humane, more comfortable and less frustrating."
This photo was taken by Charlotte Grinberg, a medical resident and a nursing mom: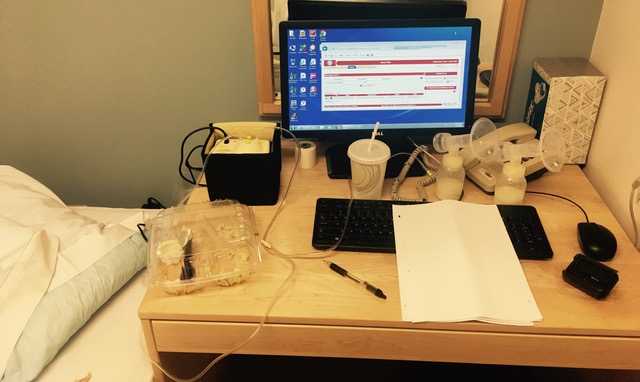 "While I spend 12 to 14 hours most days in the hospital caring for patients, the biggest challenge is finding the time and space to take care of myself and my now 9-month old baby," Grinberg says. "I've secretly turned one of the hospital call rooms into my pumping room. It's where I eat, hydrate, chart, talk on the phone, answer my pager and pump simultaneously. Only rarely do I have a few extra minutes to just stop everything and simply look at photos of my baby."
---
Sally Hewett
"I made 'Teet Transplant' after a quite uncomfortable, but very funny conversation with a group of women most of whom had suffered to a greater or lesser extent from sore nipples during breastfeeding," Hewett says. "The idea of replacing nipples with rubber teets seemed quite appealing in the light of what I'd heard."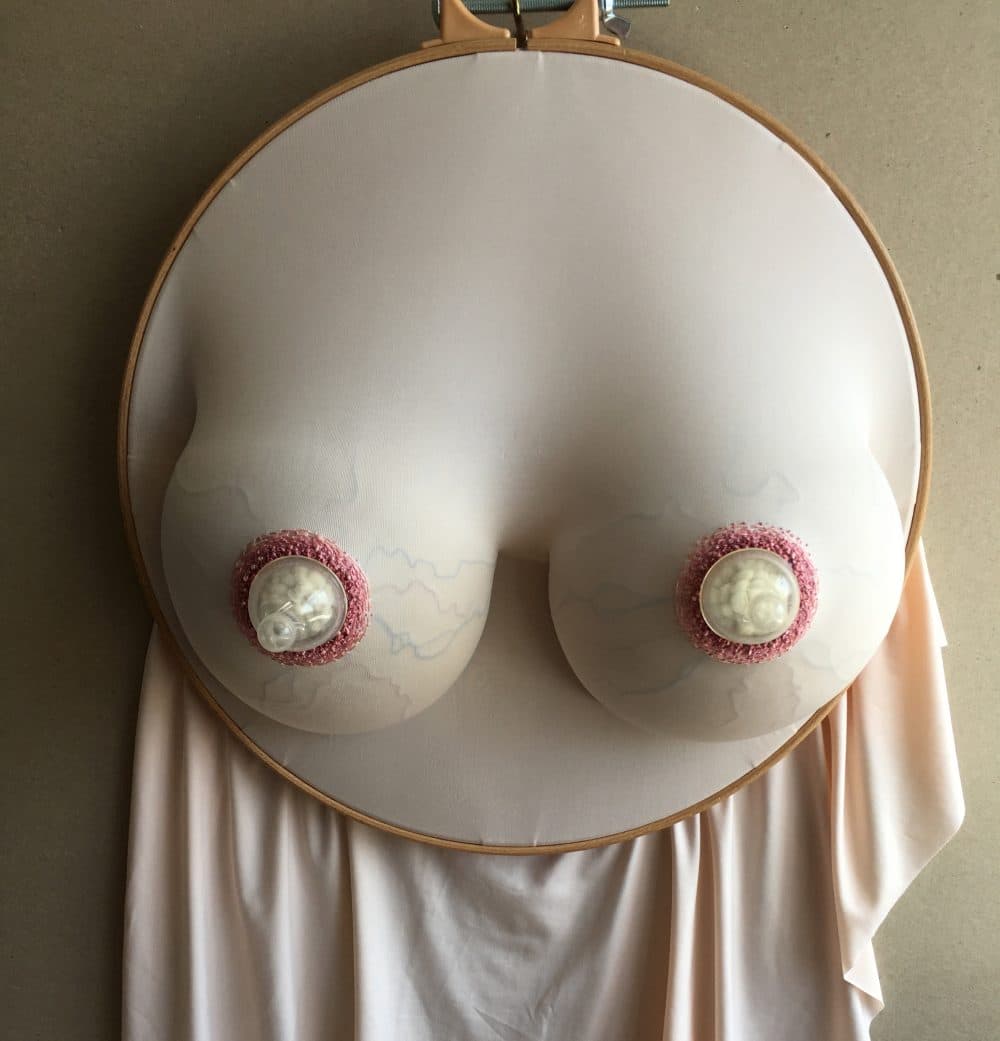 ---
Aimee Gilmore
"This body of work is a result of my recent transition into motherhood. The works are a collection of imagery and objects that reflect the process of archiving a routine (like breastfeeding) through its most essential material and highlights the communication between mother and child through abstraction," says Gilmore. "It is through this collection that I begin to viscerally relate the abstract nature of motherhood to the unpredictable nature of breast milk, a material that exposes and emphasizes the necessity of letting go. I long for a more thorough and vivid understanding of my own labor as a mother by making works from the generative processes of my own body and from the nostalgic objects of motherhood."
The image on the left is a wall-sized print of drying breast milk, and the object on the right is a small pump fitting: