GOP Delegates Endorse Baker, But Also Send Him A Message
Play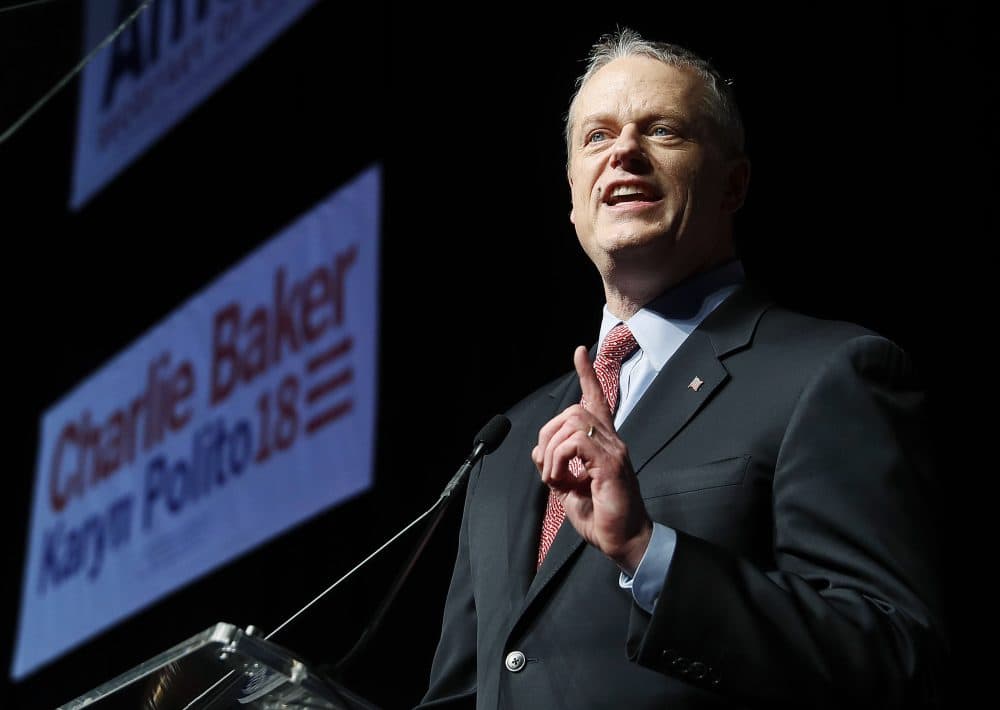 This article is more than 4 years old.
Republican Party delegates have endorsed Gov. Charlie Baker for re-election, during their state convention Saturday in Worcester.
That was expected. But what wasn't was that enough delegates threw their support behind Scott Lively, a little-known conservative challenger to Baker, meaning the incumbent will face a primary challenge this September.
This wasn't exactly the convention outcome the Baker people were hoping for.
Baker supporters were actively trying to prevent Lively from getting the 15 percent of the delegates he needed to get his name on the primary ballot in September. When the vote was tallied, Lively had picked up 626 delegates, representing 27.67 percent of the vote, far more than the minimum he needed to get his 15 percent, and 1,577 delegates backed Baker, giving him 69.79 percent and the convention endorsement. Fifty-eight delegates registered "no preference."
Seeking Trump's Support To Challenge Baker
Lively is an ultra-conservative pastor from Springfield. He has in the past issued strong anti-gay statements and wrote that homosexuals controlled the German Nazi Party.
Lively steered clear of those statements Saturday, but talked up other issues endorsed by President Trump, such as support for a wall along the border with Mexico, and an end to sanctuary cities.
The crowd in the DCU Center ate it up.
"Charlie Baker, you're not going to get away with being a Democrat anymore in the Republican Party," Lively told reporters after the vote, a message that seemed to resonate with many Republicans who were gathered in the convention hall.
Lively is calling on Baker to debate him and says he will invite Trump to come to Massachusetts to campaign for him, and also take part in a conservative gathering he is hoping to coordinate sometime near the Fourth of July.
While several polls show Baker is one of the most popular governors in the country, many GOP delegates who showed up in Worcester are not entirely happy with Baker and are trying to push him more to the right. Some refer to him as "Tall Deval," a reference to former Gov. Deval Patrick. Others label him with the term RINO, meaning "Republican in name only." The fact that Baker has distanced himself from Trump does not sit well with many Republicans.
"We need more conservative movement forward, more conservative values," said delegate Verna Khantzian of Arlington. "I mean that Lively got as many votes as he did is a big message. And he spoke truth. We're looking for someone who has a strong backbone, more conservative values and really, speak to the people, and not be two-sided. He's on the fence a lot. I've seen him. I don't like the way he operates."
Other delegates expressed satisfaction that the convention seemed to tell Baker he needs to more fully embrace conservative positions.
After Endorsement, Looking Ahead
For his part, Baker seemed determined to stay in his lane, and put a positive spin on his endorsement.
"I'm more interested in the 70 percent of the delegates who supported my message and have supported our administration and will be supporting us going forward and I'm honored and pleased to have their support," Baker told reporters before leaving Worcester.
Still, he will not be able to completely ignore Lively and the issues he will bring to the race.
"There's no place and no point in public life, in any life, for a lot of the things Scott Lively says and believes," Baker declared. "And that's why I'm pleased that seven out of 10 delegates in that convention chose us as their nominees to represent them in the fall."
While Baker does not have the grip on the party which would be expected, he did come away from Worcester with the party's endorsement. A majority of Republicans still like him, and support his candidacy. He pointed out several times that come Monday, he'll be back at his job being governor, and indicated that by doing his job, he'll earn a second term.
The Race For Senate
The other big contest Saturday afternoon was for U.S. Senate. The winner of the primary will have the chance to run against Democratic Sen. Elizabeth Warren.
Whitman State Rep. Geoff Diehl got the convention endorsement with 55 percent of the delegates backing him, although it took two ballots, aggravating many delegates who were growing tired of being inside the convention hall on a beautiful spring day. Diehl is the darling of the more conservative members of the Republican Party and was the state co-chair of the 2016 Trump campaign.
His two more establishment opponents -- former party official Beth Lindstrom of Groton and Winchester Businessman John Kingston -- each were able to get above the minimum 15 percent of the vote they needed to ensure a place on the September primary ballot.
While Diehl didn't mention Trump in his remarks to the convention, he is the candidate seen as more in line with the president's policies, and judging by the reaction from the delegates, that may help him this September.
Delegates also endorsed Jay McMahon over Dan Shores for attorney general. McMahon energized the delegates with a speech lambasting incumbent Maura Healey, and embracing the policies of President Trump.
Several candidates for statewide office were unopposed at the convention. Delegates endorsed by acclamation Anthony Amore for secretary of state, Helen Brady for state auditor, Keiko Orrall for state treasurer, and Karyn Polito for lieutenant governor.
This segment aired on April 29, 2018.