As Boston Takes Steps To Rebuild Long Island Bridge By 2021, Opposition Brews In Quincy
Resume
Boston Mayor Marty Walsh is taking formal steps to make good on his promise to rebuild the bridge to Long Island in Boston Harbor.
Walsh administration officials will file a notice of intent with the city's conservation commission on Wednesday stating that it plans to rebuild the 3,400-foot-long two-lane bridge.
The plans include creating an addiction recovery campus on the island.
Chris Osgood, Boston's chief of streets, said the new bridge would cost an estimated $92 million. He said pieces of the bridge would be built in Boston and floated by barge into Boston Harbor to be secured onto the 13 piers from the original bridge that are still there.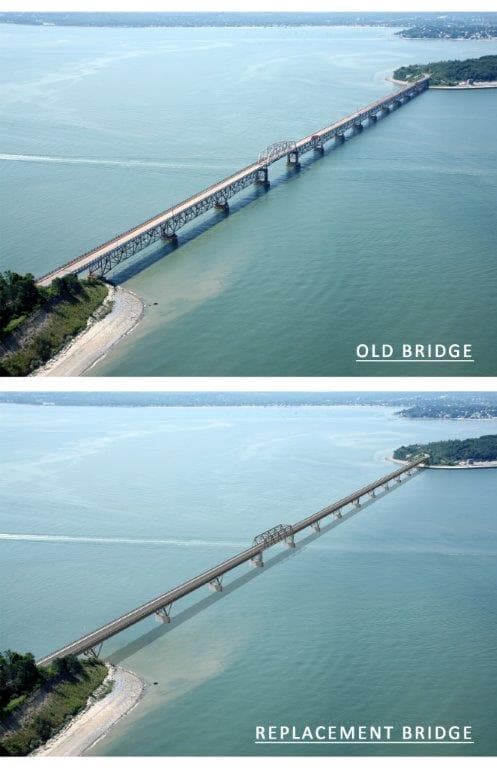 "Really the reconstruction project focuses on the superstructure — the stuff that is above the piers," he said.
The closure of the original bridge in 2014, due to safety concerns, eliminated hundreds of beds for the homeless and for addiction treatment. Although those beds have been restored elsewhere, city officials say there are gaps in addiction treatment — particularly after someone leaves detox.
Marty Martinez, Boston's chief of health and human services, said the city is meeting with various groups to plan a campus that would provide long-term treatment ranging from detox to supportive housing.
"We have a unique opportunity to create a campus that's away from the neighborhoods, away from some of the challenges that people might face," Martinez said.
The plans call for construction to begin next year and for the bridge to be built by 2021.
But that does not take into account an expected fight from Quincy, where the bridge would connect to the mainland.
Quincy City Councilor William Harris is very much opposed to the plan. He's concerned about traffic on Quincy's coastal streets, and says Boston is not including his city in the plans.
"Not only is it insulting, it leads to give you the impression that there is something more going on," he said.
Harris is concerned that projects other than a recovery campus could be built on the island, which has more than 200 acres. He questions why the city doesn't use a ferry service instead of spending an estimated $92 million on a new bridge.
Osgood said the city is trying to address the statewide problem that is the opioid epidemic. He also pointed out that the new bridge plans attempt to mitigate both traffic from construction — by building the bridge in Boston — and traffic from the planned campus, which would provide longer-term care than what had been on the island.
"This is about a regional challenge," he said. "We are working with all of our regional partners, including Quincy. And we think whether it's through methods of construction or services we're going to provide, this is something we can work with our partners in Quincy on."
But Harris doesn't buy it. He said he will be introducing an ordinance at next week's City Council meeting to continue to fight Boston's plans.
"There could have been a much better solution to this," he said. "This is just, 'We're gonna ram it down your throat, and we don't care.' That's what's going on here."
After the formal filing Wednesday, the Boston Conservation Commission could take up the plan in two weeks.
This segment aired on May 1, 2018.